How the trench coat went from classic to cool

(Image above: Massimo Dutti navy trench coat, £149)
If there's one wardrobe item that is synonymous with autumn and spring, it has to be the trench coat.
The trench coat dates back to before World War 1, when it was designed as an alternative to the heavy greatcoat that army officers wore. It was adapted to be worn in the trenches, which is how the trench coat got its name.
Since then it has evolved and developed as times and fashions have changed and it is still a mainstay of many a wardrobe across the world. But do you have one on your coat rail?
Not only is a trench coat an iconic fashion item, it is also incredibly versatile and the perfect solution for those autumn days when a winter coat is too heavy but you still need an extra layer to keep you warm.
As always, there is a plethora of trench coats available this season in different variations on the classic style. Here's what to look for when choosing yours…
Fabric
The fabric you choose for your trench coat is key to how well it will fit. If you have a straight body shape (rectangle, inverted triangle) then a heavier, more structured fabric will work best. Those with curves need to opt for a softer, more fluid fabric that will skim their shape. And, I'm being entirely practical here, make sure it's showerproof if not rainproof.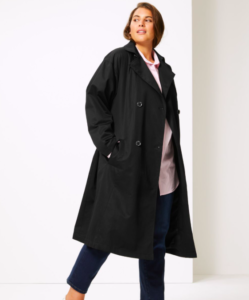 Beware of the belt
Trench coats will usually come with a belt to cinch you in at the waist. This is great if you have natural waist definition (hourglass and triangle body shapes, in particular, will look great in a belted trench coat to show off the waist). However, if you have a straight rib-cage and little waist definition, or if you tend to carry weight around your waist (oval body shapes), you should avoid belts. This black trench coat for £89 from M&S comes without a belt. As this isn't possible with most styles of the trench coat, try belting yours at the back instead.
Details
Some trench coat styles will feature lots of buttons and large collars/lapels. If you have a full bust avoid details like these as they will overwhelm your top half. Instead, look for styles that have fewer details to create an uncluttered look.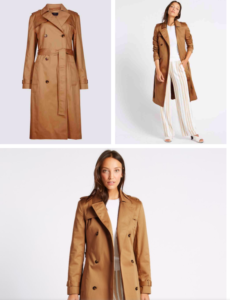 Colour
Traditionally trench coats have been in a neutral taupe, stone or camel shade. This one is from Marks and Spencer and great value at £79 (it comes in navy too). This is a great colour to add accents to, but there are now lots of choices available. The two key colour stories for autumn/winter 2018 are navy and camel. Personally, I'd go for a dark neutral – navy, charcoal, black, chocolate etc., as the darker colours co-ordinate well and don't look grubby around the collar and cuffs after a few wears. You can always inject a pop of colour with your scarf.
Price
There's a trench coat out there for everyone's budget – think 'good', 'better', 'best', or opening, mid and top price point. For inexpensive, 'good' trench coats under £100 you can't go wrong with Marks and Spencer and some of the concessions in John Lewis and Debenhams. For 'better' price points up to £300 try Massimo Dutti, Hobbs, Comptoir des Cotonniers and Reiss. And finally, for an investment buy, there's the classic ones from Burberry and Aquascutum. I have a pewter/dark grey trench coat which I bought from Reiss about 15 years ago and it's still going strong.
For 1-2-1 advice on colours and styles that work for you, please get in touch, or if you are beginning to think about a Christmas present for yourself or a loved one, why not buy a feron clark style gift voucher?

Let's get sociable! You can find me on Instagram and Facebook– pop over and 'follow' or 'like'.
Best wishes
Anita xxx
A couple of related blogs for this season which you may be interested in reading:
Autumn Winter Fashion Trends for 2018 part one
Autumn Winter Fashion Trends for 2018 part two