Watch this space!
I got my first watch when I was thirteen years old. It was a Timex and I wore it every day to school; it was my most treasured possession. Growing up, money was tight and my parents' priorities were our basic needs – food, clothing and shelter; there were no luxuries, none of the toys, eating-out and family holidays we and our children now take for granted. 
So you can imagine how a watch was a truly wonderful gift and I've worn one ever since, on my left wrist as I'm right-handed.  I need to wear a watch for work for time-keeping; it's not professional to keep looking at my phone, but I can subtly glance at a watch to check that I'm on track. I was once offered an Apple watch but declined, as I don't want to be distracted. For me, a watch is for telling the time. My husband and I encourage our children to wear their watches as we feel it promotes well-being; the fewer excuses they have to pull out their phones and get distracted the better!
Nowadays, it's about how a watch makes me feel and what works with my wardrobe. Both of my watches are from Scandinavian brands; my latest is from Nordgreen, who make affordable men's and women's watches for under £250. I like their paired down, minimalist designs as I tend to wear a lot of colour, texture and detail and want my watches to be practical yet understated and stylish. The designer, Jakob Wagner, is one of Scandinavia's most celebrated designers. The watches are categorised as Pioneer (new), Infinity, Native and Philosopher. I particularly like how you can customise your watch by choosing the size, face colour, dial colour and strap.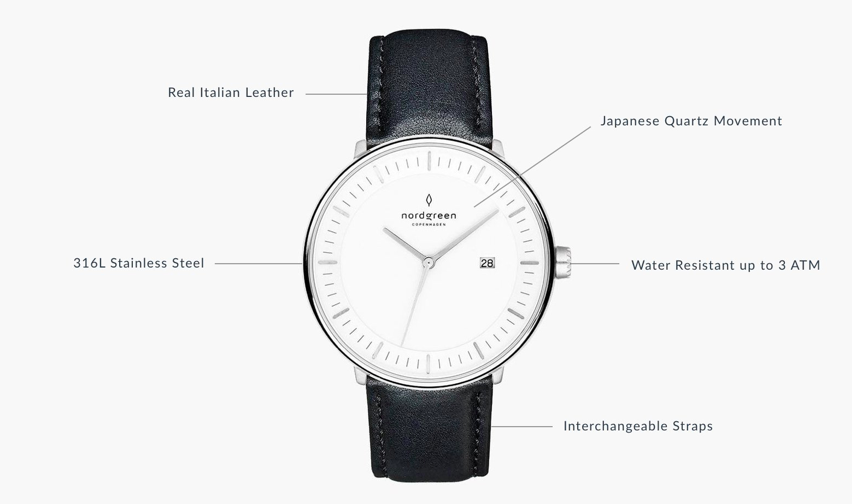 Here's a guide to what I've learnt as a former watch-buyer for M&S (just one of the many things I bought for their accessories department) and from consulting with clients over the last twelve years. There are eleven main factors to consider when choosing a watch and I think you'll find the Nordgreen watches make your decision-making process easier:
Style
Type – analogue or digital
Price
Features
Material
Water resistance
Brand
Diameter
Wardrobe considerations (my own top priority!)
Luminosity
Weight
Which wrist?
Normally a watch is worn on the opposite wrist to the hand you write with, as it can get in the way when you write. On the odd occasion I will swap it over for a night out so I can wear a bangle or bracelet on the left wrist.
Watch-case diameter
To find your perfect size, use your wrist measurement. If your wrist is between 14cm–18cm, select a small or medium watch with a diameter of 38mm, 40mm or 42mm. If your wrist is 18cm and over, choose a larger case, one 44-46mm. I tend to go for an oversized case myself, as I like a big face, but do make sure it doesn't hang over the side of your wrist. Nordgreen offers different sizes: 32mm, 36mm, 40mm and 42mm.
Colours
Go for what you like for your straps and watch face.  There are no hard and fast rules, although a gold or rose-gold matte or shiny metal strap looks great on warm skin tones, whilst a silver or gun-metal strap is more suited to cooler tones. Black or navy leather looks more formal than brown.  Greys and white are lovely for the summer and to lift an outfit. If it's nylon/fabric you're after, Nordgreen offers navy and khaki.

Good, better, best?
You can spend thousands on a watch, and you can spend under £100. How much you spend will depend on the eleven priorities listed above. Nordgreen has kindly offered 15% off any watch for my customers, use code 'ANITA15' at checkout. Here's the link to their website: Nordgreen
Strapped for time?
The choice is vast. The Nordgreen straps are interchangeable, so you can have a leather, mesh, rubber, vegan or nylon strap for the same watch face. Here are details of the two main types:
Leather 
The classic, smooth-surface, calf-leather strap comes in a variety of colours.  You can opt for stitching on the sides, either in the same colour as the leather or in a contrasting colour; white stitching on black or brown leather will make the strap look more casual and rugged.  Other colours available in the Nordgreen range are navy, grey and white. If you don't fancy leather, Nordgreen have designed durable vegan accredited straps.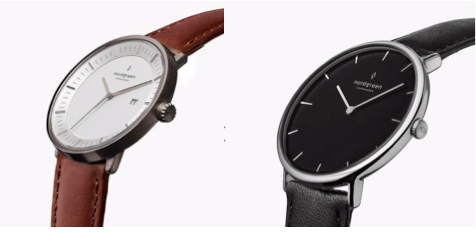 An exotic and refined – albeit expensive – option for formal wear would be a grained leather, such as black alligator.  A similar, cheaper, effect can be achieved with a stamped calf-leather.
Mesh 
The Milanese, or mesh, strap is distinctive and unique for two reasons.  Unlike steel types, it does not have small pins connecting the links; instead, the whole strap is constructed of interwoven steel threads – akin to cloth but made out of steel.  Secondly, it is made up of two pieces which have to be joined together when you wear it, much like a normal watch strap.
Nato
This is a very casual strap and look, made from nylon.  My children got their first watches when they were seven and these were nylon, nato straps from Swatch.  It became popular for being lightweight, durable, fuss-free and cheap.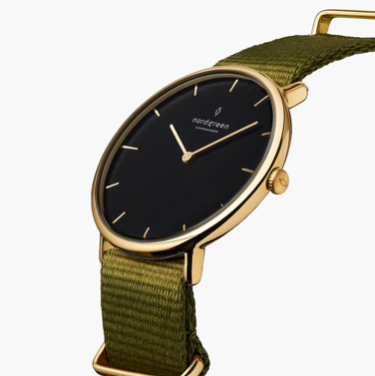 Watch for work, rest or play?
Again, there are no hard and fast rules, although certain straps are better suited to certain settings, events or usage.  Of my two watches, one has a black leather strap, the other a gold mesh one and I interchange them depending on what I'm wearing and my mood.
Nylon or fabric straps are definitely more casual, but no good near water. For hanging out at the beach, rubber (image below) or steel straps are a good choice. For durability, a steel strap wins hands down. However, steel can be both hard to adjust and quite heavy and other materials, such as rubber and leather, will be more comfortable and lighter. 
Nordgreen rubber strap: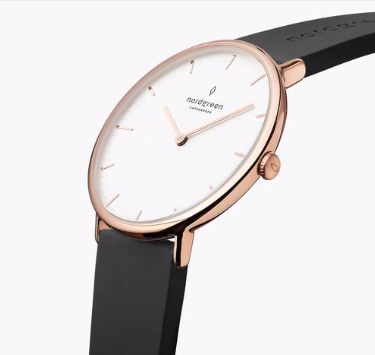 Giving something back?
Nordgreen have partnered with three global NGOs to create tangible change in the fields of health, education, and environment. With each watch purchased, you have the unique ability to choose which cause you would like to support. Access to clean water, a clean environment, and a full education should be a right for all.
So, watch how you go … and please do leave a comment or let me know if you have enjoyed this article.
Giveaway
Nordgreen are gifting ten boxes to ten lucky people. To be in with a chance of winning one of Nordgreen's beautiful sets, consisting of one watch + one extra strap, you need to follow @nordgreenofficial and @feronclarkstyle before 24 November. The winners will be announced on Monday 25 November by direct message (DM) on your Instagram account.
This competition is in no way sponsored, endorsed, administered by, or associated with, Instagram Inc.