Spiced cauliflower & pomegranate salad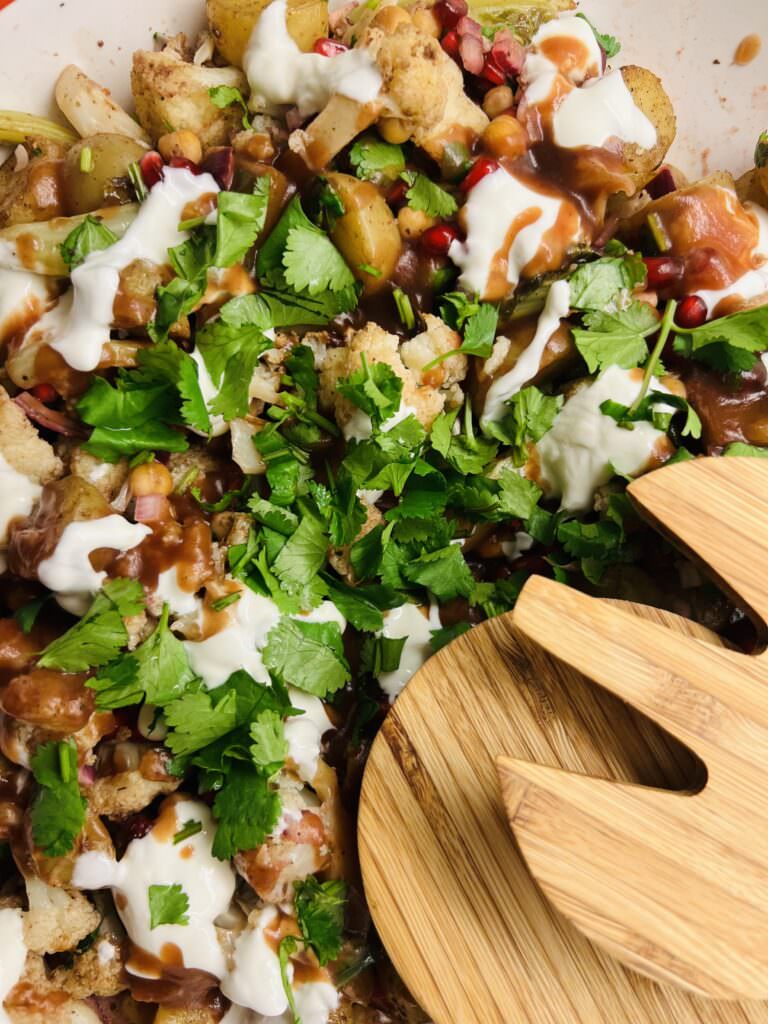 I first had this delicious salad at book club made by fellow book clubber Rosie, and it was a recipe from Waitrose. I've adapted it to make it more flavoursome. 
Cauliflower and chickpeas are roasted with fragrant garam masala to give this veg-packed salad a gently spiced warmth. I like to serve it with roast chicken, pizza or salmon.
Serves 6

Prepare 10 mins

Cook 35 mins

Total time45 mins

Plus cooling
Ingredients
400g baby new potatoes, washed and cut into small chunks
4 tbsp olive oil
One large Cauliflower washed, leaves reserved, the rest cut into medium florets
400g can Chickpeas, drained and rinsed
One heaped tsp garam masala
100g Tamarind Paste
One heaped tsp clear honey
One large lemon juice
One heaped tbsp Chaat Masala
One red Onion, diced
180g Pomegranate Seeds
25g pack coriander, washed and finely chopped
150g Natural or Greek Yogurt
Method
Preheat the oven to 180oC. Toss the potatoes with 3 tbsp oil, season and spread out in a large roasting tin or tray Roast for 5 minutes. Toss the cauliflower florets, leaves and chickpeas with the remaining 1 tbsp oil and the garam masala; season and add to the tin or tray. Mix thoroughly and coat. Roast for 30 minutes, stirring halfway, then leave to cool for about 15 minutes. 
2. Meanwhile, make a sauce by mixing the tamarind paste, honey and 2 tsp water; set aside. In a large mixing bowl or platter, stir the lemon juice, chaat masala, red onion, and pomegranate seeds and add half of the coriander. Add the cooled vegetables and toss everything together.
3. Spoon over the yoghurt, then the tamarind sauce. Scatter with the reserved coriander to serve. Delicious as a salad the next day for lunch or supper. Keeps for three days in the fridge.