School Fundraising: Raise funds for your PTA with an evening of fun and style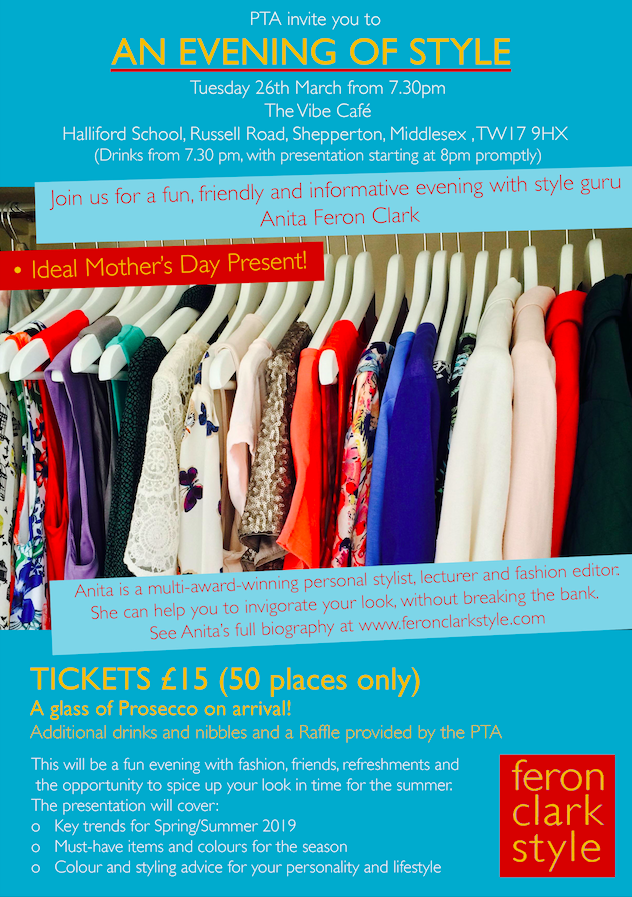 "We raised more money per head for our PTA at this event than from any other and had loads of fun too."
PTA Chair, Coombe Hill Infants and Donhead School
My second style evening event for 2019 – yeh, yeh, yeh! It's a no-brainer, really… I do all the work (including designing the school's flyer), whilst parents and teachers sit back and have a wonderful evening and raise hundreds of pounds for their school.
Why not raise funds for your PTA and give the school mums a really great night out while you're about it?  Do some mums throw on the same clothes every day, or wear slouchy clothes and wear dull colours to avoid drawing attention to themselves?  Wouldn't it be wonderful to know how to dress for ourselves so that we feel good in what we wear, to be comfortable and practical, yet stylish, and to regain the confidence that often disappears when we have children?
Imagine offering this to school mums and raising money for your school at the same time! Just forward this email to your PTA rep. I'm really looking forward to this fundraiser with Halliford School.
My name is Anita Feron Clark. I am a mother of two and a multi-award-winning personal stylist. I present practical, entertaining and interactive evenings full of fantastic colour and styling tips which not only help busy mums and teachers to 'feel good and look fabulous every day' without breaking the bank, but also raise hundreds of pounds for schools.
It's a fun night out and appeals to a wide audience (not just fashionistas!) and can be tailored to meet your needs. Topics I have previously covered include:
– The best colours to complement your colouring
– How to make sure your wardrobe contains clothes you actually love to wear
– Styling advice for your personality and lifestyle
– Looking fabulous regardless of your age – 30, 40 and beyond
My presentation lasts for up to two hours, with plenty of audience participation (fun and laughter thrown in).  You provide the venue (your school hall). I bring along all my props. I can help produce a flyer for your event.
How the school benefits
Once 17 tickets have been sold, 100% of all further ticket sales goes to the PTA funds (calculation based on my £250 fee and assuming a ticket price of £15).
Raffle – 100% to the PTA.  I donate two raffle prizes worth £195 each, in addition to any school prizes.
Sale of drinks and nibbles, with profits going to the PTA.
My background
I run my own personal styling business, feronclarkstyle, in Kingston-upon-Thames.  I offer advice on all aspects of personal style (colour, body shape, lifestyle, personality, etc.), whether it's for casual, smart casual or business/formal situations.  I was a lecturer in fashion buying at London College of Fashion, style editor for 'Essence', Surrey's premier lifestyle magazine, and a clothing buyer for two major high-street retailers for 12 years. I have won numerous awards as a personal stylist from Colour Me Beautiful.
I feel passionate about improving and maintaining women's self-confidence through their personal style and I particularly enjoy the evenings I do at schools. I'd love to chat with you. So if you would like me to come to your school (I've presented to over 20 schools already), to show mums how to regain their style mojo and to help raise money for the PTA, just use the link above, 'forward to friends,' to send this to your PTA rep.
Email at: anita@feronclarkstyle.com
Visit my website: www.feronclarkstyle.com
Mobile: 077998 56544
I look forward to hearing from you or your rep.
Best wishes and many thanks
Anita 
Testimonials from PTA organisers:
The style evening with Anita was incredibly easy to organise and proved to be a fun night out for the ladies. It was well received as a new and different fundraising event in addition to the usual annual favourites.
PTA Chair, St Lukes Primary School
I have organised four style evenings with Anita for Coombe Hill Infants and Donhead School and all the events have been incredibly successful in raising money. In my experience, it is one of the most lucrative events organised in the school calendar, as with Anita's professionalism and knowledge she draws in a crowd and mums are prepared to part with their money for tickets, raffle prizes and drinks. I have only ever had wonderful feedback from the mums – not only do the mums enjoy an evening out, but they go home with great tips and insights, whilst having fun at the same time. And, most importantly, the school benefits too.
PTA Chair, Coombe Hill Infants and Donhead School