Cardigan colours for you…

Hello!
We are having a mini heatwave in London this week; it's unseasonably hot for autumn, yet the days begin chilly and end chilly.  As a result, this week's newsletter focuses on cardigans, which are a key layer to pop on when it's cool, and easy to peel off when you're warming up. I'm also a big fan of jackets and blazers and at some point I'll do a little edit on these, too.
I wanted to share some of my high-street favourites with you, and for ease I have chosen just one brand. I was drawn to And Other Stories, a Swedish brand, sister to H&M and Arket, as it's a brand I've grown to love and my clients feel the same way. I've been impressed by their quality, fit and reasonable prices. I've categorised my favourites by your colour dominant; obviously, you can wear a plethora of other colours, but there was only so much I could buy on my credit card! The links are affiliate links, so if you click through on them, I will receive a small commission (approx. 3%) on each sale.
I ordered and tried on all of the cardigans shown here. The size XS will fit a UK 8/10 perfectly. These cardigans can be worn in many ways: layered with thermal vests; over dresses; with skirts and trousers. They are all wool blends, with a mixture of natural and man-made fibres. All are a little bit fluffy (which I love), because there's some Alpaca yarn in them. If you're on Instagram, you can find a video entitled 'cardigans 4 u' saved under my highlights at @feronclarkstyle.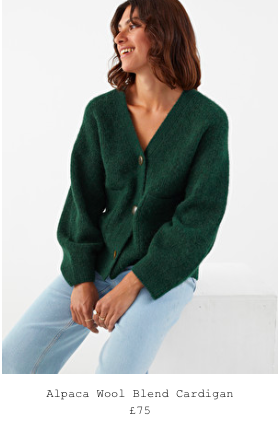 DEEP
This dark green is a neutral on a 'deep' palette. It looks great with other lighter or darker neutrals, or teamed with a pop of colour such as orange, bright blue or purple. Avoid wearing green with red; it's a colour combo with festive connotations!
Buy here: https://bit.ly/2Z7HeMr

LIGHT
This light-grey marl has a cute, oversized collar. I would wear it slightly unbuttoned if you have a short neck. This is a very versatile grey which will look fab with both darker greys and neutrals and any bright colour.
Buy here: https://bit.ly/2QYjxla

COOL
Lavender is having a bit of a moment.  It's such a fresh colour, which will complement all of you who are cool dominants, but it can also be perfect for some lights and softs.
Buy here: https://bit.ly/35BT8Ce

WARM
I just love this warm red for redheads, strawberry blondes and auburns. How cute are the heart-shaped buttons? This one I kept, as I can see it being worn loads with winter neutrals and I'm missing red in my wardrobe – I know that may come as a surprise! I wear red with almost every colour except green.
Buy here: https://bit.ly/2QRKDe1

SOFT
This cardigan has a lot of detail and the style is very romantic and feminine and may not be everyone's cup of tea. However, the heathery yarns in soft greys, greens and browns are perfect for all of you soft dominants.
Buy here: https://bit.ly/3hqcZXA

CLEAR
Yes, it's a cardigan, but with shorter sleeves and it'll look lovely worn with long sleeves underneath. This is a bright blue, which is fantastic for cools, and it'll really pop with white and red. Also a great colour for those of you who are clears.
Buy here: https://bit.ly/35tNv9p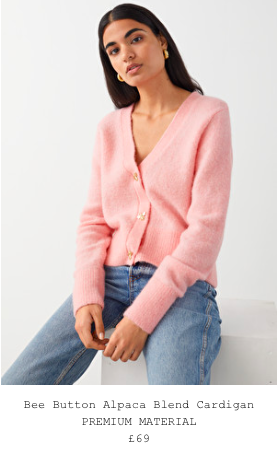 There are many ways in which these cardigans can be worn by other dominants as well. I'm a deep, warm, clear and can wear most of the above, but it's how I wear them that is key: I need to ensure that the colour under my chin is flattering. I bought a version of this pink cardigan last year and I've worn it loads. It's available again with super-cute brushed gold bumblebee buttons. This has been a winner for me and if you like it, too, go for it – it's a bestseller!
Buy here: https://bit.ly/2QUuLY3
Finally, with autumn/winter merchandise now landing on our high streets, my inbox outfit service is proving hugely popular.  Understandably, the wearing of masks and not being able to try clothes on has put a dampener on the shopping experience. So if you'd like a dripfeed of newness in your wardrobe from £12 a month, please get in touch. Believe me, I've trawled the length and breadth of the West End to bring my favourite new-season items to your inbox.
Best wishes
Anita xxx