Animal Print – chic or cliché?
This season I've been on the hunt for the perfect animal-print dress. It's fair to say I was a late adopter of animal print; I purchased my first item in my late forties and now own several in various permutations.  I love wearing them – just not all at once!
It's a look and a trend that's easy to get wrong … and we don't want to give animal print a bad reputation (think pub landlady Pat Butcher or Kat Slater). Here are my top tips for nailing prints from leopard to tiger, cheetah to zebra, so you look like you've stepped off the catwalk rather than out from behind the bar.
Invest in a print and colour that's perfect for you, don't worry about what others are wearing. The scale and pattern should not overwhelm you. The colours must suit your skin tone and hair – either warm or cool.
Don't wear too much animal print in one go; it's about balance. Make the statement piece either your clothing or your accessory/ies.
Buy the best you can afford and in a natural fibre. My silk dress above is by Ganni from The Outnet (£155, down from £400). I'm wearing size 34 which is a UK size 6/8. This print is available on various fabrics and in various styles. Click here. Don't follow trends; it's more important to be stylish than fashionable.
Ease yourself in gently. If you like this trend but don't want to splash out on something big, try a bucket hat, a bikini, a pair of shoes … or accessorise with scarves, hair bands or jewellery.
Create your own style with animal print. Team with wide-leg trousers or killer accessories, such as oversized sunglasses and an investment bag.
If leopard print isn't your cup of tea, why not give tiger, cheetah or zebra a go?
*good  – under £50
*better – under £95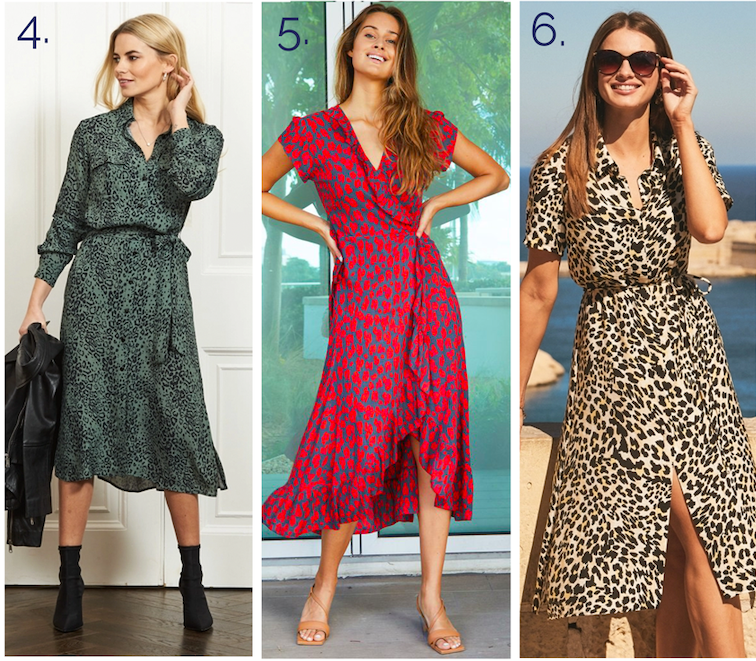 *best – under £245
Best wishes and have a lovely week!
Anita x
* affliliate links