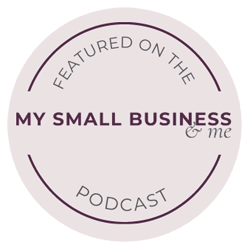 Hi folks!

Two months ago, my client Rona got in touch with me to ask if I'd like to record a podcast with her. I was absolutely delighted to be asked and jumped at the chance. We recorded the podcast a few weeks ago.

Rona is passionate about helping small businesses and is a big cheese on Instagram. She has over 46K followers and inspires and supports the floristry industry with her insight, knowledge and training. Please click here to see her Instagram feed – it's beautifully curated. She has a beautiful website too.

The podcast lasts about 45 minutes and we discuss:
My 12-year career working as a fashion buyer for Marks & Spencer
How I took voluntary redundancy and, on the advice of my friends, decided to concentrate on teaching and styling
My teaching at the London College of Fashion
How I set up my image-consultancy business, feron clark style, with my first clients being my friends
The importance of choosing the 'right' colour to wear near your face
Colour psychology and the impact it has not only on you and how you feel, but also on the people you're with
Details of universal colours which we can all wear.
Wishing you warmer weather, fewer layers and summer dresses,

Anita x
Links
* Affiliate link