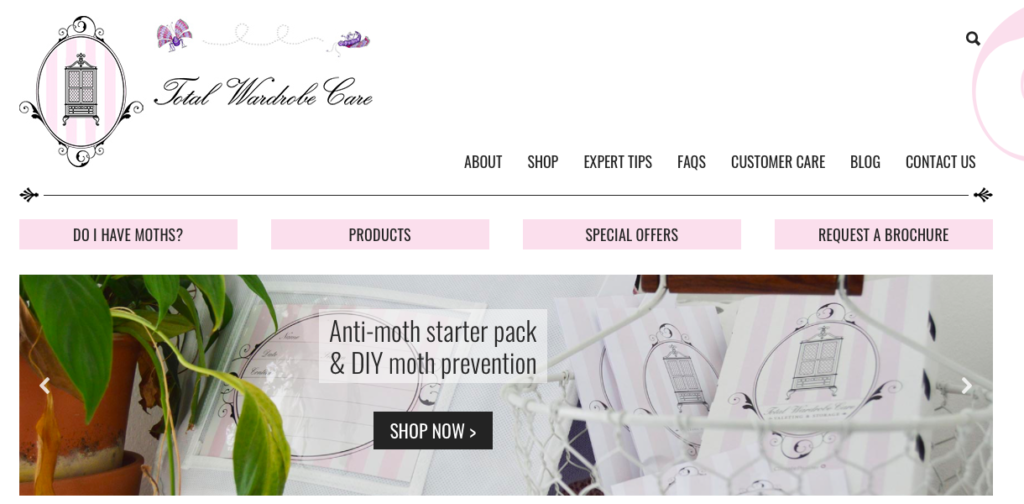 Hello!
With autumn here, knitwear may be at the forefront of your mind. I really like to take care of my clothes and especially my woollies. A few years ago I had to throw away my entire, beautiful, knitwear collection due to a moth infestation. It was upsetting as I had built it up over many years and the cost of replacing it was huge. So, I thought it was timely to write a blog about keeping your knits in pristine condition throughout the year, and below are my top tips. After all, if you're anything like me and love wearing cashmere, you'll know it's an investment buy and will want to maximise its cost-per-wear value.
The biggest threat to your woollies is moths, so let's tackle them first.
1. Keep dirty woollies out
Moths LOVE dead skin, food debris and body odour. So if you don't want the hell eaten out of your knits, always put clean wool back in your wardrobe.
2. Keep moths at bay
I was approached by Total Wardrobe Care (affiliate) to try their extensive range of anti-moth prevention products and they are absolutely brilliant and they smell divine too! The range includes everything you need for both hanging and folded knitwear, as well as items you can place around a room to prevent these pesky insects getting anywhere near your wardrobe and drawers. For example I've placed these moth boxes in every room without them, these moths may have found their way into our woollies. Here's the link to browse: Total Wardrobe Care
I believe more is more, there's no point skimping on any anti-moth product range, definitely more is more with moth prevention.
3. Hang or fold?
Storing knitwear on a hanger can stretch it (especially if it is an open weave or very sheer), so you're better off keeping it folded. Avoid stacking garments in piles more than five-deep, though, or they'll crease.
4. Wash as little as possible (use sweat catchers!)
You may say I'm contradicting myself here. However, sometimes all your knitwear needs is a bit of fresh air – hang it outside your window or on a clothes-horse in the garden. Avoid your knitwear making contact with your armpits by wearing a short or long sleeve T-shirt underneath. I love the Uniqlo HEATTECH range, which I call my 'sweat catchers'. You can throw them in the wash daily.
5. Bag it up
Don't allow your knitwear to get stretched to death in the washing machine! The spin cycle gives your delicates a right pummelling. Keep the shape and fit intact by using laundry bags, which I also use for bras and other delicate items such as tights and silk blouses.
6. Keep it cool
NEVER wash your knitwear over 30 degrees and use the hand-wash or delicate cycle (represented by two double bars) on your machine. I keep my laundry bag hanging on the back of my door and once it's full I put the washing machine on. Otherwise, my delicates get mixed up with other items that needs to be washed at 40 degrees and above. Click here to buy laundry bags.
7. 'Honey, I shrunk the woollies'
Don't put your woollies in the tumble dryer – unless you want your cashmere to shrink and end up on your eleven-year-old daughter.
8. Tape off your bobbly bits
This is a great quick fix – brown parcel tape is best. However, too many bobbles suggests a shopping spree to replenish is required.
9. A spoonful of vinegar
When hand-washing (when did you last hand-wash?!) cashmere, add a few drops of vinegar to the water. It acts as a softener and helps get rid of smells.
10. Holey knits
If you get holes in wool or cashmere clothing and mum or granny aren't around to darn, Cashmere Circle will fix them for you from £39 per item. Just pop them in the post and they will deliver them back to you.
11. Move to the dark side
Store your knitwear somewhere dark. If knitwear is exposed to light – on a rail, for instance – it will fade over time. However, don't forget to check your knits regularly for those dreaded moths – they love dark spaces!
Need help organising your autumn/winter wardrobe. Please get in touch as there are numerous ways I can help: www.feronclarkstyle.com
Best wishes,

Anita xxx