How to look great in jeans with the perfect fit by Ambrose Wilson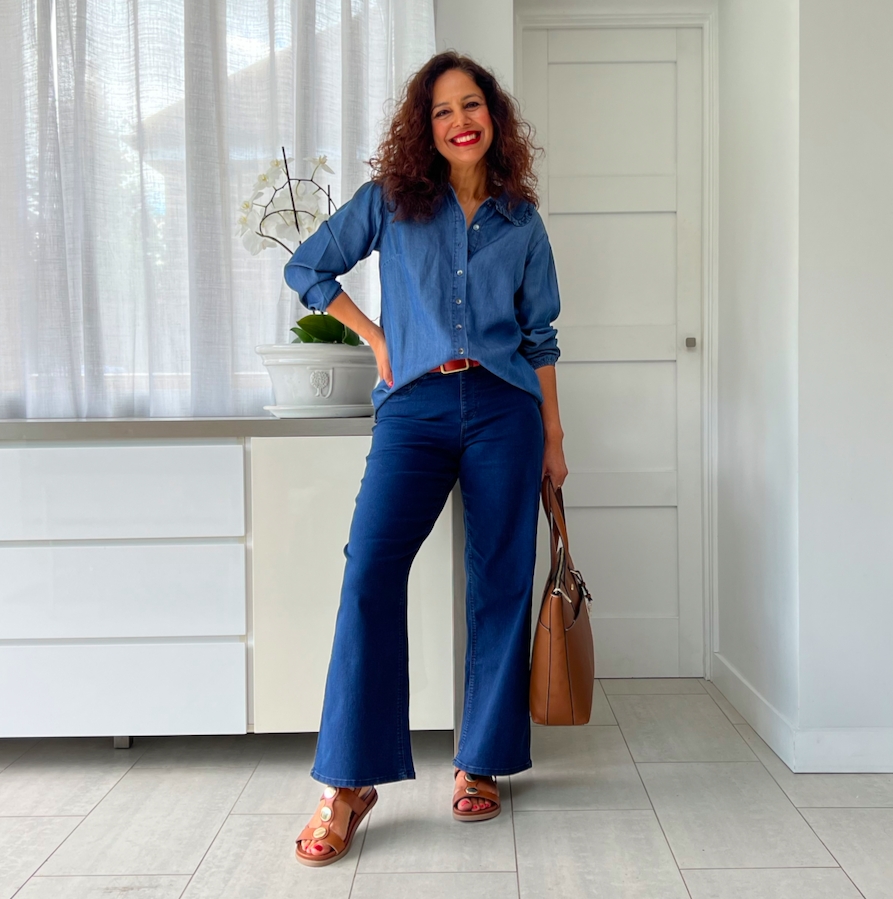 How to look great in jeans with the perfect fit
For busy women, getting dressed every morning needs to be quick and stress free. You need your clothes to be comfortable, well fitting and stylish, without looking like you've made no effort at all – and that's why jeans are your best friend… Thank you, Levi Strauss & Co, for inventing them!
This is also why you need more than one pair of jeans, and they should all be a good fit, the right shape and a flattering cut for you. We all come in different shapes and sizes. Fortunately, there is a wide range of jeans out there, although this can make choosing the best pair for you feel overwhelming. There's high- and low-rise, skinny, super-skinny, bootcut, kick-flare, boyfriend, girlfriend, cropped, cropped-flared, wide-leg, etc. I'm delighted to be collaborating with Ambrose Wilson, who have a fabulous range of jeans at affordable prices.
AMBROSE WILSON
I'm delighted to be showcasing some of my favourite jeans from Ambrose Wilson, which you can view on these two videos. I will list the items and jeans for you with clickable links for easy purchasing. Sizes range from a UK 10 to 30.
Step 1: Understand what styles flatter your body shape, scale and proportions
Women fall into six different body shapes and until you understand what flatters yours, it's hard to find the perfect pair. Do try on a few pairs until you feel you've struck gold.
Most women suit a straight leg with a mid-rise in a dark, lightweight denim.
If you're quite 'straight up and down', opt for a pair which has detailing on the pockets (flap pockets are ideal), to add a little shape to your figure with a bit of bulk. You might also want to go for a heavier-weight denim … a lighter wash and bootleg could work for you.
Step 2: Get the right length
Choose a length that works with either flat shoes, or with trainers and heels. What you don't want is for the jeans to be flapping around your ankles. Usually, if the hem of your jeans slopes back without touching the floor and there's a bit of ruching at the front, that means they are the right length with flat footwear.
Step 3: The colour (wash levels)
How much Lycra? As much as possible, for comfort and bi-stretch, to allow movement vertically and horizontally. Think about the wash, too – a darker shade will hide a multitude of sins. If you take a size larger on your bottom half than your top half, you'll want to detract attention from that area, so choose a dark indigo wash (with no gimmicks, such as whiskering) and keep the weight of denim as light as possible.
Step 4: The silhouette
Along with your shape, you need to think about how you spend your time, e.g. the school run, shopping, meeting a friend for a coffee, smart/casual work days, etc., and any other activities outside of the house. Some days you might want smarter or sexier jeans; other days you might just need casual, mostly-around-the-house jeans. Women love jeans – and your jeans should love you and make you look good. So you can choose different styles according to what you are doing, but fundamentally, jeans have to be comfortable and to flatter and fit you beautifully.
CASUAL
Here are all the links to the items below:
Dusky Pink Western Denim Jacket | Ambrose Wilson
Lottie Dark Indigo Wide Leg Jeggings | Ambrose Wilson
Nylon Crossbody Bag | Ambrose Wilson
Lace Up Leisure Pumps Extra Wide Fit | Ambrose Wilson
SMART CASUAL
Here are all the links to the items below:
Lottie Dark Indigo Wide Leg Jeggings | Ambrose Wilson
T Bar Sandals with Stud Detail E Fit | Ambrose Wilson
Dark Blue Collar Detail Lyocell Blouse | Ambrose Wilson
Calvin Klein Tote Bag | Ambrose Wilson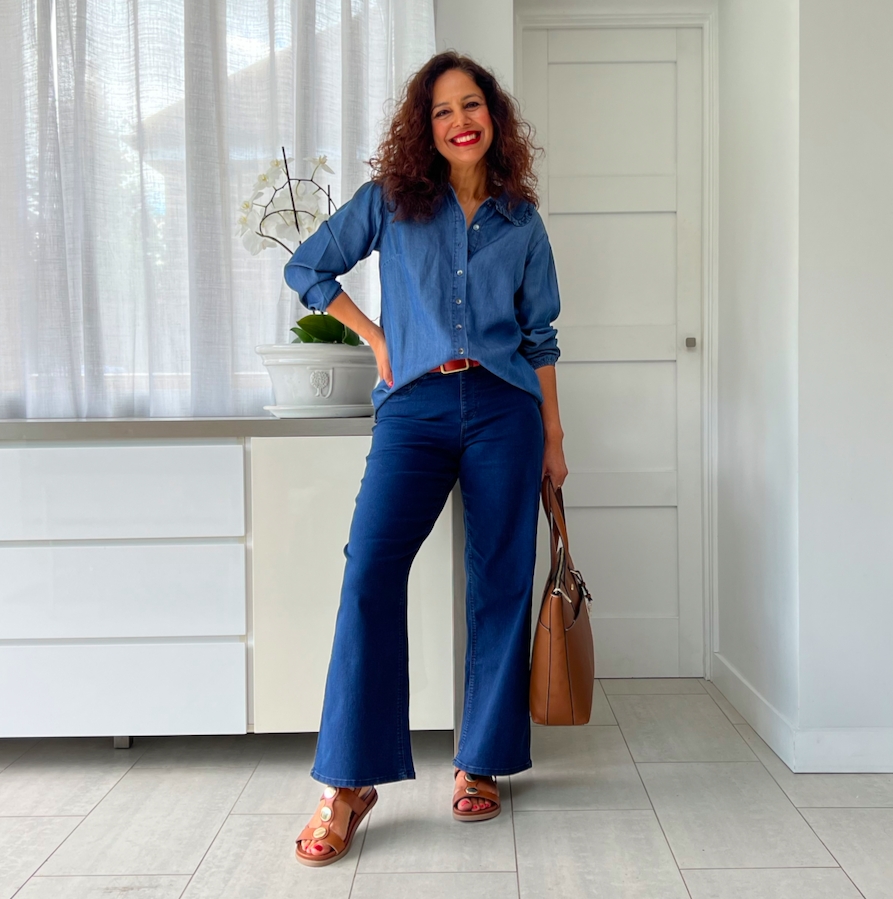 SMART
Here are all the links to the items below:
Ruched Clutch Bag With Shoulder Strap | Ambrose Wilson
Joanna Hope Frill Shoulder Blouse | Ambrose Wilson
Lottie Dark Indigo Wide Leg Jeggings | Ambrose Wilson
If you need any help with buying the perfect pair of jeans, why not get in touch for a style consultation:
Best wishes and happy September

Anita xxx