🎄CHRISTMAS…CUT YOURSELF SOME SLACK🎄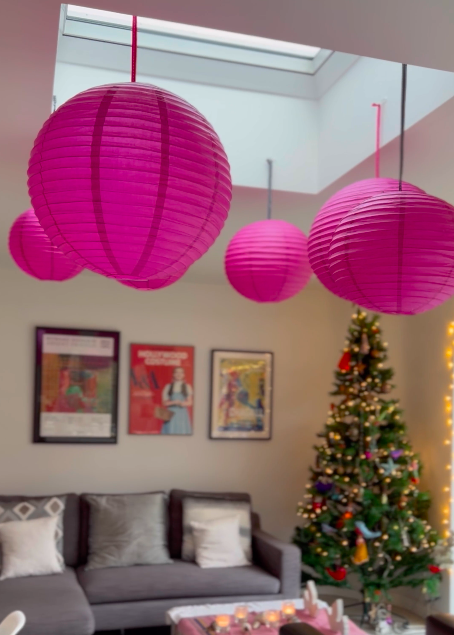 🎄 This is our kitchen/living room – the heart of the house. This is how I decorated it last year. Not sure what this year's colour scheme will be…
🎄 I put myself under ENORMOUS pressure to make it beautiful for my children, family and friends. The decorating task starts playing on my mind around the beginning of November. Although I'm a born and bred Londoner, my Indian parents didn't think to celebrate Christmas when I was a child. We lived in Muswell Hill and myself and my two sisters really missed out.
🎄 When I was eight, along came two more sisters and I badgered my parents to buy a tree and in some way celebrate Christmas to make it special for us all. Eventually they relented and I have enjoyed (and gone to town) with Christmas ever since. It wasn't made special for me as a little girl (when it really mattered) so I think that's why I put so much pressure on myself to make it special for others. TBH, they wouldn't really mind if I made little effort as long as they have lots to eat, drink and there's laughter.
🎄 I host Christmas book club on the first Tuesday in December; we have a big lunch for all of Tom's cousins; and this year Tom's family are over on Christmas Day. That's a lot of hosting when you're working full-time but I wouldn't have it any other way. I don't give presents, I prefer their presence.
🎄 I can't stop myself from stressing about how the house looks and whether I'm living up to everyone's expectations. BUT I have learnt to cut myself some slack. It doesn't have to be perfect, things can be wonky, everything doesn't have to be matchy-matchy. And it's a lot easier to decorate the tree and house with my daughter, some disco music blaring and a G&T.
🎄 This December, cut yourself some slack – it doesn't have to be perfect, in life, nothing rarely is perfect, so why does it have to be for Christmas?
🎄🎄🎄🎄🎄🎄🎄🎄🎄🎄🎄
Candles by @_theprettylittlecandleco