Langan's brasserie, Mayfair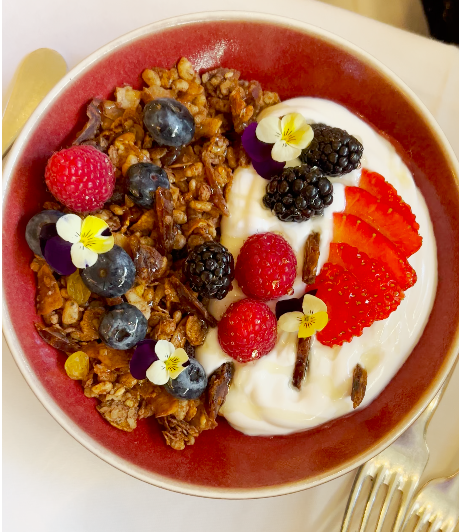 Born in 1976, reborn after a beautiful refurb in 2021.
Langan's @langansbrasserie is an iconic Mayfair institution with an unparalleled reputation for sophisticated cuisine and outstanding service. It's open for early breakfasts, late night soirées and everything in between. I would highly recommend a visit if you're new to the city or passing through town. My friend Rosie and I met over a delicious brunch for a 'work' 🤪 meeting. Watch the video here.
What we had:
Coffees
Freshly pressed juice called 'Detox' with spinach, kiwi, cucumber, apple and tarragon
Freshly pressed juice called 'Raspberry kombucha' with orange, apple, carrot, ginger
Seasonal fruit platter
Acai bowl and coconut yoghurt with granola and fruit
English Breakfast: poached eggs, Tamworth pork sausages, black pudding, Tamworth bacon, tomato, mushroom, baked beans and granary bread.
Brunch menu: