SUMAC CHICKEN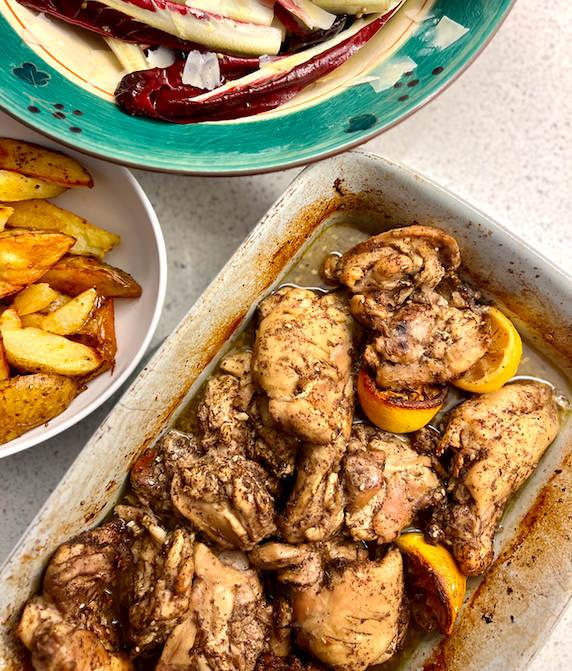 Serves four
This delicious recipe was inspired by Aoife, the chef whom I met on an In:spa retreat. She prepared and cooked all our yummy meals over eight days, and I highly recommend you follow her on Instagram. Please don't use chicken breast; it doesn't have enough flavour and can often be too dry.
Serve this dish with anything you fancy: salads, potatoes, mash, in a brioche burger bun etc. Great for leftovers the next day for a packed lunch or an evening meal. It was delicious with the spiced cauliflower and pomegranate salad but didn't work so well with the chicory salad.
INGREDIENTS
12 skinless thigh chicken pieces. Or approximately 1 to 1.2kg of chicken. Buy the best you can afford.
Two lemons
Two teaspoons Sumac (available in most good supermarkets)
Two teaspoons Za'atar (available in most good supermarkets)
seasoning – salt and pepper
Two/three cloves of garlic crushed or finely chopped
One handful of chopped coriander for garnishing (optional)
A good generous drizzle of extra virgin olive oil
Fresh green chilli/ies finely chopped for extra heat! (optional)
METHOD
Place the chicken thighs in an oven-proof dish.
Thoroughly stab each thigh so the spices can really marinate into the meat.
Sprinkle over two teaspoons of Sumac and Za'atar.
Season with salt and pepper.
Add the juice of two lemons and pop the lemons in with the chicken.
Crush two cloves of garlic (more if you like it more garlicky).
Add a generous drizzle of extra virgin olive oil.
Now it's time to get your hands dirty by mixing it all up thoroughly, ensuring every piece of chicken is coated in the spices.
Cover in cling film and marinate in the fridge for as long as possible, and I would say a minimum of an hour.
Preheat the oven to 170c or 375f (fan oven) degrees or gas mark fice. When you're ready to cook, place the dish in the middle of the oven.
Cooking time will be between 40-60 minutes, depending on how big the pieces of meat are. Every 20 minutes or so, take the chicken out of the oven and turn the pieces over so they get a really good dose of marinade.
Garnish by sprinkling over fresh coriander (optional)
Lots of delicious juice will be in the bottom of the dish, and don't waste this. Use the juice to soak up in chips, potatoes, or salad, or pour into a gravy jug for extra juice over your Sumac chicken.
Enjoy! Do let me know how you get on.
Anita xxx