what to pack for a mini break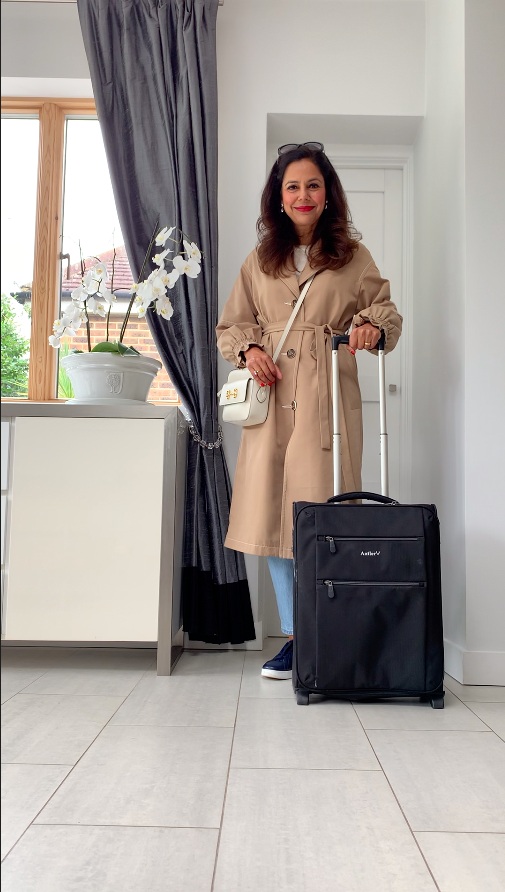 PERFECT PACKING
I did a lot of travelling as part of my job as a clothing buyer and I always tried to pack light so I didn't need to check my luggage into the hold.  Most women return from holiday with clothes they haven't worn, and with airlines today charging more and more for checked-in luggage, learning to pack light is a valuable skill.  And just think of the time you will save when you arrive at your destination with hand luggage only.
With more and more of us opting for staycations, it's important to pack for the UK's unpredictable and sometimes unseasonable weather.  With this in mind and in response to cries for help from some of my clients, I've put together a video and a blog about travelling light, and what to include to be all-weather ready.
Here's a short video and some of my top tips:
PACKING RULES
Pack as few clothes as possible.
Travel in your heaviest shoes, clothes and outerwear. For me, this would be a trench coat, cashmere jumper, jeans and trainers with a cross-body bag.
Decant your toiletries into travel-sized plastic bottles.
Minimise your make-up bag – you don't need ten lipsticks and eye shadows.
Wear your valuable jewellery and keep the costume jewellery light.
Take one miniature bottle of perfume.
Don't go over the top with underwear – it can be washed overnight.

 

Ensure your travelling handbag is large enough to carry your documents and other essentials, and put a pouch inside it that can double-up as an evening clutch.
YOUR TRAVEL WARDROBE
List every day of your trip, and for each day write down what you might be doing (lunch, sightseeing, sporting activity or just relaxing). For each of these, make a note of what you are likely to wear. This will demonstrate that you can wear the same pair of trousers twice, and therefore how little you need to pack.
Following your list, lay out all the clothes on a bed so you can see how they co-ordinate with each other. There is no point in taking a sequin skirt 'just in case' if you do not pack something to go with it.

 

Keep the colours you take to a minimum. Your jumper, trousers and jacket should be in your best neutral shades, which will work with everything else.
Try and pack natural fibres such as cotton, wool blends, silk, viscose, etc., as these are breathable.
Avoid packing fabrics which crease very easily, so not too much linen.
If you have forgotten something, have fun and buy it locally! You need to leave some space in your suitcase for anything you may want to bring back.
Don't trust the weather! Always pack an item that will keep you warm and dry.
THE CITY BREAK (3 DAYS/2 NIGHTS)
1 waterproof jacket (with a hood) or a trench coat
1 lightweight neutral blazer, j

acket or denim jacket

1 pair of trousers or chinos
1 pair of jeans

 

1 dress
1 skirt
1 jumper or cardigan
1 shirt or blouse
1 T-shirt
1 pashmina or wrap (optional)
1 pair of trainers or comfortable shoes
1 pair of low heels
underwear for 3 days

 
Here are some outfit ideas, but it's easy to interchange outfits with what you've packed above:
DAY
DAYTIME
EVENING
1 Travel am
trench coat, jeans, jumper, trainers

 

1 Arrive & change pm
Chinos, T-shirt, blazer, trainers
 Dress, jumper, heels
2 
Skirt, blouse, jumper/jacket, trainers
Chino/trousers, blouse, heels
3 & Travel Home?
Blazer, dress, trainers
trench coat, jeans/skirt, T-shirt, trainers
I hope you find this useful. If you need any help deciding on the best colours and styles for you, please get in touch at anita@feronclarkstyle.com.
Bon voyage for any of your travels – near or far.

Anita xxx