Toad in the Hole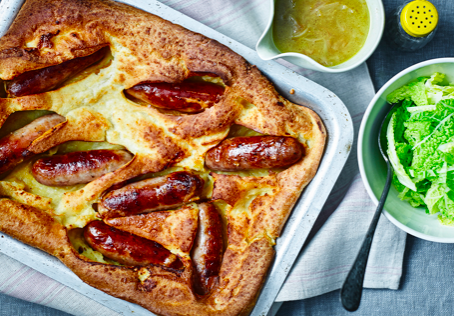 This is the ultimate comfort food and one of my son's favourite meals. What's not to love? Golden baked sausages roasted in a light and crispy giant Yorkshire pudding. For vegetarians substitute with Linda McCartney's vegetarian red onion and rosemary sausages and add a little extra oil when cooking them.
VITAL: DO NOT OPEN THE OVEN DOOR UNTIL THE BATTER HAS BEEN COOKING FOR AT LEAST 25 MINUTES!
Prep time: 5 minutes
Cook time: 40 minutes
Ingredients (serves 4-6)
4 tbsp sunflower or rapeseed oil
12 Sausages about 650g
300ml full-fat or semi-skimmed milk
75ml water
4 large eggs
225g plain flour
Large Pinch of salt
I heaped teaspoon of Dijon mustard (optional)
Recipe
Preheat the oven to 220c or 200 fan
In an oven-proof dish, add sausages and coat them with the oil coat. Place the dish in the oven and cook for 15 minutes. If the sausages are vegetarian, cook for 10 minutes.
Whisk the flour and salt with the eggs until you have a smooth, thick paste. Add the milk and water in slowly and continually whisk until the batter is smooth.
Add the batter to the sausages and cook in the middle of the oven for about 30-40 minutes until golden.
Serve with onion gravy and steamed vegetables. Sometimes I make mashed potatoes.
Hint: Do not open the oven door until the batter has been cooking for at least 25 minutes!
Leftovers
If you want to reheat Toad in the Hole, you can do this in the microwave or oven covered up with foil, but it may become soft in the microwave and dry out a little in the oven.
Top tips
Getting your Yorkshires to rise:
Toad in the Hole needs a hot dish with plenty of oil. Using a metal baking tin and adding the batter quickly is recommended. Also, the dish needs to be large enough so that the batter can creep around the edges (at least 30cm x 25cm ideally).
What to serve with Toad in the Hole?
Recipe inspired by https://www.tamingtwins.com/toad-in-the-hole-recipe/