the body camp – food, fun, fitness & friendships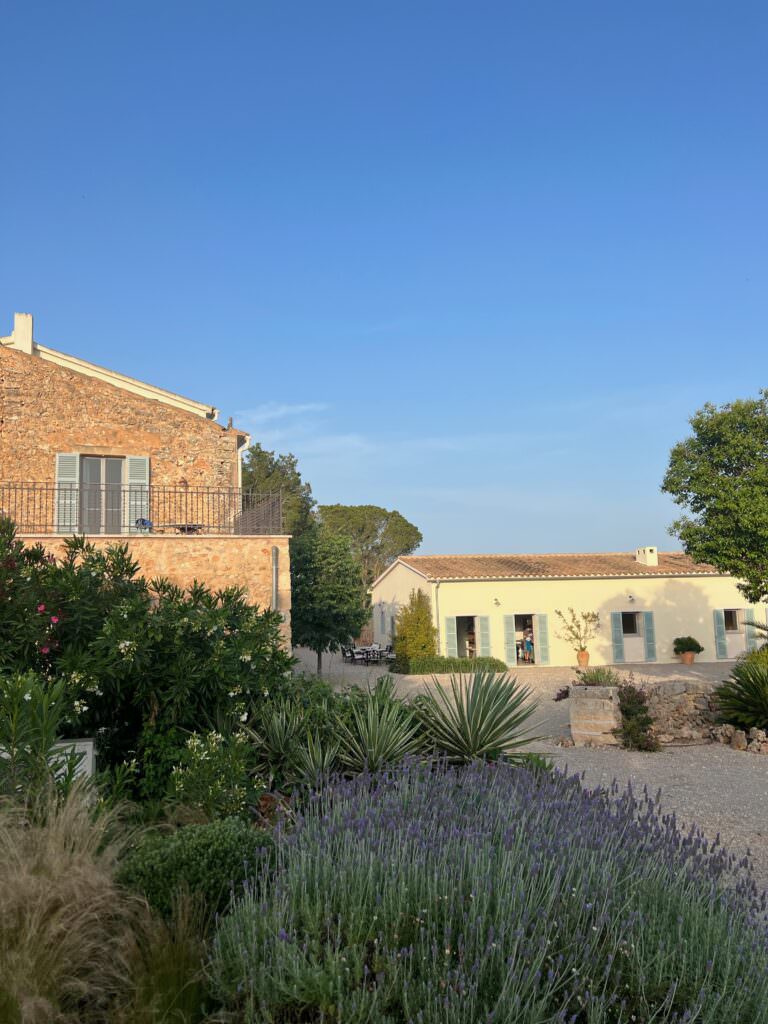 When an email pinged into my Inbox from Beaks Communication inviting me to The Body Camp, I initially thought it was phishing. But once I clicked the links, I realised the invite was legit. My first reaction was, OMG OMG OMG yes, yes, please! Then it was followed with some anxiety as I'd never done anything like this. So, I asked my daughter to come along with me. "No way, it's for oldies!" My hubby was also reluctant "Can't get the time off work." Well, it was their loss.
Luckily, my best friend Clare was up for it. We re-jigged our diaries, and then on Friday, 26 May 2023, we flew from London Gatwick to Palma. My friend Clare and I were still determining what to expect, although we follow The Body Camp on Instagram and had a good old nosy on their website and read the reviews. It's safe to say that it was an utterly incredible experience on many levels and surpassed our expectations. So here's my blog on my no-nonsense thoughts on my seven days away.
WHAT WE LOVED
Here's a short video of some of the highlights, more to come!
The staff were fantastic: from the chefs, including Ben @benwhalechef and his team, who prepared the most delicious plant-based food, snacks and smoothies; Rick, Anthony and Becka as our fitness instructors who kept us going throughout four hours of exercise a day; Kate as the kindest and thoughtful host; the yoga and Zumba teachers; and all the rest of the friendly and kind staff; the beautiful facilities including our gorgeous room; and last but not least the other guests who gave me belly ache as we laughed so much.
As women, we give kindness, time and care to others. But as our lives run at breakneck speed, we can neglect giving ourselves the compassion, time and care we generously provide to others. Well, The Body Camp will help you reevaluate that and put your fitness, health, nutrition, and well-being first – for a change.
Over the seven days at Body Camp, I learned the power of boundary-setting, nature, breath, food, movement, connection, and more. So, onwards and upwards with little realistic goal setting. Here's what I will take away:
💫 The food!!!! The most incredible meals, snacks and smoothies are plant-based and prepared by uber-talented chefs Ben, Ramone and Chris. We ate like kings and queens, and I would have licked my plate if I was alone.
💫 Do NOT worry about coming on your own! At every meal, you sit next to someone new; you are encouraged to ask questions and learn about everyone; during fitness, you constantly rotate and motivate someone new. Unless you're super-shy or an introvert, you'll come away after seven days with a heart full of new friendships and laughs. The body camp also set up a WhatsApp group for you.
💫 The reframing of our language is very powerful, especially if we build negativity into our daily vocabulary. It also encourages us to listen to others and helps them reframe their language. Instead of saying, "That's too hard", I was reframing to say, "Well, let's give it a go."
💫 Cold water therapy is incredible for the mind and body. It was first thing in the morning, and I'm not going to lie; the water was 1 degree, and 60 seconds were enough. But the constant encouragement makes you feel like you can tolerate it, and guess what? I felt energised afterwards.
💫 Phones-away, alcohol-free, sugar-free conversation is a super food for the soul. You were encouraged to drop your phones into a basket daily, and it was a no-no at the dinner table. It was lovely not to check Instagram and be in the moment with others constantly.
💫 Emotions are better out than in. Lots of tears (no tantrums!), and why not? No-stiff-upper-lip nonsense or holding in of your emotions here. We are all encouraged to talk about our feelings and tackle inner negative self-talk.
💫 Being out in nature and its glorious colours and scents heal. Except for yoga and Zumba, all our fitness was done outside, whether circuits, swimming, hikes, cycling etc. We were fortunate to be in beautiful surroundings in Sencelles, a 25-minute drive from Palma.
💫 Pushing yourself with fitness shows how strong and motivated you are. Usually, it's four hours of exercise daily, mainly in the morning.
💫 Rise early and early to bed. I never thought about adapting my waking time and sleeping time to the pattern of the sun and moon, but it meant we could do lots and feel fulfilled with our day's achievements.
💫 You'll not go hungry. You can choose three portions 'lane' sizes based on your needs. I was in lane three (a significant portion) and was happy with that.
💫 You DON'T need to be a gym bunny or a marathon runner. YOU DO YOU, and you're encouraged to give all the exercises a go and do your best. The fitness levels varied considerably, and it didn't matter a jot.
I feel fortunate to have spent a wonderful week nourished by the wisdom of such an incredible group. It's the reset, recharge, and rejuvenation I needed.
Summary
It isn't easy to summarise this week's experience, but here goes:
You've got to love music, karaoke and 80's music at that! Music is a constant throughout the day but not during quiet time (which is about 2-3 hours a day), and it's so energising and fun, and you are encouraged to dance – yep, there was no stopping me! You are constantly reminded to motivate yourself and others; it helps build camaraderie, which I love.
I defy anyone not to find a week at body camp fun, gawd I had belly aches from laughter most days.
Supporting, encouraging and motivating each other (and yourself) is a big part of the experience. I was surprised at how well I did with some of the fitness exercises, and I feel that's because I was encouraged by my partner or team.
You are pushing yourself physically and emotionally to give everything your best shot.
Giving it a go – you'll never know whether you enjoy it unless you try.
Working in partners and small teams and sticking together made you feel someone always had your back. I didn't feel the need to be competitive but to do my best.
For supper, you can literally wear what you want. Some guests came down in dressing gowns, others in their gym kit, and some chose to wear loungewear. I like to dress up, so that's exactly what I did – you do you, and no one is there to judge – your comfort is key. Here's a video of the outfits I wore.
Here's an outline of what we did daily; our alarm was set at 6.00 am most days:
Day one, Friday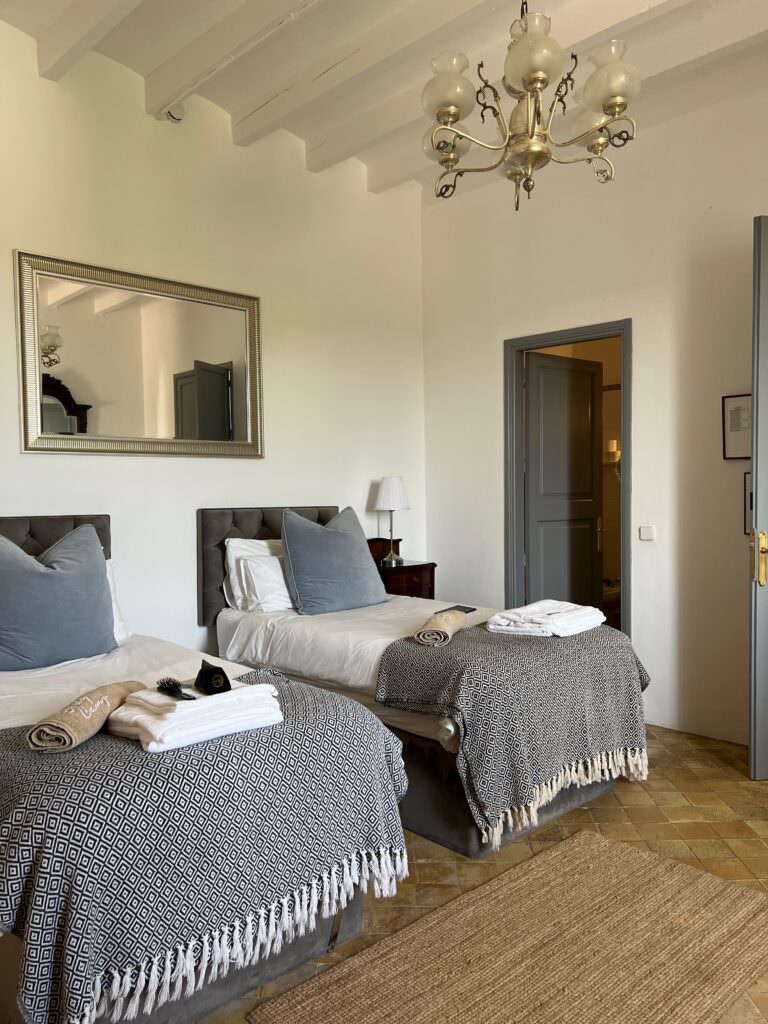 Day one, Friday
Arrived at 4.30 pm
Shown to rooms
Got bearings
Sat by the pool x had a swim 
Welcome cocktails 🍹 6.15
Amazing supper at 6.30 pm
Quiet evening x short walk 
Visited the hydration centre has lots of herbal drinks and naturally flavoured waters.
Day two Saturday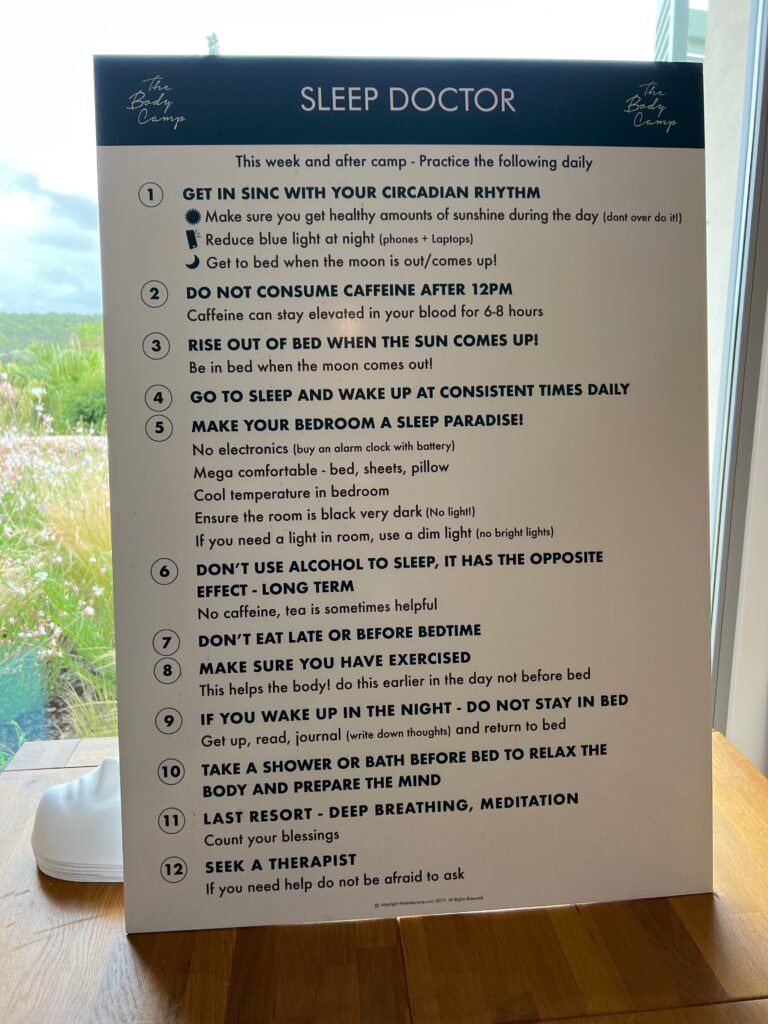 Day two Saturday
Set the alarm at 6.00 am
Put on gym kit on x didn't know what to expect 
6.45 am beep test in threes
Breakfast was scrambled eggs with homemade super-seeded bread
Introduce the 360 walks walked x3 laps
Circuits on the 'green'  – no shade!
Mid-morning treat
Well-being chat
Lunch 
Cooking lesson after lunch
Downtime by the pool
Pool games and exercise
Afternoon treat 
Supper 
Toast for the day
Quiz night
Day three – Sunday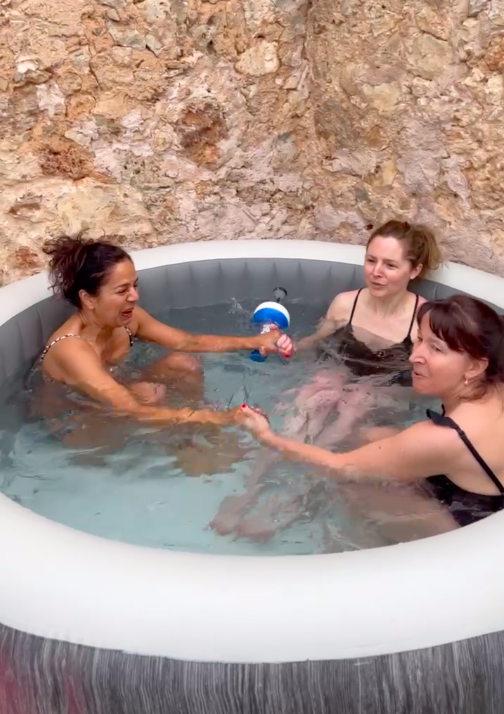 Day three – Sunday
Alarm at 6 am
6.55 ice bath, exercising and swimming 
Gym kit on
Brekky 
Targeted reps of burpees, push-ups and sit-ups
TRX on the green
Walking and running and 4 laps
Mid-morning treat
Rotation: 4 station circuits x selfies: rowing & cross trainer; ropes x Russian twists; fancy dress selfies; kettlebells x medicine balls. Repeat three times.
Lap of honour with a trophy for the winners
The choice between Pilates and wellbeing session.
Yoga
Supper
Day four – Monday
Day four – Monday
Alarm at 6 am
Breakfast
Minibus to start trek for 2.5 hours 
Coffee in a cafe and picnic lunch
A quick swim in the sea
Back for sound bath yoga
Supper
Quiz
Day five – Tuesday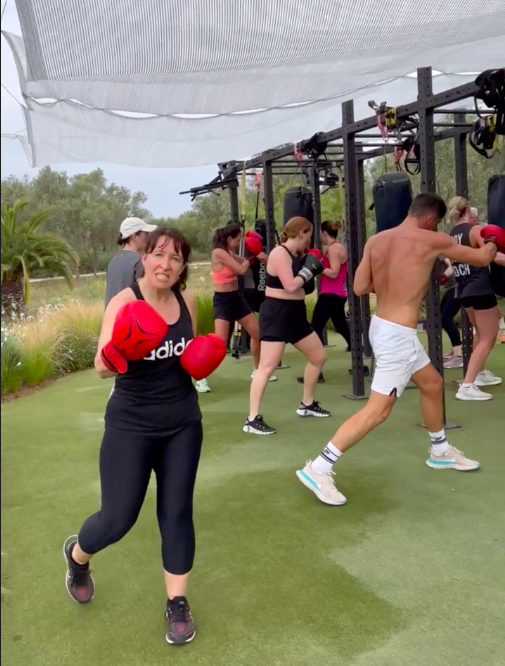 Day five – Tuesday 
Alarm 5.45 am
The 6.30 am mystery session was Zumba in the yoga studio, great fun!
Breakfast
Circuits 
Boxing and sit-ups, incl. sparring and punch bags in pairs. Eight sets of sit-ups
Treat 
Goggins challenge in pairs to music
Mindfulness 
Lunch 
Pool relaxation time
Ice cream treat
Yoga 
Supper
Day Six – Wednesday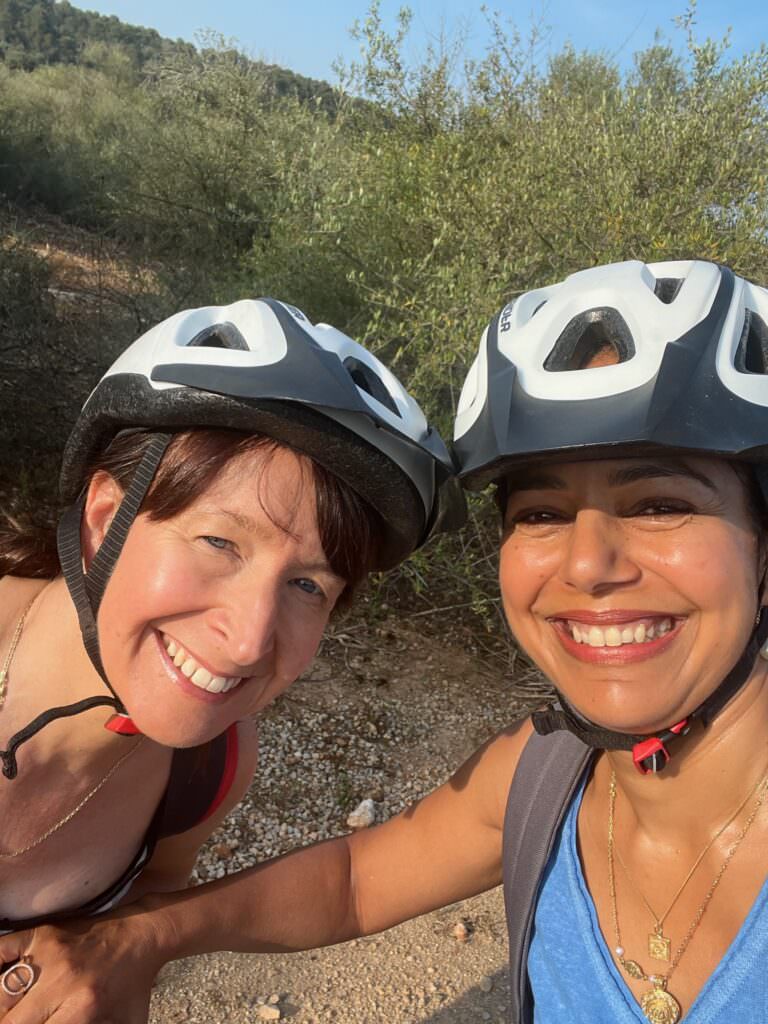 Day Six – Wednesday 
5.45 am alarm
Breakfast
Bike ride 20 miles at 8.00 am
Coffee in Town x chocolate protein ball
Cycled back for lunch 
Downtime
Yoga
Day seven- Thursday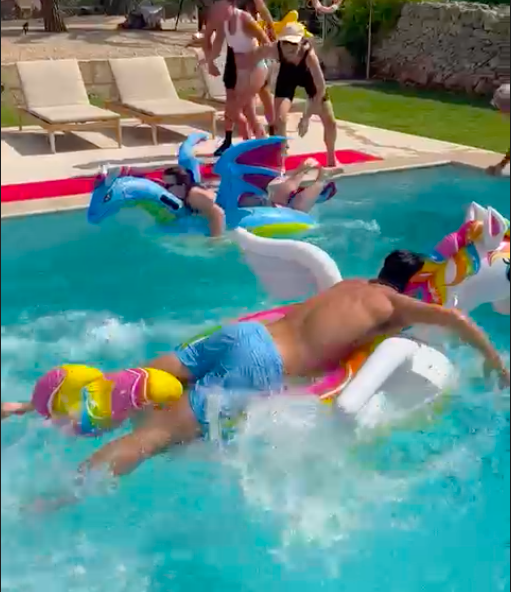 Day seven- Thursday 
Fun test
Baywatch
Brekky
Pool games circuits 
Letter writing 
Lunch 
Chill out time
Drinks on the terrace at 6.15 pm
Exceptional three-course supper 
Day eight – Friday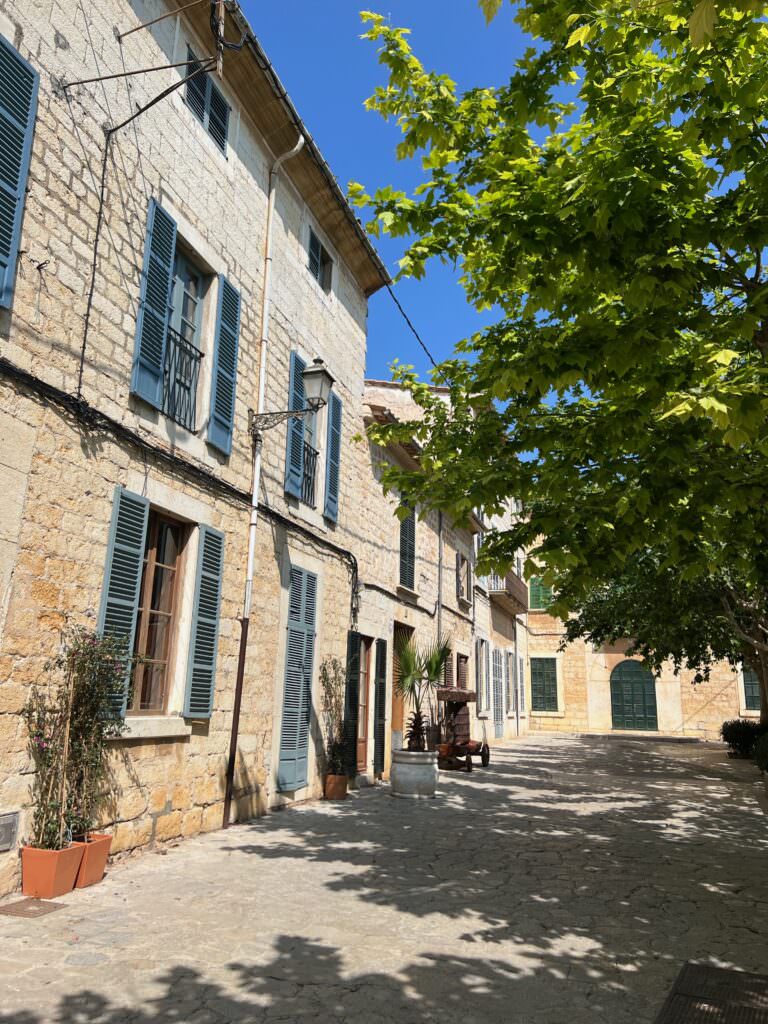 Day eight – Friday
Check out at 9.00 am
Three hours in Palma before the flight home
DETAILS
Book online now with the code ANITA10 for a 10% discount by 16 June. Trust me; this trip will change your mindset, body and life. DO IT!
If you'd like to find out more, please email anita@feronclarkstyle.com