Thai fish cakes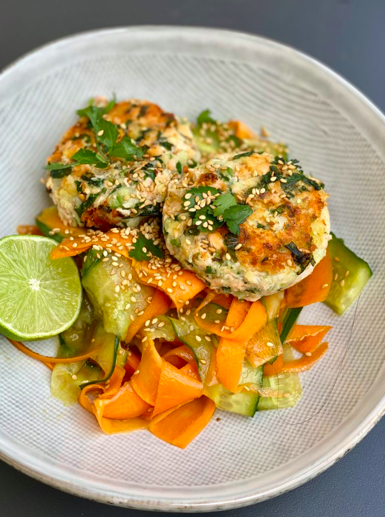 This Thai fish cake recipe is a family favourite. My super duper-talented friend May Simpkin made these for us when I had the pleasure to join her on a yoga retreat in the Loire Valley, in France. Please check out her website and Instagram, you'll love everything this brilliant nutritionist stands for.
Serves 6
To make these Thai Salmon Fish Cakes, you'll need….
6 large fillets salmon
2 whole green chilli – deseeded
1 large bunch of fresh coriander
4-inch piece of fresh ginger
8 cloves garlic
6 spring onions (including green section)
18 small new potatoes (with skins on)
Juice of 1 lime
3 tbsp coconut oil
Salt & pepper
For the Salad and dressing:
4 carrots
1 cucumber
2 tsp mirin (sweet rice wine) or ½ tsp maple syrup
4 tbsp sesame oil
2 tbsp lime juice
2 tsp soy sauce
1 tbsp sesame seeds to garnish
Here's how to make these delicious Salmon fish cakes:
Boil the potatoes in salted water until tender. When cooked, drain and then mash roughly into small pieces with a fork. Set aside.
Put the salmon fillets in a shallow pan and add water until halfway. Bring to a boil and allow the salmon to poach in boiling water for 7-10mins. Allow to cool and set aside. OR, wrap loosely in foil and cook at 170 degrees (fan oven) for about 20 minutes.
With a grater, grate the ginger using the largest holes. Set aside. Now chop the garlic into small pieces, before adding it to the grated ginger. Continue to chop the fresh ginger/garlic as finely as possible, using a sharp knife and working your way in half-circle movements forward and backwards. Add these to a large bowl.
Next finely chop the green chilli, fresh coriander and spring onions, adding each to the ginger/garlic in the large bowl.
Now add the cooked salmon pieces and the crushed potatoes to the bowl and mix until they are well combined. Add the lime juice and season. Mix and check to season.
TIP: If you're not serving immediately, cover with another piece of greaseproof paper and refrigerate. Take them out 10-15mins to bring them to room temperature before frying. These are also ideal to freeze at this stage; layer them in between greaseproof paper and freeze.
Using wet hands, shape the mixture into 8 (or 6 larger) patties and lay them out on a sheet of greaseproof paper. Heat the coconut oil in a shallow frying pan until it is hot but not smoking. Carefully add each pattie, cooking in batches if necessary. Fry for around 4-6 minutes on each side, carefully turning over with a flat spoon once one side is golden, taking care not to turn more than once if possible.
To make the salad:
In a large bowl, add all the dressing ingredients. Check to flavour and adjust if necessary. You should be able to identify each flavour; a little salty, nutty sesame oil, tart lime along with a little sweetness.
Using a vegetable peeler, carefully slice the carrot and cucumber into thin ribbons. It may be easier to cut the cucumber in half before you start. This needs to be done slowly and deliberately to ensure full-length ribbons. Toss the ribbons in the dressing until well coated.
Serve the fishcakes on a bed of dressed ribbons or alternatively a bed of rocket and/or steamed vegetables. Drizzle any remaining dressing around the edge and sprinkle with sesame seeds.
Good luck and do let me know how you get on!
Anita xxx