tablescaping ideas throughout the year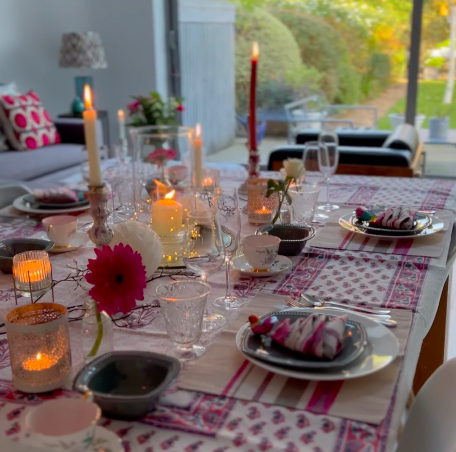 A few ideas to help you dress your table for any occasion:
1️⃣ Mix fresh flowers and foliage with faux. That way you can bulk out the table decorations.
2️⃣ Use lots of texture especially with glass as this adds interest with the light.
3️⃣ Avoid putting food in the centre of the table. Obviously everyone gets fed! 🤣🤣🤣
4️⃣ How you decorate your table reflects your personality: less is more is classic and natural; more is more is dramatic and creative; lots of pretty details is romantic and feminine. There is no right or wrong, YOU DO YOU.
5️⃣ Go for different heights to add interest
6️⃣ Not everything has to be matchy matchy
7️⃣ Add warm (not cool) fairy lights to the table. Warm lights are the same colour given off by candles.
8️⃣ Create a central focal point
9️⃣ Switch up cushions and other soft furnishings to reflect the colour scheme of your table.
DETAILS:
The lovely Christmas tree candle is a gift from Ros from @_theprettylittlecandleco and you can choose scented or unscented.