Anita's Simple Dhal Recipe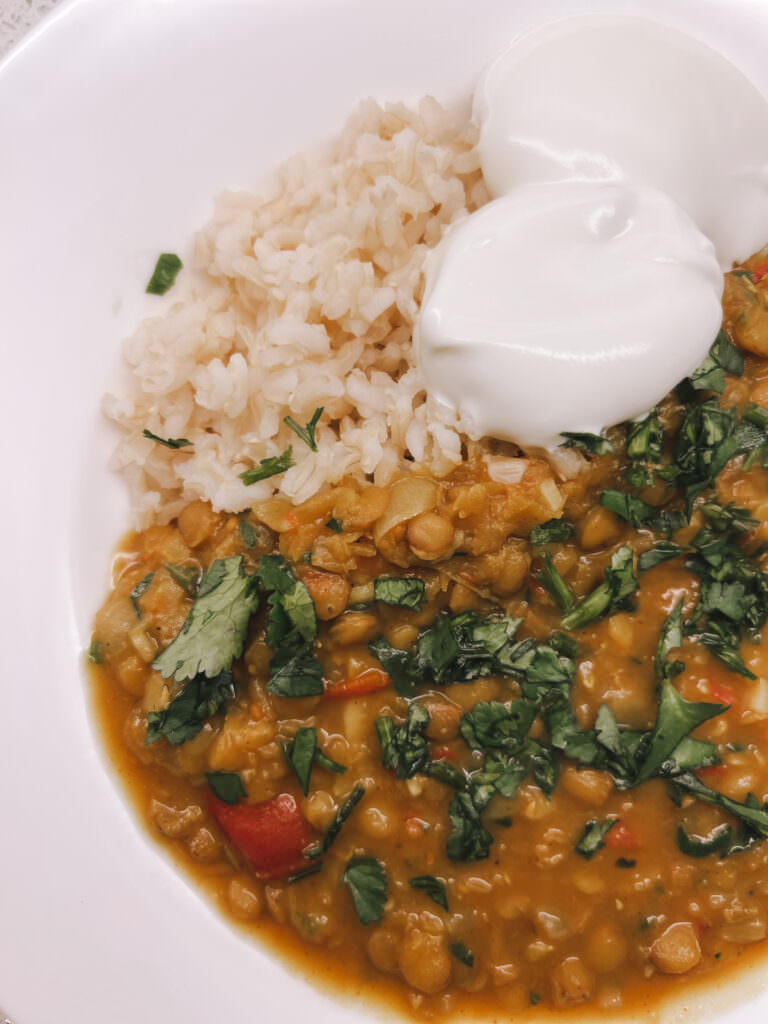 A classic vegetarian recipe that is so easy to make and my recipe has gone around the world! Over the years, I've emailed it to friends who have enjoyed cooking it on repeat. It's an Indian staple dish and every Indian kitchen has lentils and pulses. I cook it at least once a week. I love this vegetarian and vegan recipe; it's so healthy – lots of protein, very little fat, and it tastes better the next day. I sometimes substitute part of the water for vegetable stock. The amount of liquid you need varies according to the type of lentils you use – some absorb the liquid much more than others, and you may like your dhal runnier or thicker consistency. So keep an eye on it and add more or less throughout the cooking process. And cook the lentils until they are entirely soft so the cooking time may vary. You can freeze the leftovers for up to 3 months. The dhal will last four days in the fridge.
Here's a quick video to show you the steps
Ingredients – serves 6 to 8
400g lentils, any type you want, but some need soaking overnight or longer cooking times. I use red lentils mixed with green lentils. Or any combination you fancy.
Three to five tablespoons of ghee or coconut oil
One large or two medium-sized onions, chopped finely
Eight cloves garlic, chopped small or whizzed in a blender. Or cheat with lazy garlic (2 heaped teaspoons)
20g of freshly grated ginger
Two teaspoons of whole cumin seeds
One teaspoon of sea salt
Five large fresh ripe tomatoes blended. Or 500g plain passata. Or 400g can of chopped tomatoes.
1 -1.2 litre boiling water (add more if you would like the lentils runnier)
One heaped teaspoon of haldi/turmeric
One heaped teaspoon of good quality garam marsala
20g chopped fresh coriander (wash before chopping), including stalks
½ juice of a lemon
½ teaspoon chilli flakes or three fresh green chillies finely chopped (deseeded is optional; I don't bother) for medium heat– add more if you like it hotter!
300g brown rice washed thoroughly or naan. Or white rice cooked in 1.5 litres of boiling water.
Serve with yoghurt (optional), naan and pickle.
Method
Wash lentils thoroughly in cold water until the water is almost clear.
Place lentils in a large, heavy saucepan with half of the boiling water (or stock), tomatoes, salt and haldi/turmeric. Stir thoroughly.
Bring to a boil, then turn down the heat very low, cover with a lid and simmer for 30-40 minutes (or until lentils are completely soft). Keep an eye on it and stir occasionally. As the lentils soak up the water, you may need to add more hot water/stock, so it doesn't get too dry and stick to the bottom of the saucepan. Once the lentils are cooked and you're happy with the consistency, remove the heat and set aside.
Meanwhile, add the boiling water to the washed brown rice on high heat. If you are cooking brown rice, it takes 30-40 minutes to cook. White rice only takes 10-12 minutes. Bring to a boil, turn down the heat and simmer with the lid on. Once cooked, drain excess water and wash the rice thoroughly under boiling water until all the starch has gone. Rice should be light and fluffy.
In a non-stick frying pan, on medium heat, heat the oil and add chopped onions; cook for 5-8 minutes until light golden brown. Add cumin, garlic, and green chillies and cook for about 3-5 minutes until the garlic begins to brown. Finally, add garam masala and cook and stir for 3-5 minutes. As in the video, you'll know when the spices are cooked as they start smoking.
Add all the ingredients from the frying pan to the lentils in the saucepan, and make sure you get all the bits from the frying pan into the saucepan by swilling around with a bit of water. Decide if you would like to add more water.
Add grated ginger, lemon juice and chopped-up coriander just before serving. Add coriander for garnishing.