Sardinia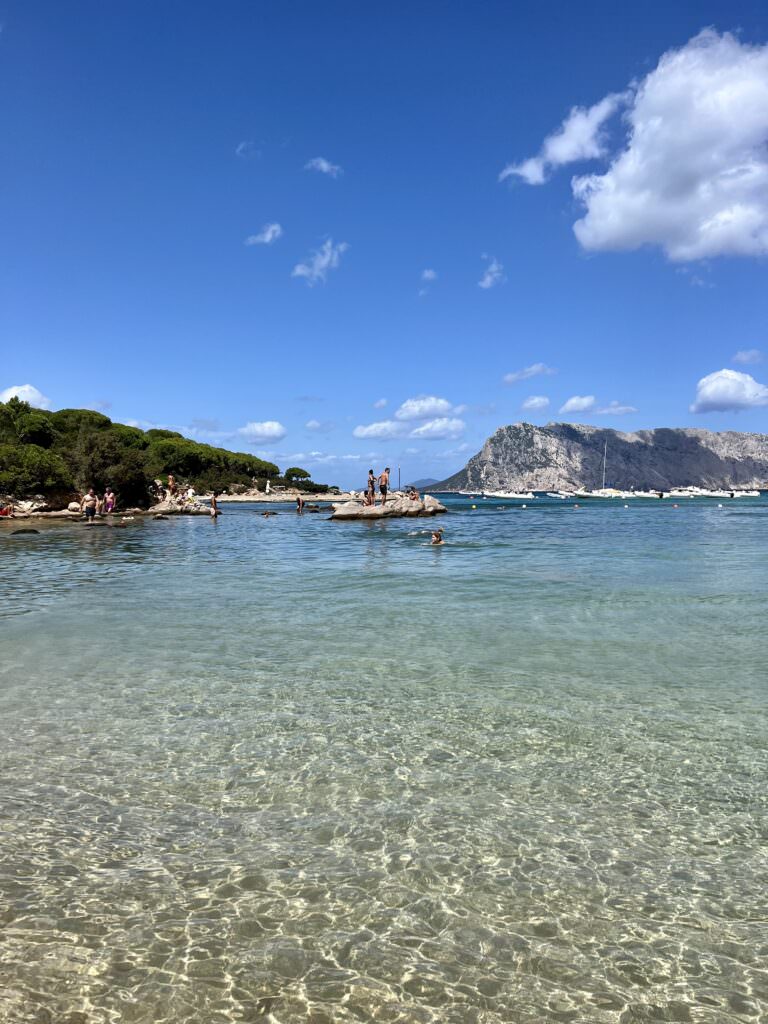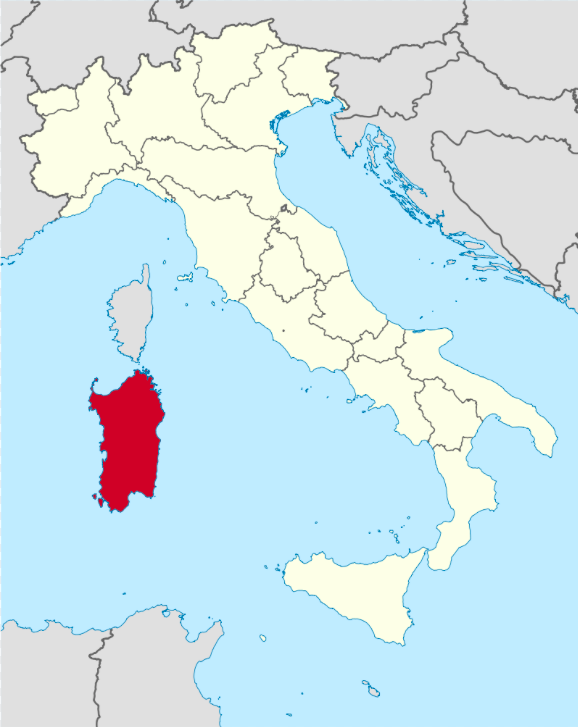 A wonderful week of beach hopping in northeast Sardinia, and oh my giddy gosh, the beaches are INSANELY beautiful. Nowhere I've been in Europe has come close to the glorious sparkling sand and sea. I had heard that the beaches were beauties, but seeing is believing. The stretch of beaches we visited is on the San Teodoro coast, and none of them disappointed us. This was meant to be a 'chill' holiday with a capital 'C', which it certainly was. As a family with a 19 yo son and a 17 yo daughter, we all love swimming in the sea more than anything on holiday. For us, swimming pools just don't cut the mustard.
We were all tired…with one thing and another; it's been an emotionally gruelling year for us all, so swimming at a different beach daily, reading our books, listening to podcasts, and eating great food was just the ticket. Sea swimming may not be your cup of tea, but northeast Sardinia is about glorious white sand and turquoise water. Also, it's popular for biking or hiking, but we didn't fancy anything strenuous!
SOME FACTS
Sardinia or Sardegna is the second-largest island in the Mediterranean Sea, after Sicily, and one of the 20 regions of Italy. It is located west of the Italian Peninsula, north of Tunisia and immediately south of the French island of Corsica.
The capital of the region of Sardinia — and its largest city — is Cagliari in the south.
Owing to the variety of Sardinia's ecosystems, which include mountains, woods, plains, stretches of largely uninhabited territory, streams, rocky coasts, and long sandy beaches, Sardinia has been metaphorically described as a micro-continent.
We flew to Olbia Costa Smeralda (in the north) from London, just over a two-hour flight. There are two other airports in Sardinia: Alghero-Fertilia in the north and Cagliari-Elmas in the south. 
F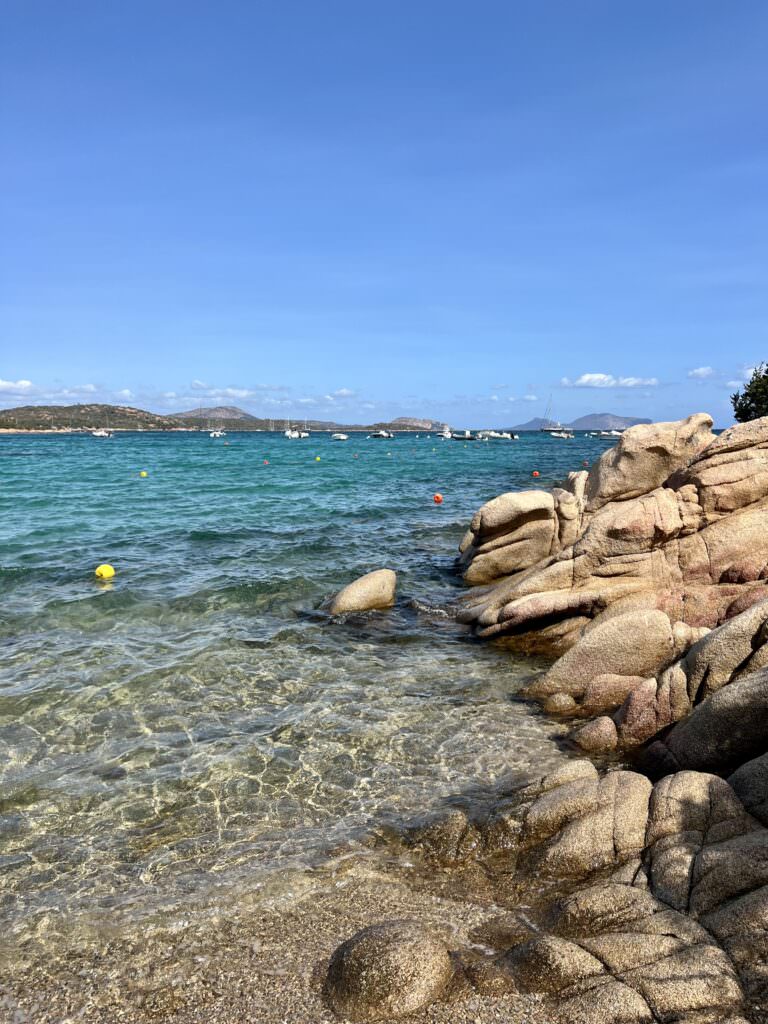 Unless you're a fan of scorching temperatures and vacation crowds, the best time to visit are April to June and September to October. It's still warm enough to swim in the sea, biking and hiking. We arrived at the end of August; the temperature was high in the twenties and early thirties. We had no rain, but it was extremely windy for three days.
Finding shelter from the wind on the beach was tricky, but parasols would be completely useless in very strong winds; we managed by tucking in behind shrubs and the odd tree. If you choose Sardinia as your holiday destination, the area we went to is mainly about the beaches. There isn't much else to do, so if you don't get lucky with the weather, you might be in a pickle.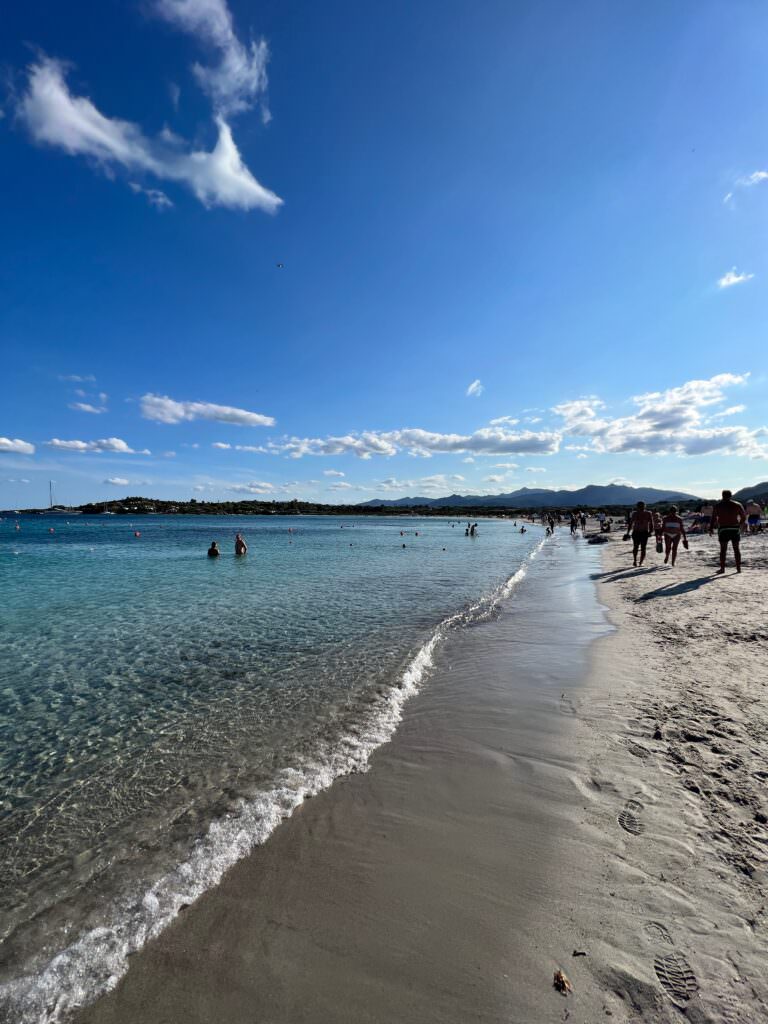 FOOD
Pasta, pizza, seafood and meat galore! We didn't have a lot of vegetables or salads, and we went to mid-price restaurants with two '££'. To keep costs down, we had picnics on the beach and had an evening meal in restaurants. A meal for four with a main course each, water, a beer and a glass of wine will set you back between €80-€120. Every meal comes with Pane Carasau (thin toasted bread), and expect to pay up to €6 each as a cover charge. All the restaurants were within walking distance from our hotel, so Tom and I could have a drink, which worked well. We loved the food, obviously similar to Italian food and here's an article I found that you might enjoy reading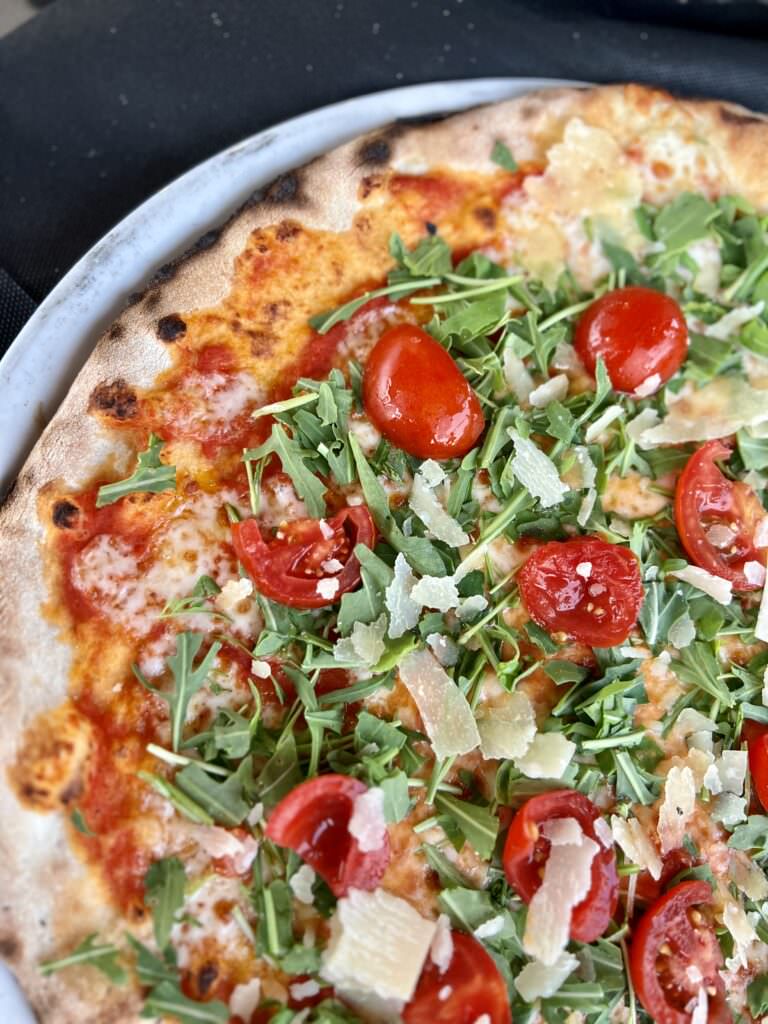 BEACHES
There are a couple of private beaches because the Government are trying to regulate the number of people who visit them and they cost €4 euros each (€2 if you're staying in a local hotel). Every beach had parking, costing between €8-€18 for 12 hours. Some machines only accept cash. Cala Brandinchi and Lu Impostu (private beaches) accept cards. The other beaches were exceptional, too, for cleanliness, quality of the sand, and the most sublime turquoise waters to swim in. These are the other ones we visited, and we used this map:
Porto Istana
Porto Taverna
Spiaggia Cala Ghjlgolu
Spiaggia Cala Suaraccia
Spiaggia Salina Bamba
Spiaggia Capa Coda Cavallo
Spiaggia La Cinta
Spiaggia Cala d'Ambra
Spiaggia Isuledda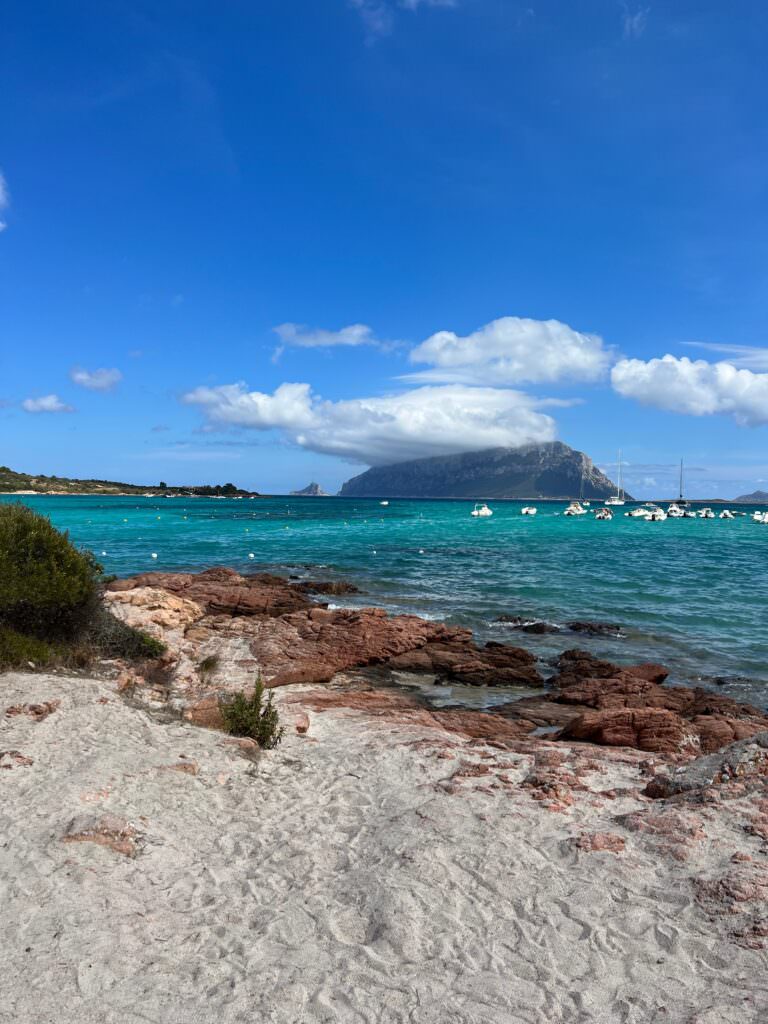 GETTING AROUND
Hiring a car is essential, and we used a company called Discover Cars. A minibus collected us from Olbia airport to take us to the car hire office, which was Rental Plus. It was the most competitive one we found for an automatic mini SUV, costing €500 for seven days.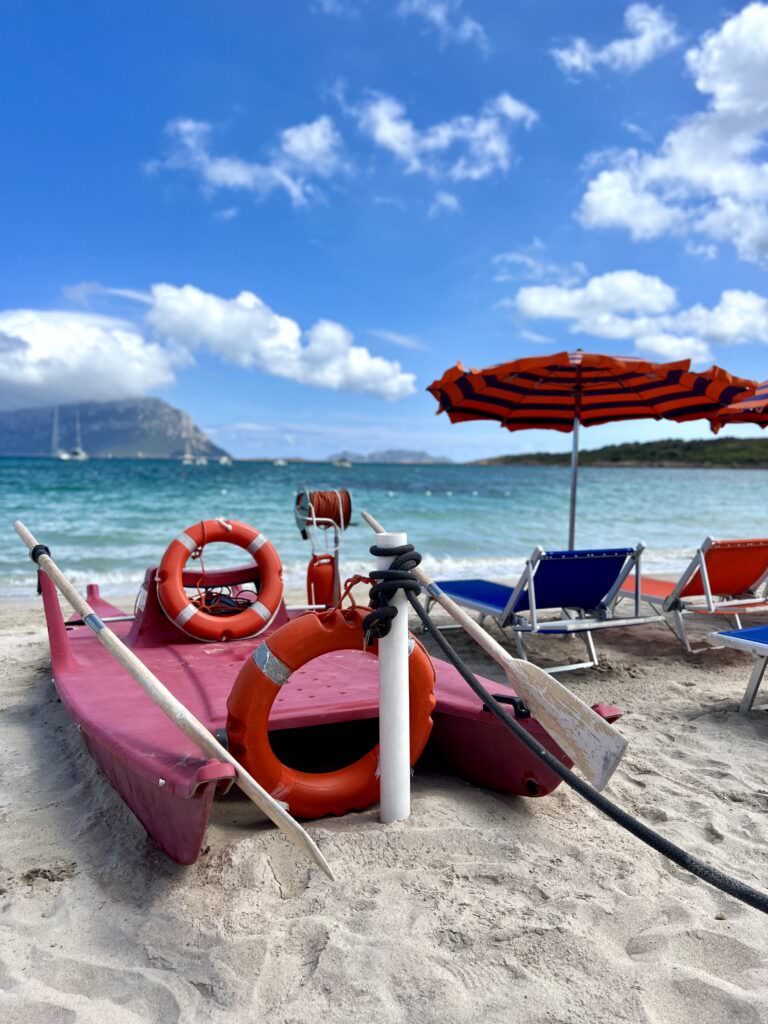 SUPERMARKETS
We were mindful of paying for lunch and dinner in restaurants daily, what with teenagers with big appetites, so we had beach picnics. There are many supermarkets where you can buy fresh produce and good quality bread, cheese, ham, tomatoes and fruit for simple picnics. I highly recommend taking a small cool bag, a Tupperware box to pack sandwiches and tin foil. Also, we had a steel Chilli bottle each which is vital to keep water cool all day when you're sunbathing.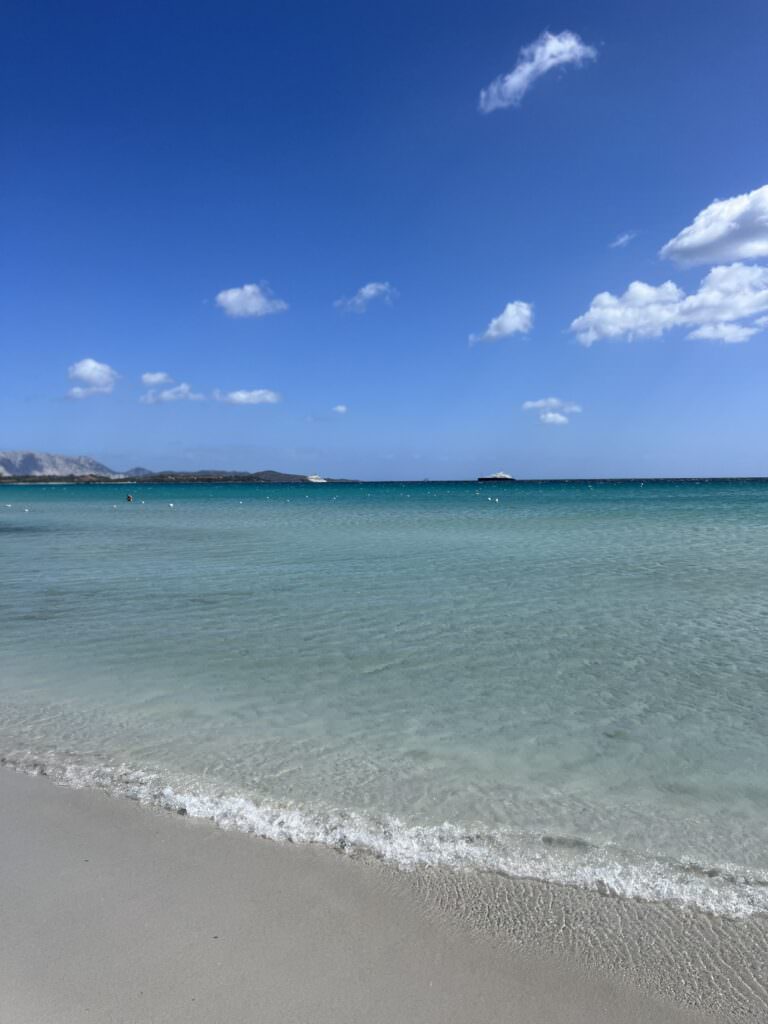 BOAT RIDE
I highly recommend this as it was the highlight of our holiday and for the whole day, it costs €35 each. The company is called Tavolara Traghetti E Gite, which has daily excursions in the marine protected areas of Tavolara and Molara. Gorgeous swims, breathtaking scenery and two cafes on Tavolara.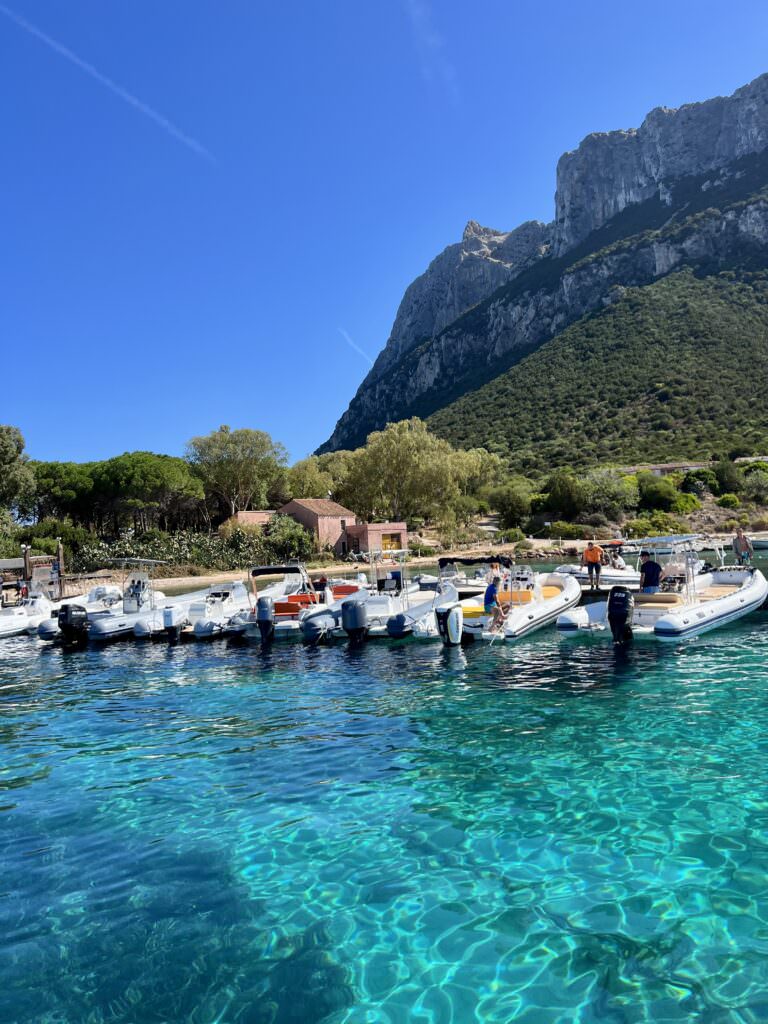 HOTEL
Our hotel Lu Pitrali was located near many fabulous beaches (see list above), a maximum 15-minute drive to each. It did not have a swimming pool but, as mentioned, we are all sea swimmers. The hotel scores 9.4 on Booking.com. Breakfast is continental with fruit, yoghurt, croissants, cheese, ham and good coffee! We enjoyed having a hot tub on our balcony – the bubbles and a glass of rose after a day on the beach before going out for supper was perfect. The staff were friendly and helpful, and the rooms were quiet and cleaned daily. We would highly recommend this hotel if you're not too bothered about a pool.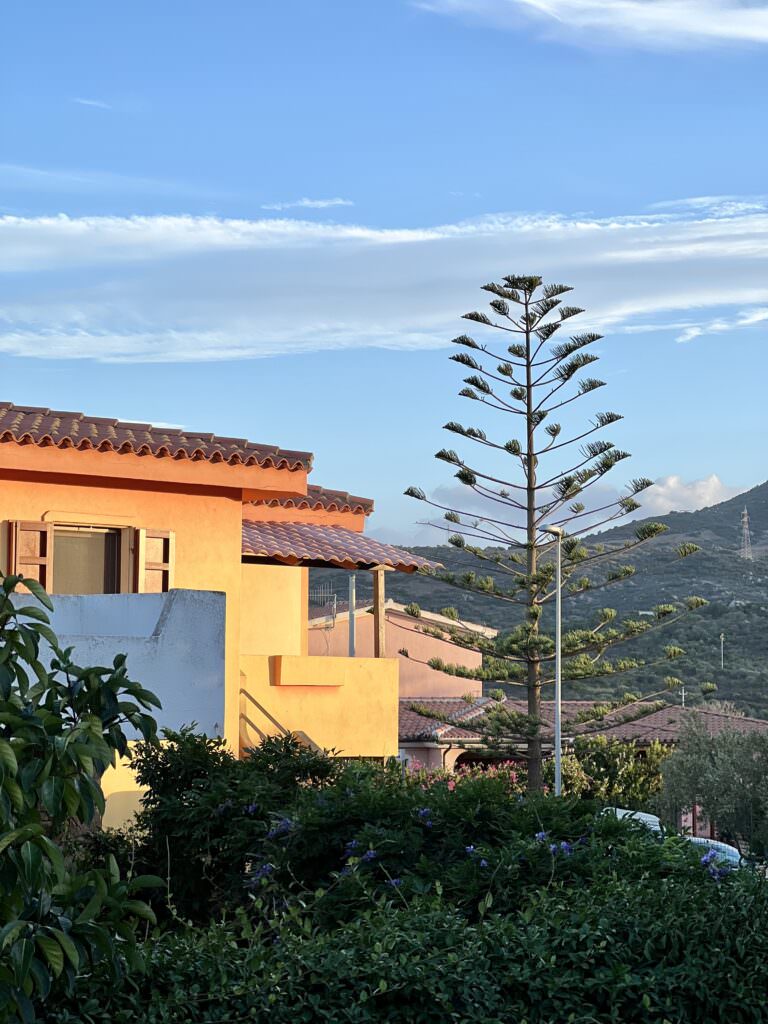 SANDALS FOR THE BEACH
I took one pair of white trainers, one pair of sandals for the evening and these Teva walking sandals (see below), which were the ones I wore most of the time on the beach, in the sea and walking in Olbia. They dry out quickly, have adjustable straps, are super comfortable because of the cushioned sole and are true to size. I've repeatedly worn them over the past four years, including on the South West Coast Path. Available in 24 colours, I'm sure you'll love them as much as we all do – I bought a pair for the family.
SNORKELLING
I know I sound like a stuck record, but the beaches are sensational, so I recommend some essential snorkelling gear, such as a good pair of goggles and a mouthpiece. My children spent a long time in the sea, fascinated by the abundant sea life.
PARASOLS
Our hotel lent us two, which can be essential as some beaches have little or no shade. However, they are completely useless in strong wind.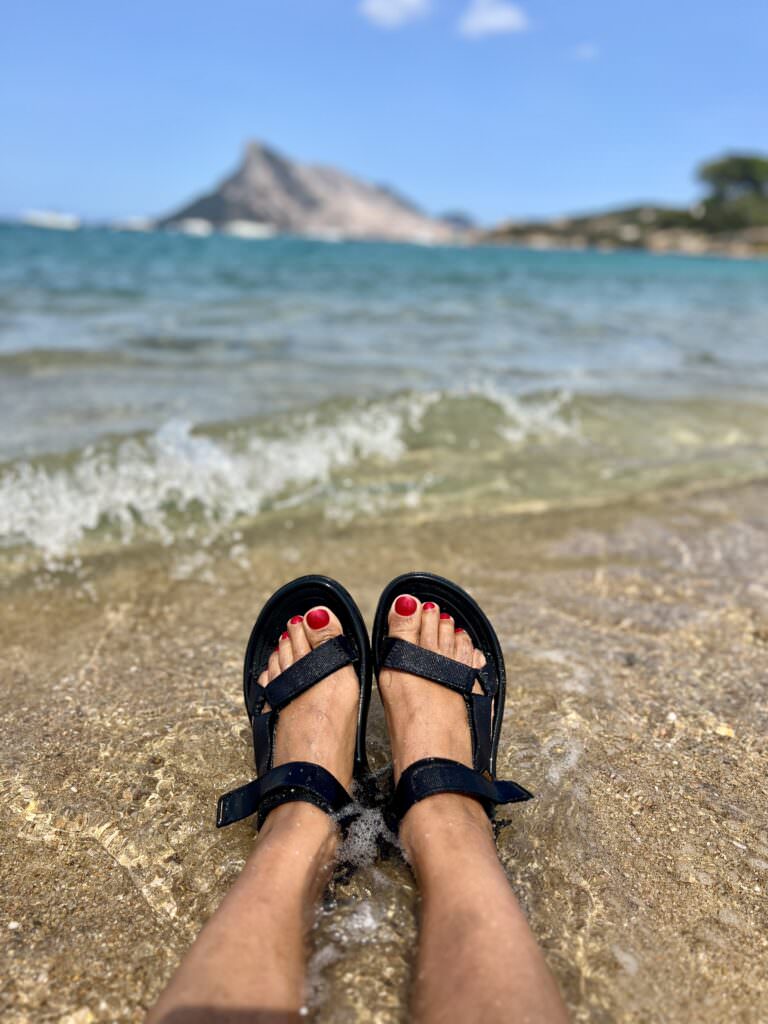 OLBIA TOWN
Olbia is a small city in the Gallura region of Sardinia that is often overlooked by tourists. The city has a rich history, and you can easily walk around it in a couple of hours. There are plenty of shops, restaurants and ample parking. We went when the weather wasn't playing ball for a beach day. It's pretty, and we picked up a map from the tourist office.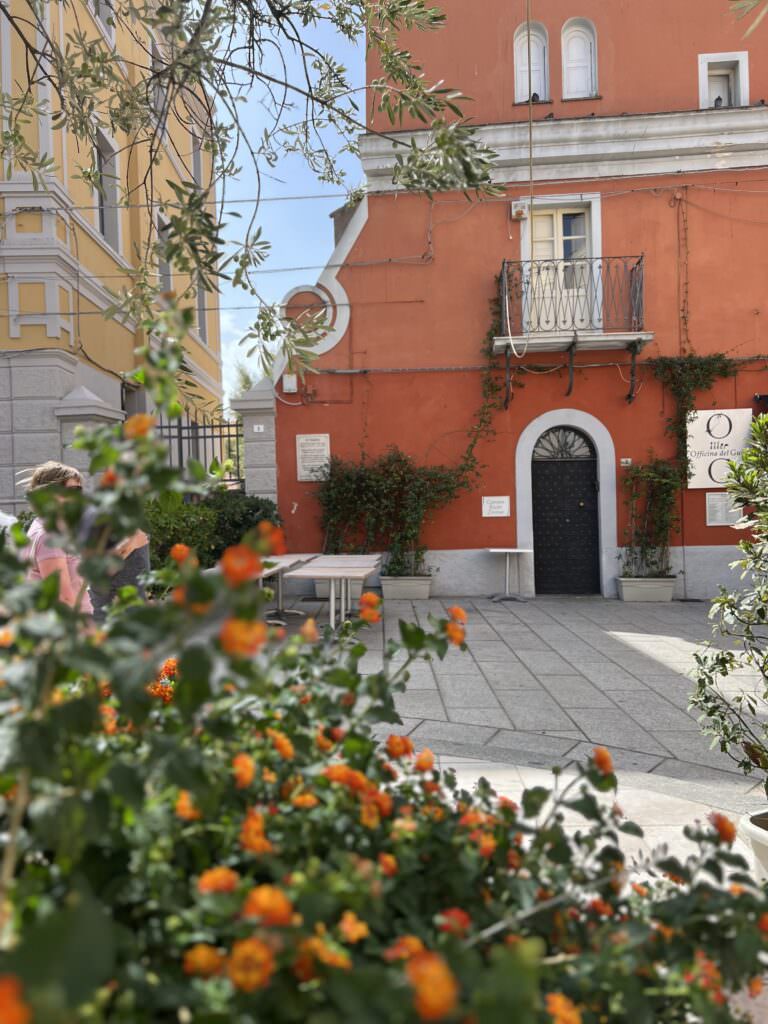 EMERGENCY SERVICES AND EHIC
I fainted one night over supper, and the restaurant had to call the emergency services, so I highly recommend you have your UK Global Health Insurance Card (GHIC) as the paramedics wanted to see this. Dial 118 in Sardinia for help.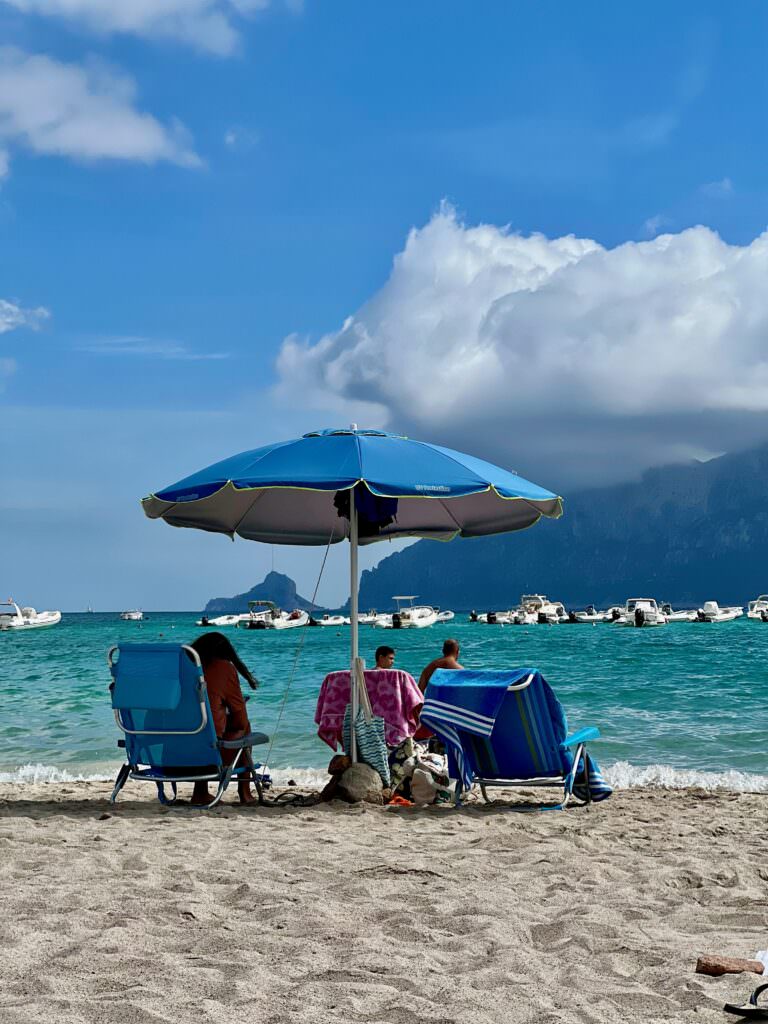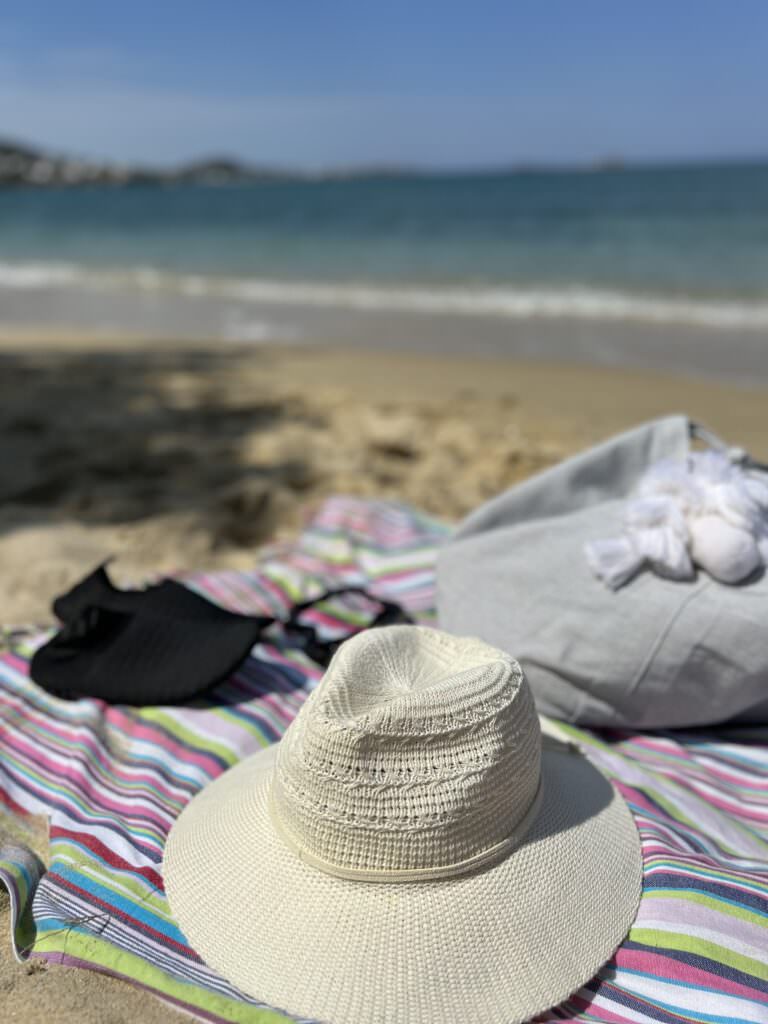 We would LOVE to go back and explore the south of the island. I hope you found my blog useful. Please comment or share, and if you have any questions, feel free to email me at anita@feronclarkstyle.com
Best wishes

P.S. The one and only family photo I managed to get, it's like herding cats!