Santorini, Naxos and Paros Vlog, June 2023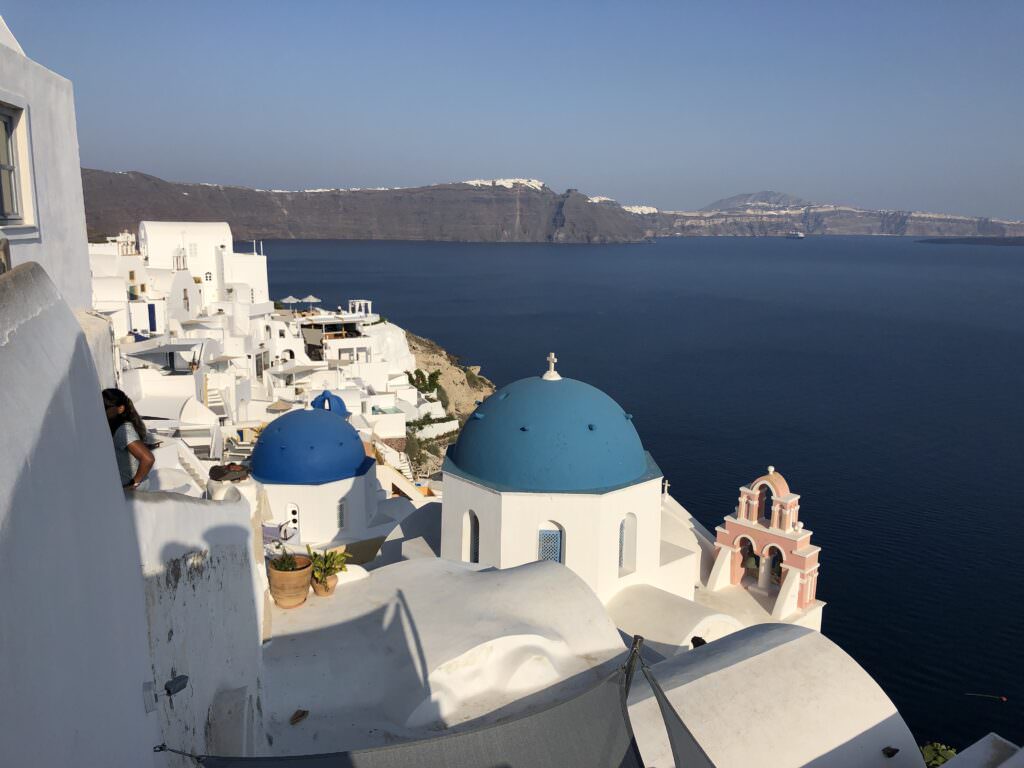 We recently went on a beautiful eight-night and three-Greek island hop without our children. We are midlifers just enjoying time together, so this blog isn't centred around family-friendly holidays or holidays with teenagers. All the Hellenes and other travellers we met were friendly, helpful and hospitable. Food plays a big part in our decision-making when we choose holiday destinations. We both love to eat and are up for trying most things, especially fish; we love to swim (in the sea) and walk; and have downtime to read and for Tom to sketch. I'm conscious that our holiday priorities may not be everyone else's cup of tea. We also don't go for high-end accommodation as we seldom spend a lot of time there. We are keen to explore or hang out sea-side as opposed to pool-side.
We flew in and out of Santorini, hence a one-night stay before flying home. If we were to make this wonderful trip again, in bold brackets is what we would have changed:
Santorini: 2 nights
Naxos: 3 nights (4 nights preferable)
Paros: 2 nights (4 nights preferable)
Santorini: 1 night
Apart from the two largest islands of Crete and Evia, the Greek islands are grouped into six clusters:
The Cyclades islands in the southeast Aegean Sea. All three islands we visited are in the Cyclades.
The Ionian islands in the west near Italy.
The Argo-Saronic islands, an Aegean Sea island cluster closest to Athens.
The North Aegean islands in the east near Turkey.
The Sporades islands near Volos (northern mainland Greece) in the western Aegean Sea.
The Dodecanese islands are in the southeast Aegean and the eastern Mediterranean Sea.
Only in the last 60 years was electricity introduced to Santorini in the sixties. It was hectic in early June. I can't imagine what it's like in July and August. 
Transportation
There are options to use public transport like local buses, or renting a car, quad bike, motorbike or scooter etc. We were happy to get a taxi and do a day bus tour in Santorini and Naxos. Also, we didn't want any stress from driving a car and finding parking, especially in Santorini, as the traffic is awful and parking is a big issue. With limited time on each island, the bus tours were an excellent way to see many of the key landmarks in a day. Santorini is a volcanic island that has some breathtaking views and incredible history. Where possible, get to your hotel to book your taxi and agree on the price, as a few of the taxes tried to charge us €50 to make a 6 km journies. Still, we managed to haggle them down to €25.
Santorini – 3 nights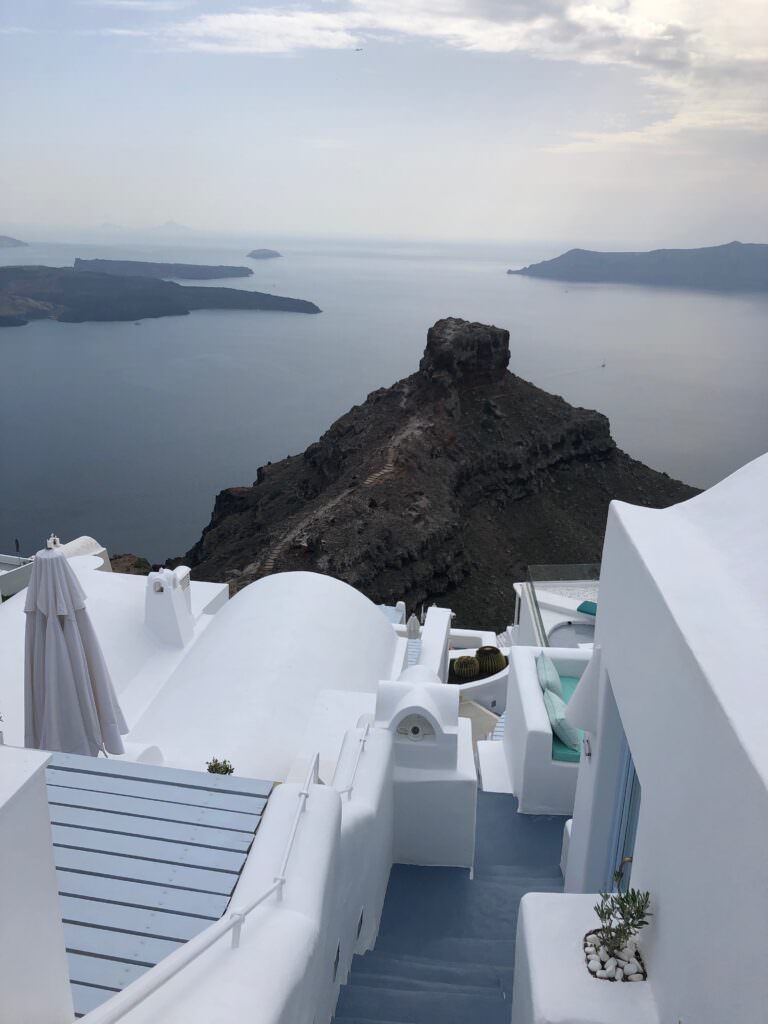 Click here to see a video of Santorini's highlights
Day 1 
Heathrow to Santorini airport terminal, flight time approx. 3 hours 20 minutes. The area around Santorini airport looks ropey, with rubbish and building works.
Dinner at the Five Senses restaurant in Imerovigli, north of the island, is part of a luxury hotel. The cocktails, delicious food, location and beautiful sunset were exceptional. It's the most expensive meal we had, but worth every penny.
We stayed in a beautiful apartment, although the bathroom was tiny, and there was no room to swing a cat! However, it was clean and nicely designed, and the staff were terrific. We booked Casa Bianca through Booking.com, and it was rated 9.2, deservedly so. It's a small boutique-style property offering stylish accommodation in the centre of Imerovigli village. There are nine guest rooms and suites at the Casa Bianca, all beautifully furnished in a classical style. A continental breakfast is included in the price and can be served on your private balcony or veranda each morning. The Casa Bianca is approximately a 10-minute drive from Fira, the island's main town.
Five Senses Restaurant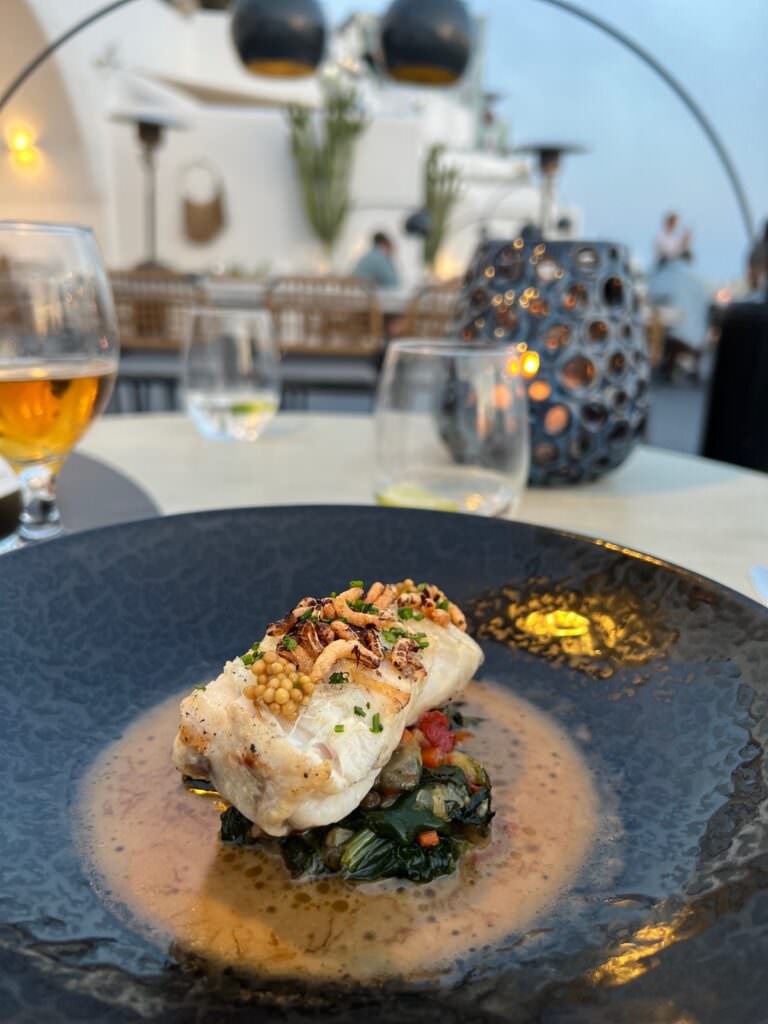 Day 2
Full-Day Santorini Sightseeing Bus Tour with Sunset in Oia
The air-conditioned bus tour is a great way to see the island, €47 each for 10 hours. Pick up from 10 am from various locations in Santorini and 9 pm departure from Oia. It's excellent value for money, and Christina, the guide, spoke perfect English and was brilliant with the timekeeping. She was highly knowledgeable, and we enjoyed her commentary.
Below are some of the places we visited on the bus tour.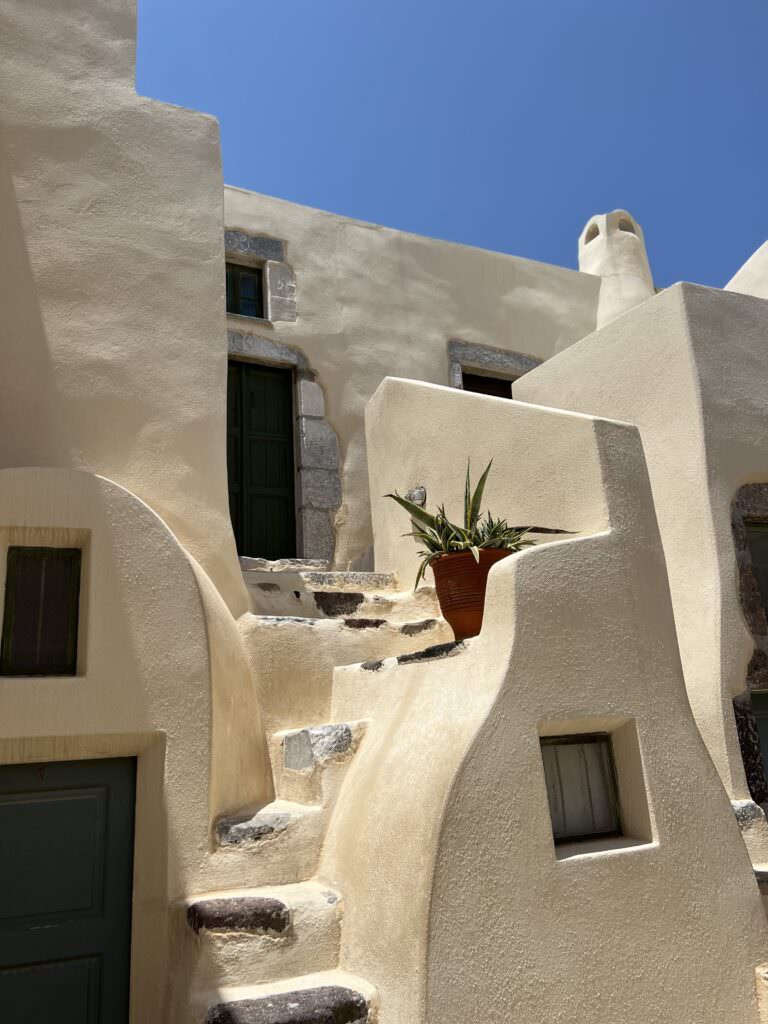 Near Akrotiri, in southern Santorini, is a 17C BC Minoan City which, like Pompeii, was buried in ash following a catastrophic volcanic eruption until it was discovered in 1967. Miraculously preserved, it retains its streets, paved squares and houses. The city was likely evacuated before the catastrophe because no human remains have been found. Since the16C, seismic events have transformed the Santorini landscape, most recently in 1956, when a massive earthquake destroyed and killed around 50 people. 
Akrotiri
A beautiful little town called Emporio, tranquil, no tourists highly recommend a wander away from crowds. It has a Venetian fortress with a stunning church in the middle.
Emporio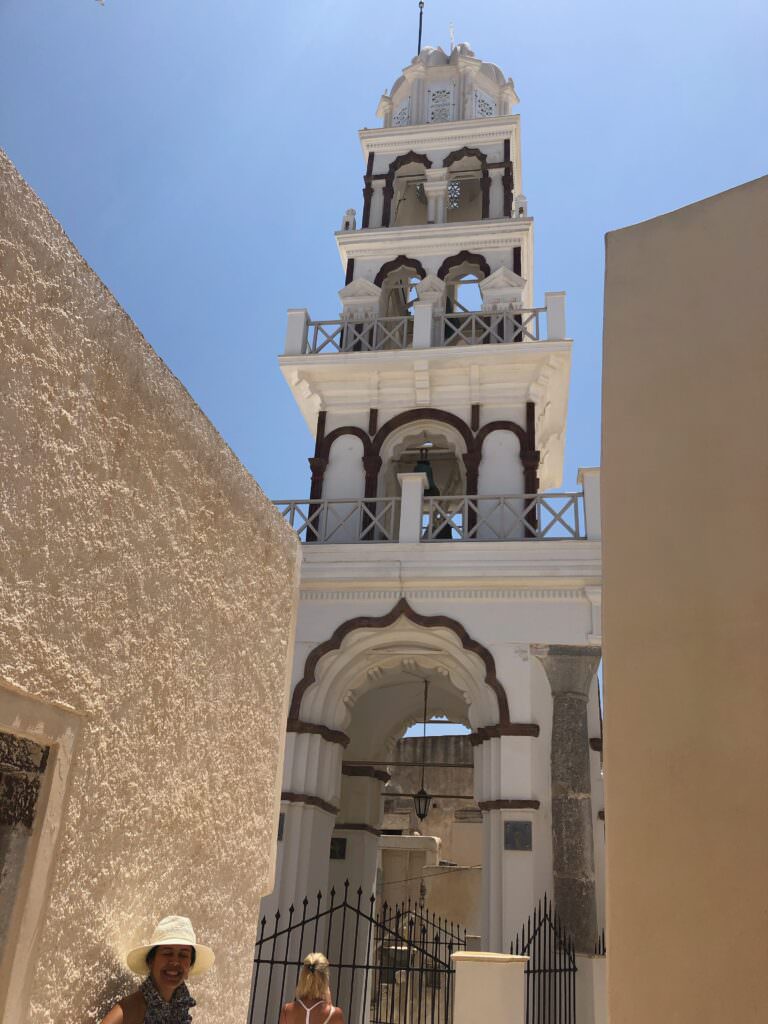 Parissa Beach has black sand and a lovely seafood restaurant called Fish Taverna. We had deliciously fresh Sea Bream and Greek Salad overlooking the black sandy beach. The beaches aren't spectacular, but the sea is lovely to swim in.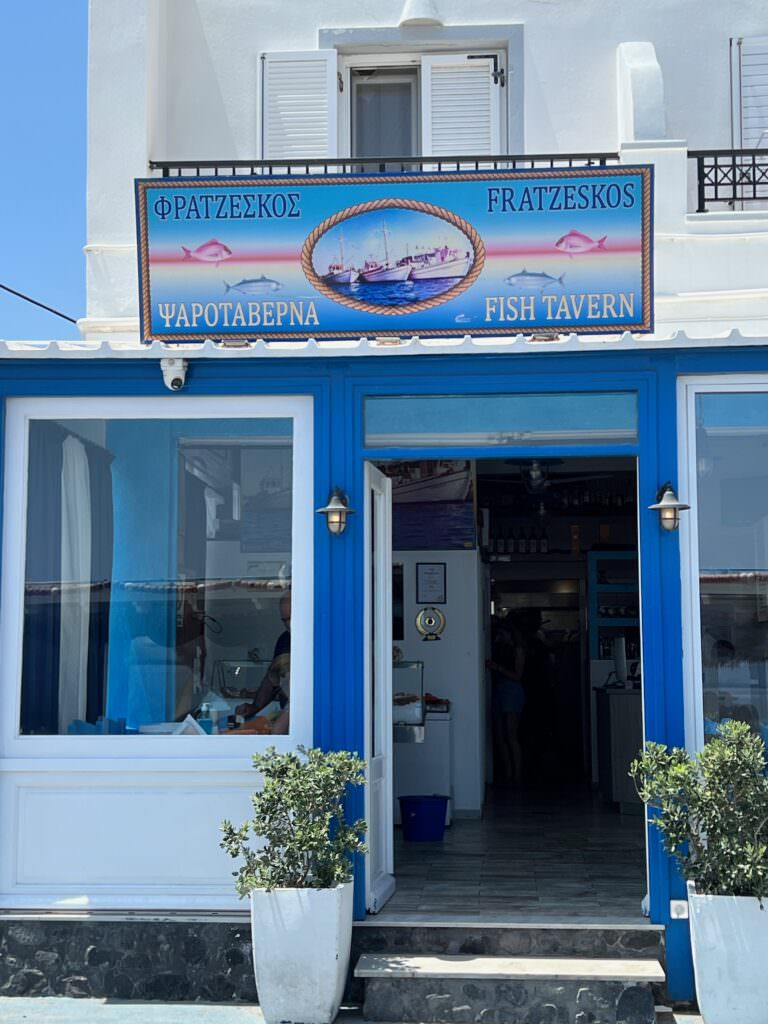 Profitis Ilias Mountain – up to the go of the mountain for incredible views of the entire island.
Santorini Winery – Try three of the best local varieties and indulge in a fine wine-tasting experience.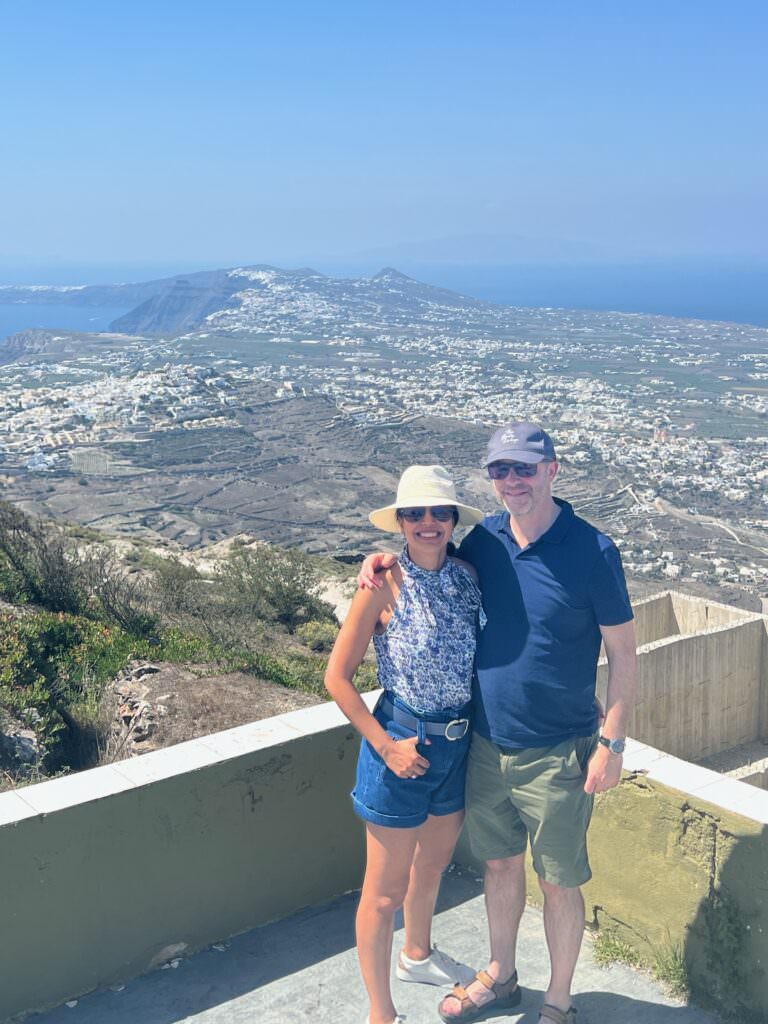 Our final stop on the bus tour was Oia for its breathtaking sunset. The island's gem is the picturesque Oia village, known for its incomparable sunset and admirable architecture. Pastel-coloured houses, blue-domed churches, great cafes, and restaurants are built on the staggering caldera cliffs and create an idyllic setting. The world-famous sunset, which can be witnessed from the debris of the Venetian castle, highlights the romantic atmosphere. It was jam-packed, and I can't imagine what it's like in high season. There was over an hour's queue to take a photo of the blue dome church.
Oia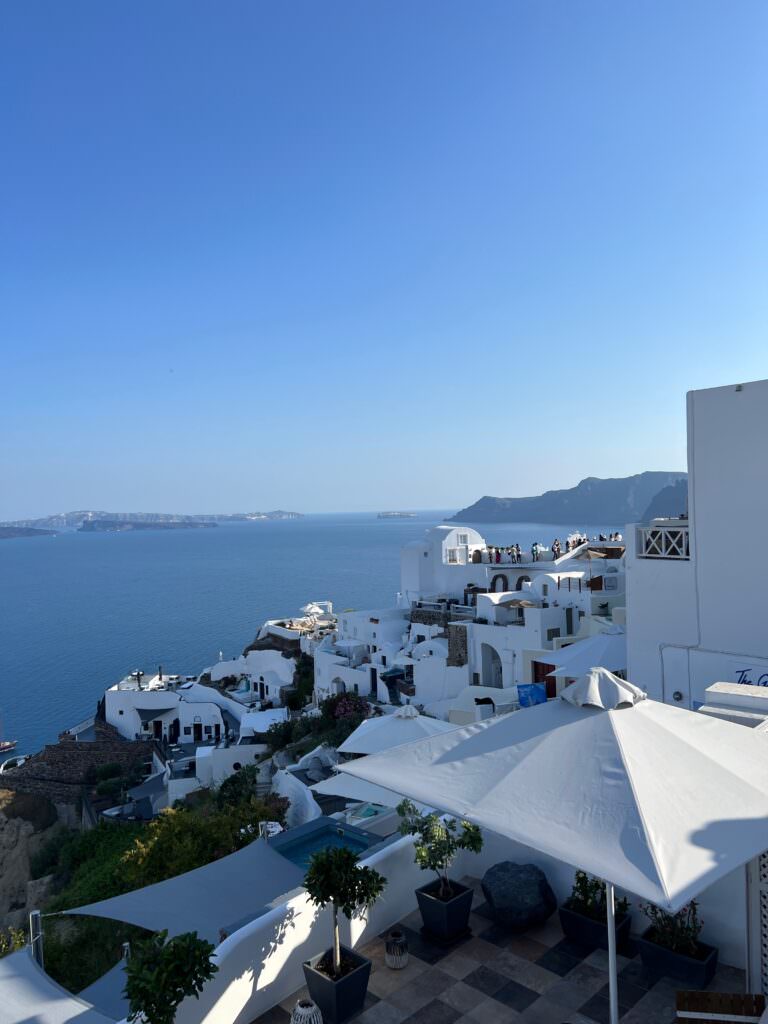 We had supper at the Red Bicycle in Oia has terrific views and delicious food.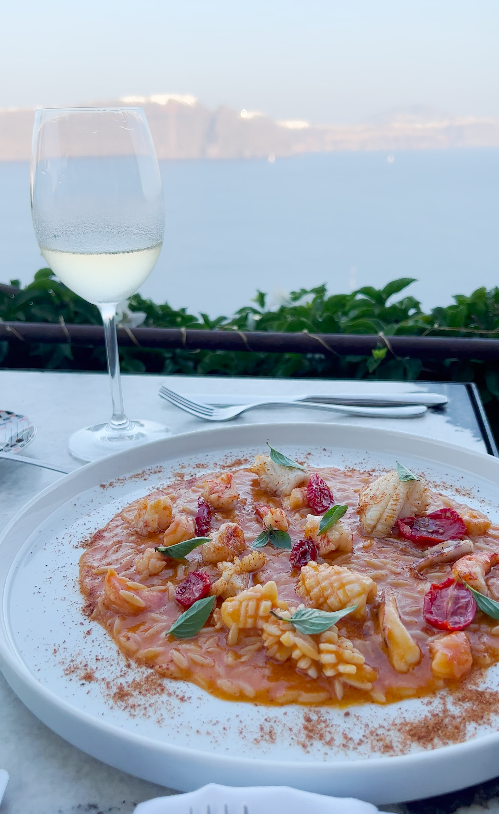 Some Santorini facts
All the roofs are doomed because they'll help withstand the weight of heavy volcanic ash.
All the buildings are white because traditionally, the white colour was from lime, a disinfectant and in ample supply, and they are designed to pick up any rainwater and store it underground and stay sterile. There is little rainfall, so they must save as much as possible.
You must not put toilet paper down the loo in only some hotels and restaurants. Use the pedal bins and get on with it. Glad our teenagers weren't with us; they would find it "gross!"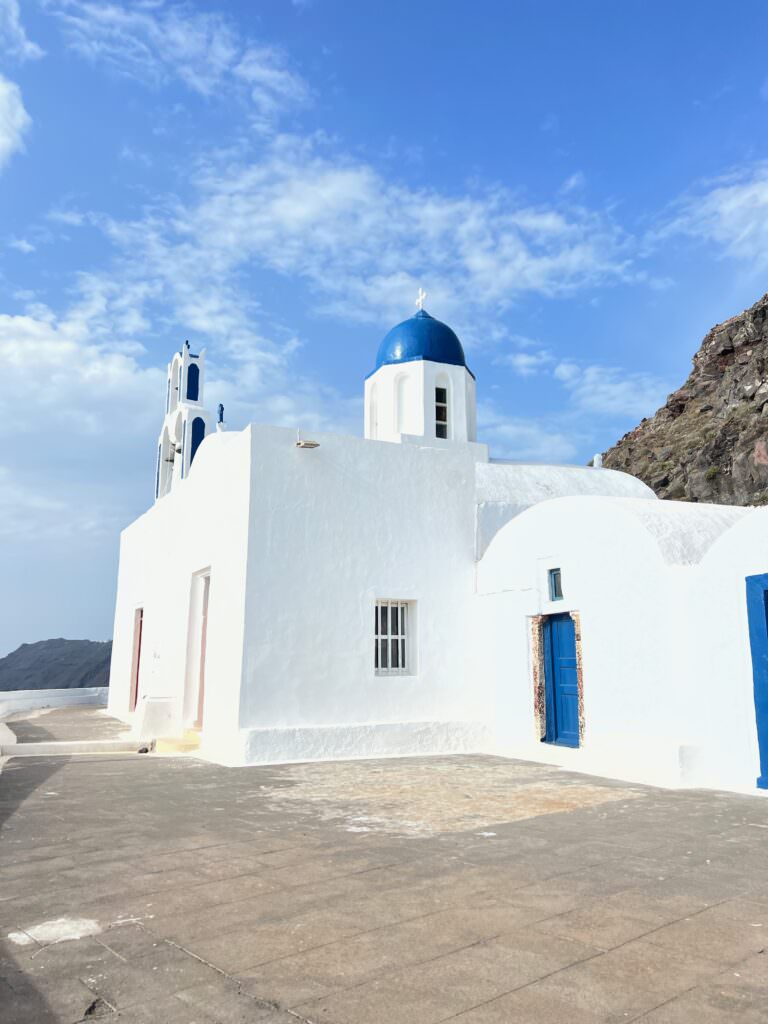 Conclusion
We wanted to love Santorini, but some areas were so congested with people and every conceivable type of transportation, making it noisy, polluted, unpleasant and slow to get around. This took the edge off it a little. We are big swimmers and walkers and found the beaches underwhelming, although the sea was gorgeous. Walking anywhere other than the town you're staying in is tricky as only some roads have pavements. Two nights felt like enough time for us. If you can visit the island in May, June, September and October, travelling around will be more pleasant than in the high season (July and August).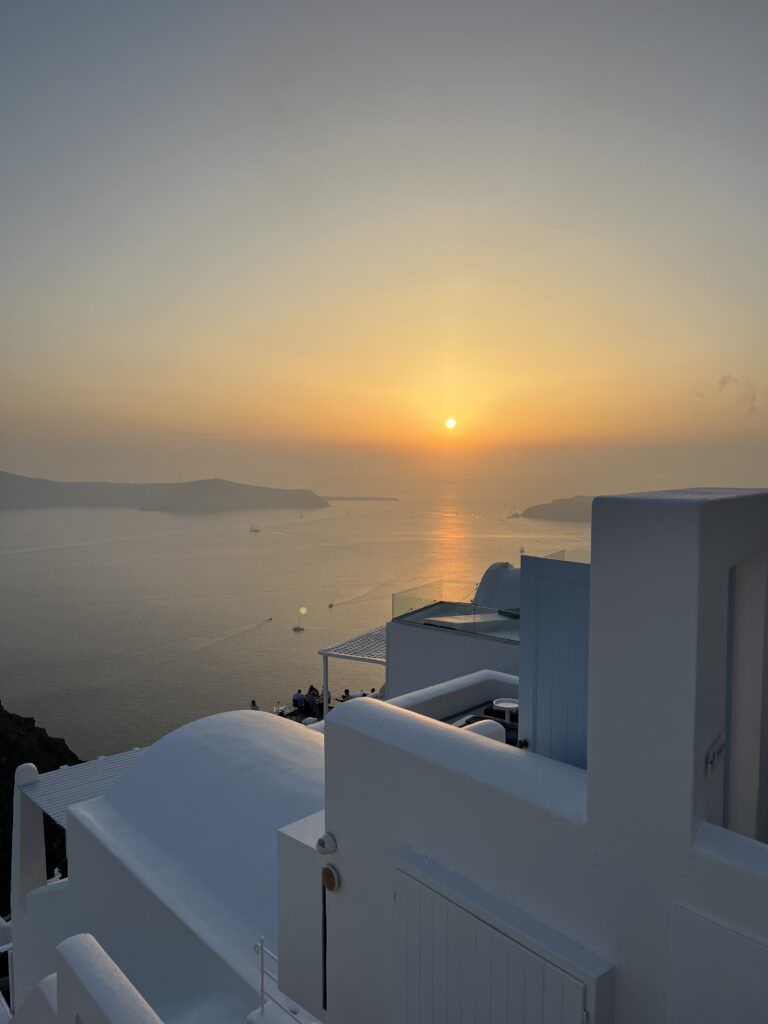 Naxos – 3 nights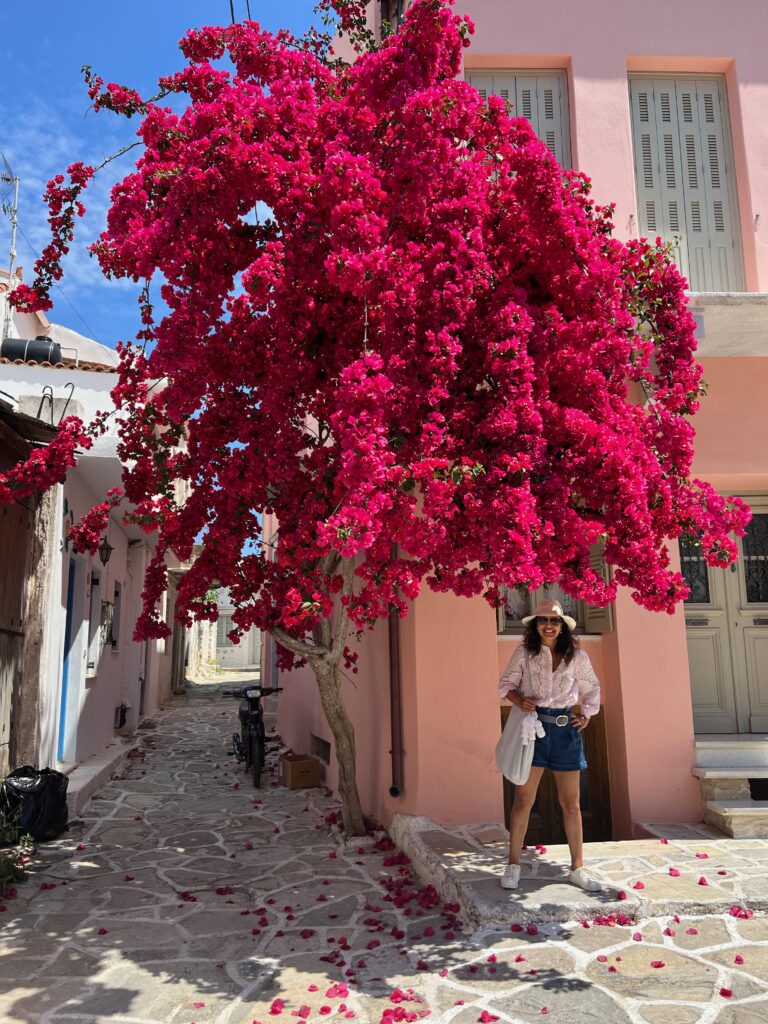 Day 3 
Click here to see my Naxos highlights
Taxi ride to Athinios port, Santorini, to catch the ferry to Naxos. The company is called Sea Jets, and the vessels have different capacities. It was a bit of a bun fight to get on, and the ferry still had spare seats, but to avoid disappointment, I recommend booking the ferry in advance. Do remember to check in online two hours before your ferry. Once on the ferry, there are lots of toilets and cafes to buy food and drink the seats are very comfortable. You can also catch ferries to Mykonos, Paros, Milo, Syros and loads of other islands. The crossing time to Naxos is 90 minutes. Book through www.ferryhopper.com
Naxos is the largest island in the Cyclades and is not volcanic. Different feel to Santorini, which sometimes felt very hectic with lots of people, especially from the five substantial cruise ships docked in the harbour, adding to the busy vibe and the traffic of coaches ferrying them all to shore. It must get very congested during the high season. Naxos feels a little bit more laid back and less busy.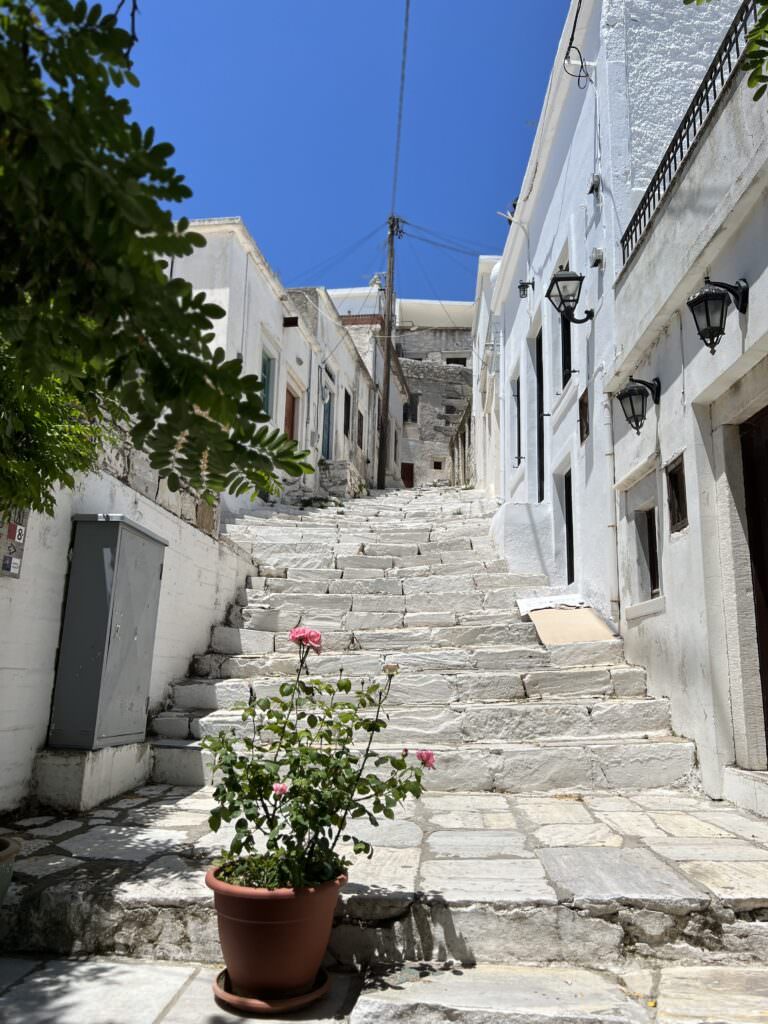 The taxi ride from the port to Plaka, where we were staying, was €40. On arrival, we had a glass of rosé with our wonderful host, Nikolas, by the pool at the beautiful Valena Mare Suites and Apartments, where we stayed for three nights. Highly recommend this gorgeous place; other hotels do not surround it, so it's quiet. However, you'll need to walk along the beach for about 200 metres to get to the path along the coast to the main area of Plaka. We didn't mind doing this even at night; we used our phones as a torch.
Then we headed to the beach, a 5-minute work along a narrow dirt road. Plaka has golden sandy beaches and beautiful crystal-clear water, and it was wonderfully quiet as the Villa is located at the end of the beach and not where the main drag of restaurants and hotels is situated.
Valena Mare Suites and Apartments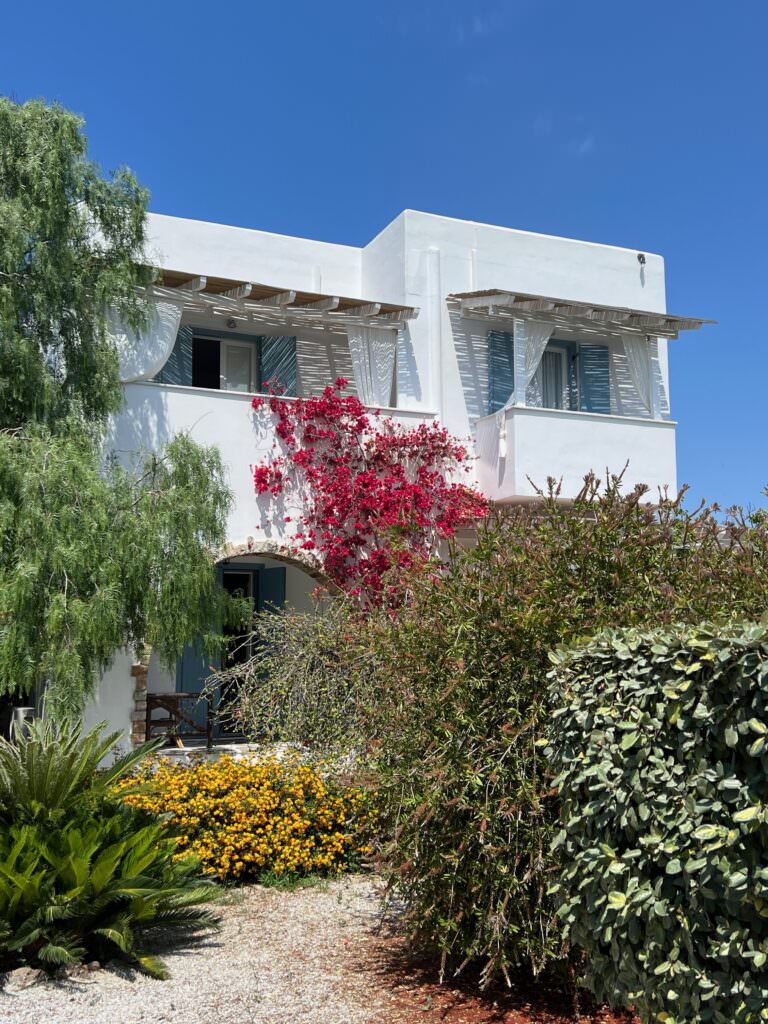 Day 4
Beach beach beach
We took a taxi from the port to our hotel, Almira Suites which is across the road from the beach. Great big room with a kitchenette, a big bathroom and plenty of parking. Marissa was a brilliant host, and super helpful.
We walked 40 minutes to the main area of restaurants. We ate at a popular beach taverna about 40 minutes from our Villa. The Greek salad and red snapper at Paradiso Taverna were delicious, and our table was on the lovely sandy beach with the best view of the glorious sunset. There was live music too, which was quite good!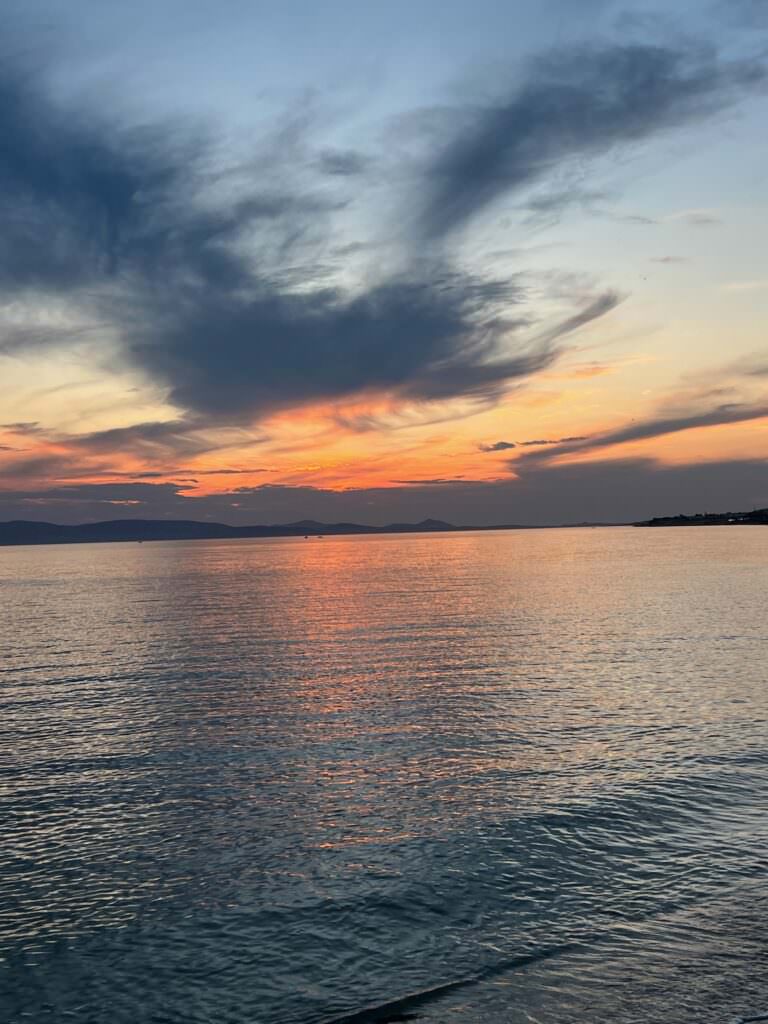 Day 5 – Highlights of Naxos Day BusTour
The bus tour started at 8.30 am. Ours was the first stop, and it took over an hour to pick everyone up. There are six places we visited on the tour:
1. Temple of Demeter – you will walk uphill through a beautiful garden to one of Naxos's most significant ancient monuments.
2. Damalas At the small village of Damalas for a talk on olive pressing and a pottery demo.
3. Chalkio is Naxos's old commercial centre and one of its most beautiful villages. Try the local ice cream; I had rose and peach, which was scrummy!
4. Apeiranthos is the most famous village on the island due to its unique beauty and nostalgic ambience. We had a delicious lunch here of lamb chops, Greek salad, baked aubergine and rose wine at Taverna Platanos.
5. Apollonas Beach in the picturesque, small fishing village of Apollonas, you will have free time to unwind, have a coffee or swim in the beautiful bay.
6. Apollonas Kouros to see the half-completed statue over 2500 years old.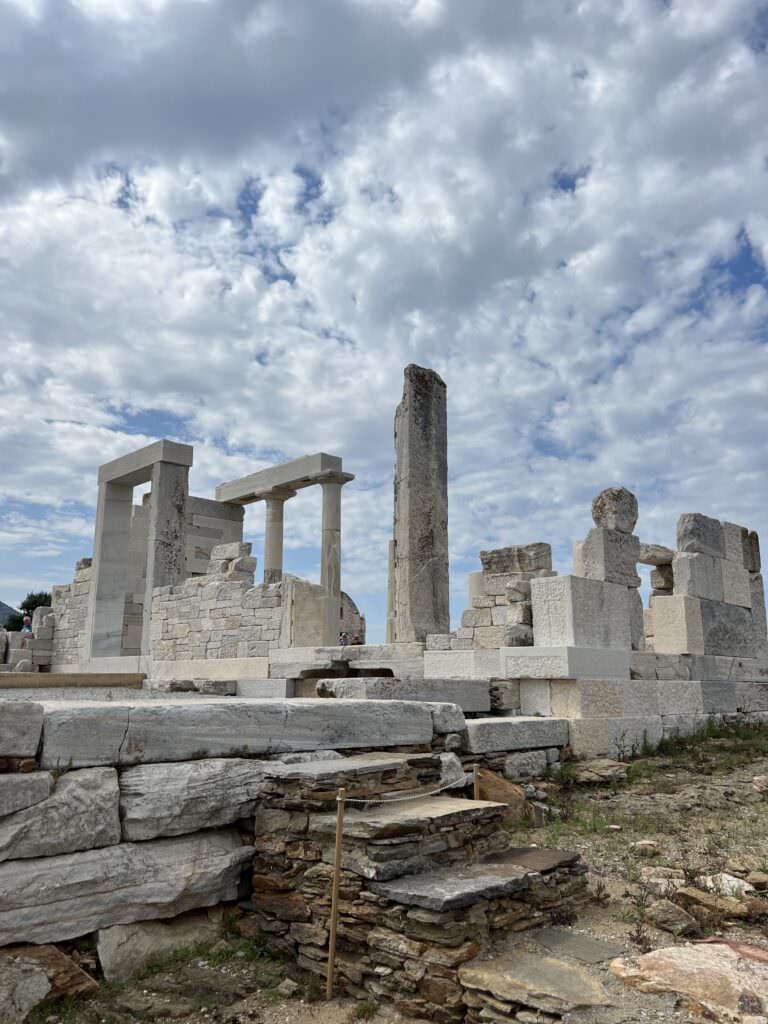 Day 6
Morning on the beach, lots of swims!
2 pm ferry to Paros, 30 minutes
Conclusion
The bus tour is an excellent way to see many islands in one day if you are short on time. However, at times and you did feel more time at each place would have been better and for there to be fewer pick-up points as it took 90 minutes to get back to our Villa in the evening. LOVED Naxos more than Santorini for its laid-back vibe and beautiful clean white sandy beaches. Ideally, 4/5 nights would have been better so we could have explored Naxos town fully and travelled to other parts of the island for swims and walks independently.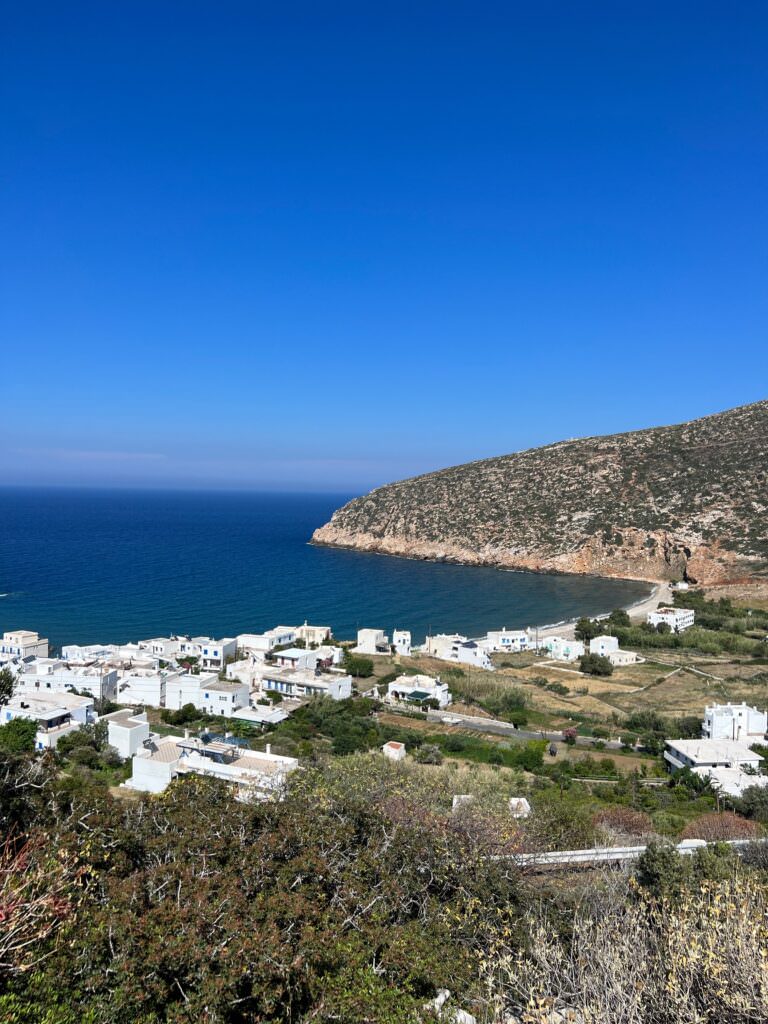 Paros – two nights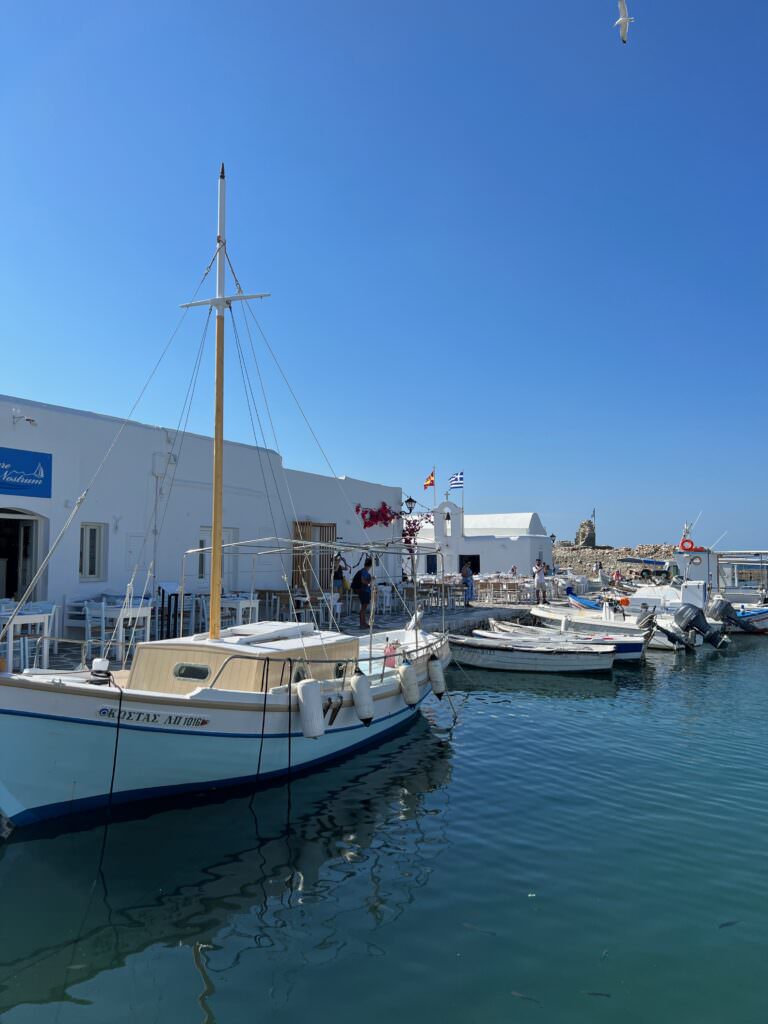 Click here to see a video of Paros highlights
Day 6
We were staying in Naousa, a beautiful picturesque fishing village located in a vast bay in the north part of the island, 10 km east of Parikia – the capital town. It is considered one of the prettiest villages in the Cyclades.
Supper was a delicious Grouper (filleted) at Tsachipinis.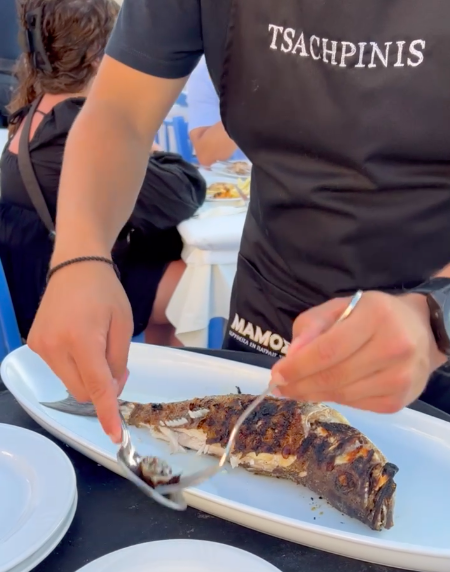 Day 7
By far my favourite day! We got a little boat from Naousa to Monastiri (runs every hour), which is €10 for each return. When you arrive, turn right, and you will walk past many beautiful little coves to swim in and a breathtaking nature trail. I highly recommend walking; the circular routes vary from 40 minutes to almost three hours.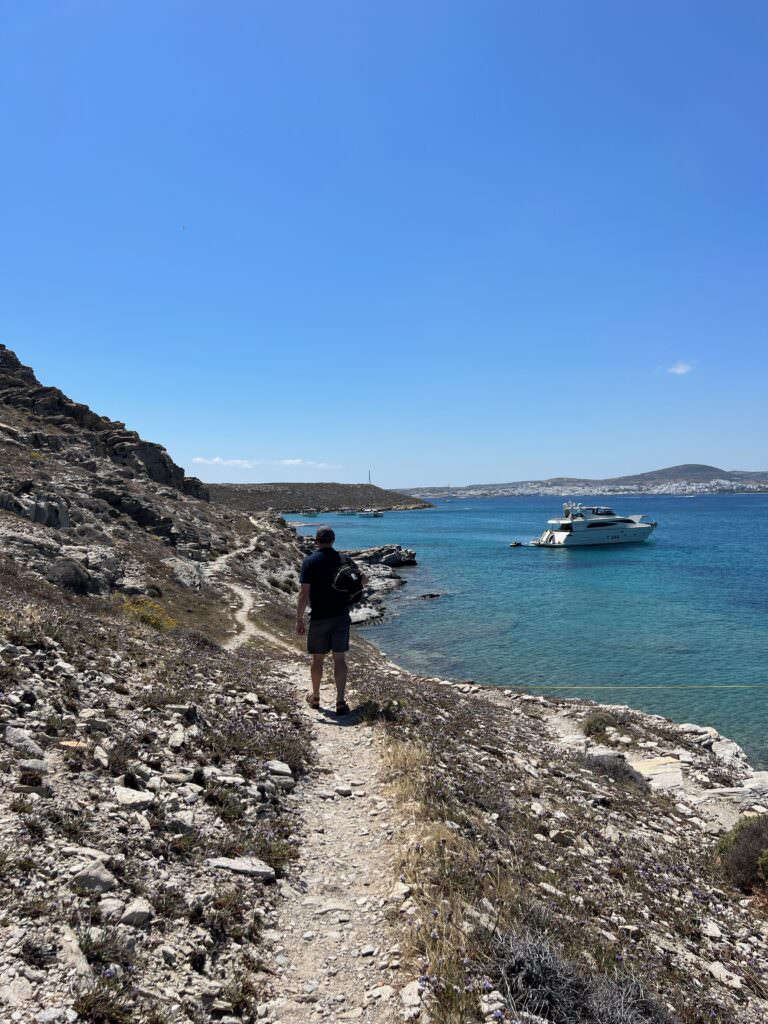 Once you've had enough swims and walks and have an appetite, head to Monastiri beach bar restaurant for a delicious glass of rosé and some lunch, I had a salad, and Tom had a burger and chips. This place had a bit of an Ibiza vibe – great music played by the DJ and a laid-back atmosphere. Highly recommend swims, walks and meas here.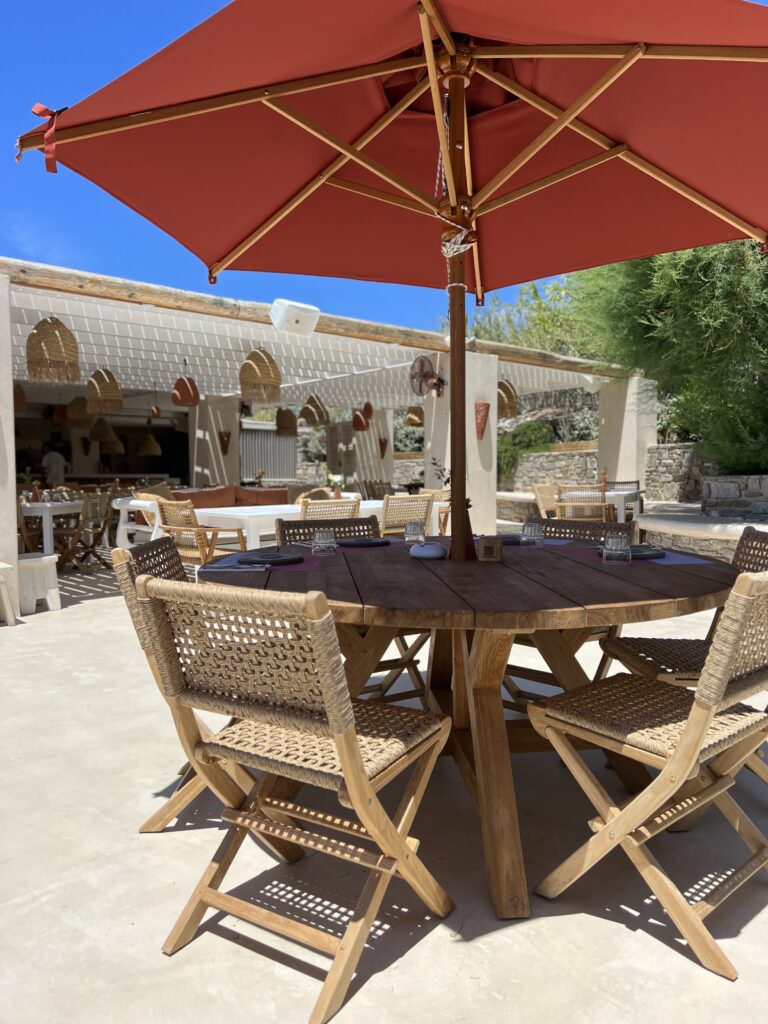 Day 8 – one night back to Kamari, in Santorini
Ferry to Santorini from Paros to stay in Kamari, south of the island and about 6 km to Kamari. When the ferry docked at Santorini, it took 90 minutes to travel the 6 km to our hotel because of the traffic jams. Kamari is also a 10-minute drive from the airport. It's less expensive and has many hotels, shops, bars and restaurants along the black sandy beach. It is noisy due to air traffic, but this stops between about 11 pm and 6 am.
We had an excellent meal at Fistikies in Kamari. I would highly recommend it for the food, ambience and service.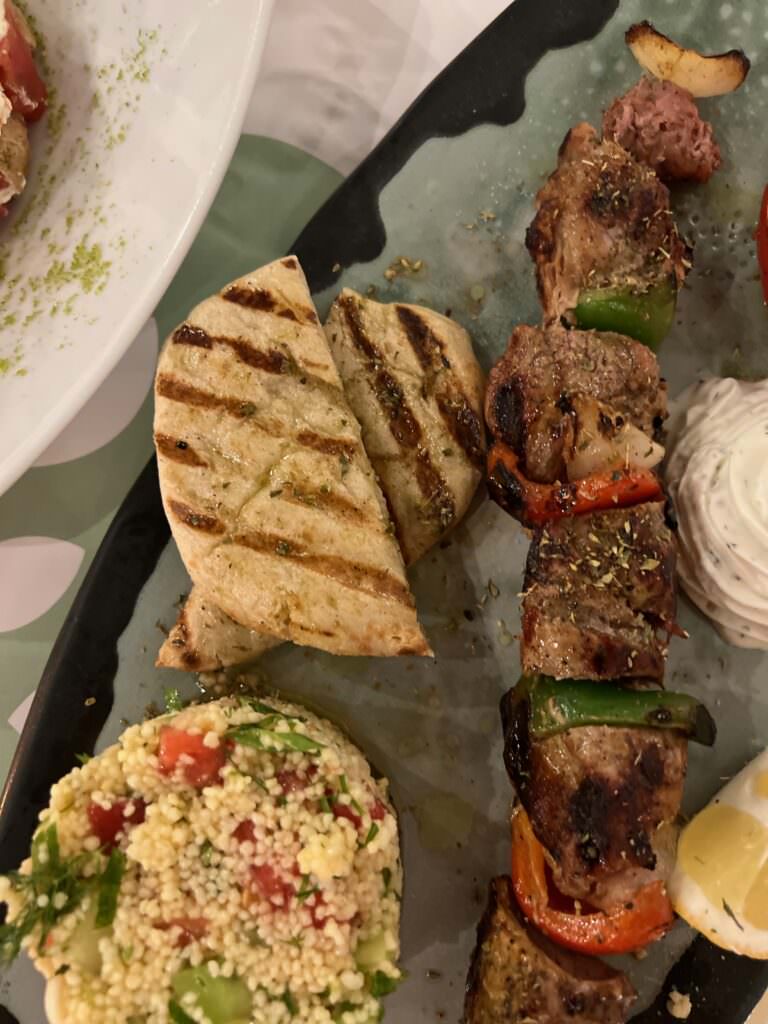 Conclusion
We felt we needed four nights in Paros rather than two nights, so we could have hired a car to explore more of the island and visited anti-Paros for a day trip. Our guidebook rated Santorini most highly, followed by Naxos and then Paros. However, Tom and I would rank our favourites as:
1. Paros
2. Naxos
3. Santorini.
All three islands have their charms, but we are swimmers and walkers, so Paros was ideal for us. Santorini was the most expensive and busiest. In some areas, there was a lot of litter and rubbish.
WHAT TO WEAR
You must pack a breathable straw or cotton hat, trainers, walking sandals and water shoes (not just for rocky pebble beaches and in the sea but for walking on hot sand)—goggles or something similar to help you see the beauty of the sea.
Shorts! They stop the top of your thighs from rubbing/chaffing together, and in cotton or linen, they will keep you cool and easy to wash and dry. And great if you're hiring a scooter or bike.
Before setting off for the day, take a jacket or jumper to keep your shoulders warm in the evening.
Hats
I have these cotton-rich packable fedora hats in all three colours in size s/m, which fit a head circumference of up to 55cm. A billy bargain at £17.50:
https://bit.ly/3pd4Fo4
Water shoes
I bought these from Amazon, and they are perfect as they are quick drying, lightweight, and have a durable rubber sole true to size:
https://bit.ly/3PjiID3
Day 9 Flight home
No part of this holiday was gifted. I hope you enjoyed my Vlog, and I hope it's inspired you to visit these beautiful Greek islands or the other ones in the Cyclades or  and if you have any questions, please get in touch at anita@feronclarkstyle.com