salmon teriyaki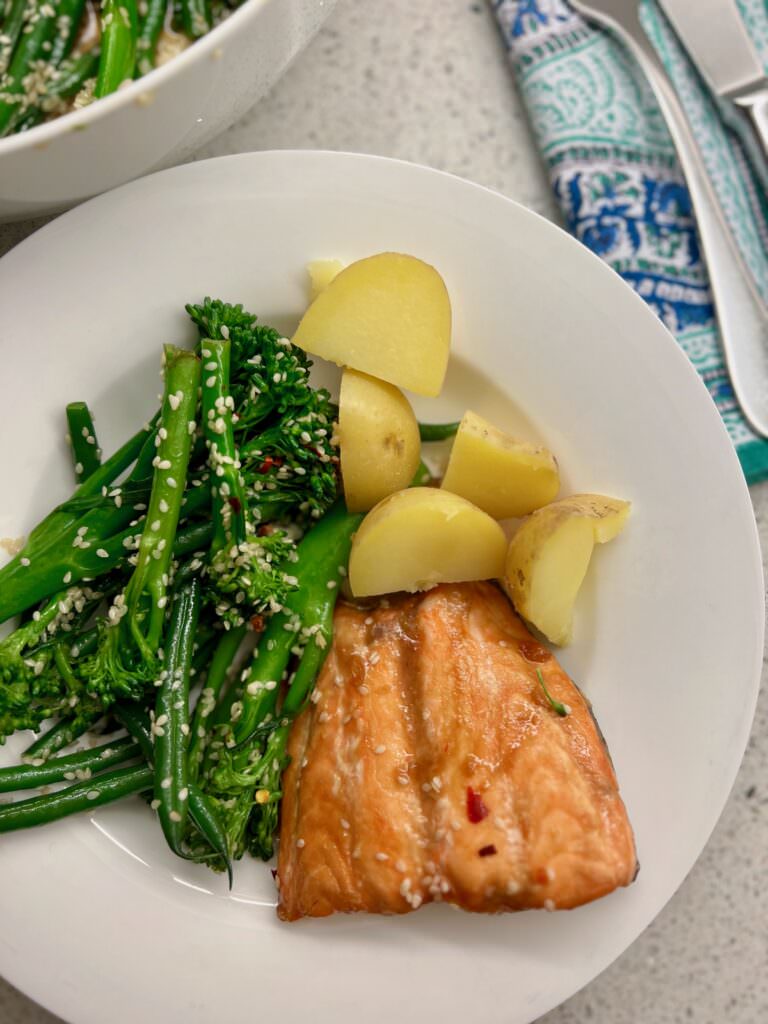 My daughter spurred me on with this recipe. Her love of salmon was waning, and I needed to make it more flavoursome. I came across a BBC Good Food recipe, which I adapted. Now that she can't get enough of this salmon dish, she has printed out the recipe and made it for her grandparents. It is so delicious the next day as a cold lunch. I served the fish with miso broccoli and new baby potatoes in this video. It's so simple, quick, flavoursome and nutritious.
Ingredients
Four skinless or with-skin salmon fillets
Two tbsp sweet chilli sauce
Two tbsp honey
Two tsp sesame oil
Two tbsp mirin or dry sherry
Four tbsp soy sauce
Four tsp finely grated ginger or finely chopped
Serve with noodles, brown rice, potatoes (mashed, boiled or chips) or with salad.
Method
Heat oven to 1900C/170C fan
Mix the sweet chilli sauce, honey, sesame oil, mirin or dry sherry, soy sauce and finely grated ginger in an ovenproof dish and mix thoroughly. Add the salmon so the fillets are completely covered. I like to place the salmon skin up so the flavours really go into the fish.
Halfway through baking, turn the fillets around so the skin sits in the sauce. You don't have to do this.
Bake for 15 minutes in the middle of the oven.
Enjoy, and do let me know how you get on with this delish recipe.