Moussaka: three ways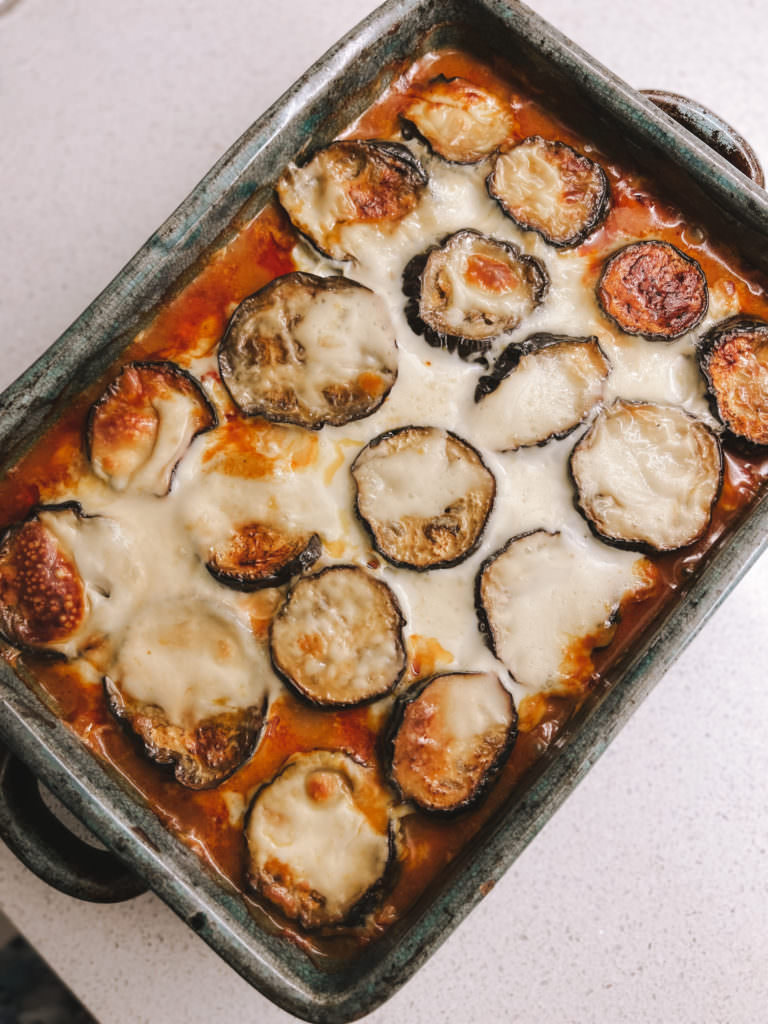 Here's a one-minute video showing you how I put this together. Sorry, I'm no food videographer and I did this in a rush between seeing clients, but hopefully you get the gist. It isn't a complicated recipe, but it is time consuming as there are three stages to it: roasting the aubergines, making the tomato sauce and thirdly, making the béchamel sauce.
LINK TO VIDEO: https://www.instagram.com/reel/Cki_upas3pn/?utm_source=ig_web_copy_link
I have made this Moussaka three ways: for the carnivores in my family; as vegetarian dish and as a vegan dish for friends and family. Personally, I love vegetarian food and once both my children leave home, I will give up eating meat. We have definitely reduced the amount of meat we eat, which is good for us all. I love this hearty, protein and nutrient packed dish that's very easy to adapt in three ways.
I followed, more or less, May Simpkin's brilliant recipe: https://maysimpkin.com/vegetarian-moussaka/
Do check out May's website, she's a brilliant nutritionist and I had the pleasure of eating this delicious dish which she cooked for her guests at her yoga retreat in October. May also has an informative Instagram feed: https://www.instagram.com/maysimpkinnutrition/
I made this moussaka with mince beef and double the ingredients. I like to make bigger quantities to serve up as leftovers, as a busy mum working full-time, I don't have time to cook meals daily.
It will keep in the fridge for 4-5 days (even longer), so you don't have to eat it all up the next day. You can also keep one batch to eat and another for the freezer.
moussaka ingredients: serves 4
3 aubergines
2 onions, finely chopped
1 punnet (300g) mushrooms, finely chopped
4 large cloves garlic, finely chopped
1 tsp cinnamon
1 tbsp mixed spice
1 tin plum tomatoes
½ jar sundried tomatoes, chopped
2 tbsp tomato purée
500g organic mince beef. OR for a vegetarian and vegan option, substitute the mince for 1 tin can green lentils, rinsed and drained.
Olive oil
ingredients for the Béchamel
OR do not add for vegan option (just as tasty in my opinion but my son loves cheese sauce!)
Feel free to vary the milk and use olive oil for a vegan version. Use any GF flour if necessary.
500-600ml milk (any)
50g flour (any)
50g butter (or oil)
1 egg (V optional)
½ tsp nutmeg
S&P
You'll need:
1 large deep-sided oven dish, mine is 20cm x 30cm
Lined oven tray
1 large deep-sided frying pan or wide saucepan
Chopping board
Sharp knife
1 small non-stick saucepan (for the bechamel)
Whisk
Spatula
method
Heat the oven to 180 degrees
Start by preparing the aubergine; cut each aubergine into 2cm discs.
Prepare a lined baking tray with a drizzle of olive oil. Now lay out each disc in a single layer over the oil. Then turn each one over to coat both sides with a little oil. Season with salt and pepper and roast for 30-35mins until they are golden, but not overcooked. Remove and set aside.
Meanwhile, heat a little olive oil in a large deep sided frying pan. Add in the onions and garlic and sauté over a gentle heat for around 5 mins, taking care that they do not burn or change colour. Add mince meat (don't add if you want the meat-free option) and brown off.
Then add in the mushrooms and continue to cook until they begin to soften.
Add the mixed spice and cinnamon and continue to cook for 2 minutes, stirring continuously until aromatic, then stir in the tinned tomatoes, sundried tomatoes and tomato purée. Season with salt and pepper, mix to combine and cook for 2 mins before adding the green lentils (vegetarian and vegan option).
Bring to a simmer then cover and cook for around 20 minutes over a very low heat, until the sauce is thick. Stir occasionally.
Whilst this is cooking, prepare the béchamel. Begin by making a thick paste of flour and cold water, and slowly add more water until it is a thick pouring consistency. Skip this part for vegan option.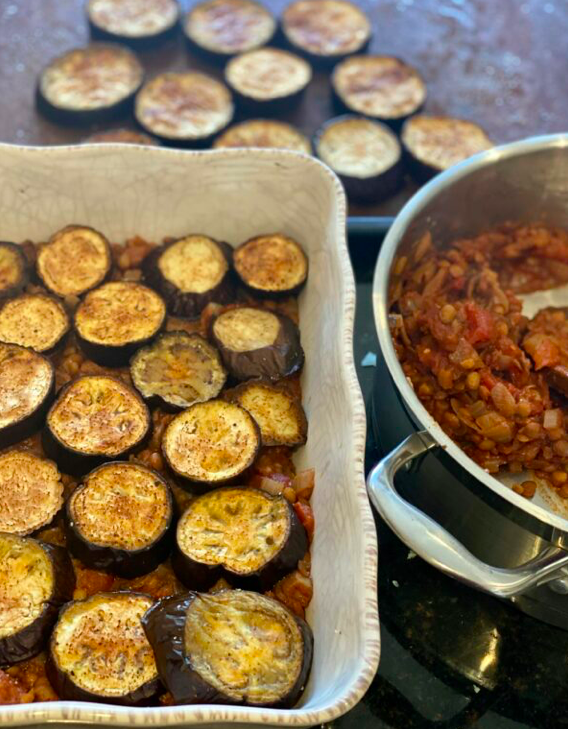 To make the béchamel sauce (for meat and vegetarian option)
Start with May's top tip!
"I find that it is not always easy to judge how thick a layer your béchamel will be until you start making it…it will of course depend on your dish. Making a pouring flour paste before you begin will allow you to ensure the final sauce is the thickness you need, should you need to increase the quantity as you're making it. And I always end up wanting more, so I simply add more milk and then pour this flour paste into the pan, stirring continuously to allow it to thicken without lumps."
Melt the butter in a small non-stick pan on a medium heat. Add the flour to the butter and whisk to combine to a thick dry paste. Now remove from the heat and add the milk slowly a little at a time, whisking in between each addition to ensure you have no lumps. Initially, the sauce will resemble a paste but continue to add a little milk at a time until it is pouring consistency. Once you're added all the milk, return the pan to the heat and bring the sauce to a gentle simmer, stirring continuously with a spatula. Do not leave this unattended otherwise you'll end up with the sauce sticking to the bottom and the sauce will be lumpy. Allow it to simmer for a few minutes until the sauce has thickened. Set it aside.
To assemble the moussaka, drizzle a little olive oil over the base of a deep oven serving dish and begin to layer the sauce topped with a single layer of aubergine, covering the entire dish. Drizzle a little olive oil in between each layer.
The mixture should allow for 2 layers of aubergines, depending on the size of the aubergine to start with. Simply spread out the mixture evenly between the available layers.
Bake in the oven for 30-40 minutes, until it is crispy and golden on top. Allow it to sit for a 5 minutes or so; this will make it easier to serve.
Serve with a mixed leaves salad, topped with some crunchy nuts for added texture and drizzled with a Creamy Lemon Dijon Vinaigrette. My children like it with garlic bread.
Prepping ahead with the Moussaka…
Either… make the sauce and baked aubergines separately in advance and store them in the fridge. When you're ready to serve, prepare the béchamel fresh and assemble the dish. You'll need to re-heat the sauce slightly so it's easier to spread out evenly between the layers. The roasted aubergines can be used straight from the fridge.
Or you can make the entire dish and store it in the fridge until you're ready to eat it. Ideally, cook it from room temperature.
In both cases, you can store the cooked ingredients in the fridge for 3-5 days, if not more.
If you make this dish, I'd love to see a pic and a comment below would be fabulous!
Anita (and May who thought up this delish recipe) xxxx