Ibiza
Ibiza is the third largest of the Balearic Islands, situated in the Mediterranean Sea off the eastern coast of the Iberian Peninsula.  Given its one hundred miles of coastline and over fifty beaches, the island is surprisingly small; you can easily drive from one end to the other in under an hour, traffic permitting.
I visited Ibiza for the first time this year in September and it's a small island, so I can imagine it's incredibly busy during the school summer holidays in July, August and early September. It was a week-long break with three friends and we hired a villa in San Jose de sa Talaia, which is near San José (Sant Josep in Catalan), in the west of Ibiza and renowned for its glorious sunsets and close to the Seven Pines resort (see below). We all absolutely LOVED it! It's definitely got a cool boho-vibe and it's fabulous for people watching.
Swimming in the sea was the biggest highlight for me; there are so many little coves with crystal-clear water, you really are spoilt for choice. Head west for the sunsets, they are really magical and large crowds congregate on the beach, with drinks in hand, to watch. I've visited other European islands and Ibiza is not cheap: a round of cocktails (for four) will set you back about 55 euros and the food can be expensive too. That's why we chose a villa over a hotel, to give us the option to cook for ourselves as well as to eat out.
AREAS

Ibiza Town.  This is the main hub of activity, also known as Dalt Vila or the Old Town.
San Antonio.  Set on a beautiful open bay, this is an area famous for its sunsets, bars and water sports.  It has accommodation to cater for all budgets.
Santa Eulalia.  The third largest resort town on the island; with its soft sandy beaches and calm waters, life moves at a slower pace here.  The marina area is upmarket.
Playa d'en Bossa.  The most popular resort on Ibiza, boasting the longest beach on the island and home to famous clubs.  Expect groups, clubbers, nightlife and budget options.
Santa Gertrudis.  A charming village in the heart of the island, with beautiful shops and a wide range of restaurants and bars.  It's a bohemian get-away with small windy streets.
Talamanca.  Just a short walk along the marina from Ibiza Town, Talamanca is a peaceful resort with a beautiful sandy beach.
GETTING AROUND
To get the most out of Ibiza you'd be well advised to hire a car, which will give you the freedom to explore the island at your own pace.  There is no shortage of car-hire companies, so prices are quite competitive.  Try Europcar, Hertz and Avis, who all provide services from the airport.  Make sure you book in advance of your holiday to secure the best deal.  The car hire companies aren't in the airport, it's a shuttle bus or a 10-minute walk to the offices. The main roads that connect the island are very well maintained and it felt very safe driving around.
If you don't want to drive, Ibiza has a regular — and cheap — bus service, but please note that buses only operate between major resort centres, so you will need to use other modes of transport to explore the island's coves and restaurants.
You can always take a taxi but they are in short supply during peak season and the traffic can be heavy. Usually, your hotel can book you one, or find a local taxi rank. A green light shows that the taxi is on duty and free; prices are dictated by a meter. Taxis can be expensive though and a 50 minute journey cost us 93 euros.
WHEN
If you can, I would recommend visiting Ibiza out of season.  If you want to avoid the crowds, then Easter or late September are the best times to go; the weather will be cooler but still very pleasant (it was high twenties when I went in mid-September). Otherwise, the main season is between July and August, when there are lots of fun festivals and events. 
HOW
Ibiza is a short flight away: just 2 hours and 20 minutes from London. We flew from Heathrow Airport with British Airways. Book as far in advance as possible for good cheap deals.
HOTELS
Here's a list of hotels recommended by friends, whose feedback I trust implicitly.
On the west side of the island and a moment's walk from the beautiful cove of Cala Gracio is this stylish 5-star retreat which attracts a young, global and fashionable crowd. This is laidback luxury at its best, with two swimming pools, morning complementary yoga sessions, a well-equipped gym, a zen spa and an amazing boutique offering clothing, jewellery and toiletries.
The restaurant's head chef is Mark Vaessen, from the excellently acclaimed Sushi Samba. The restaurant offers Japanese, Asian and South American-inspired food, all of which is sustainably sourced. This is somewhere to switch off and unwind. You have a choice of rooftop or swim-up pool rooms, with every room having its own terrace.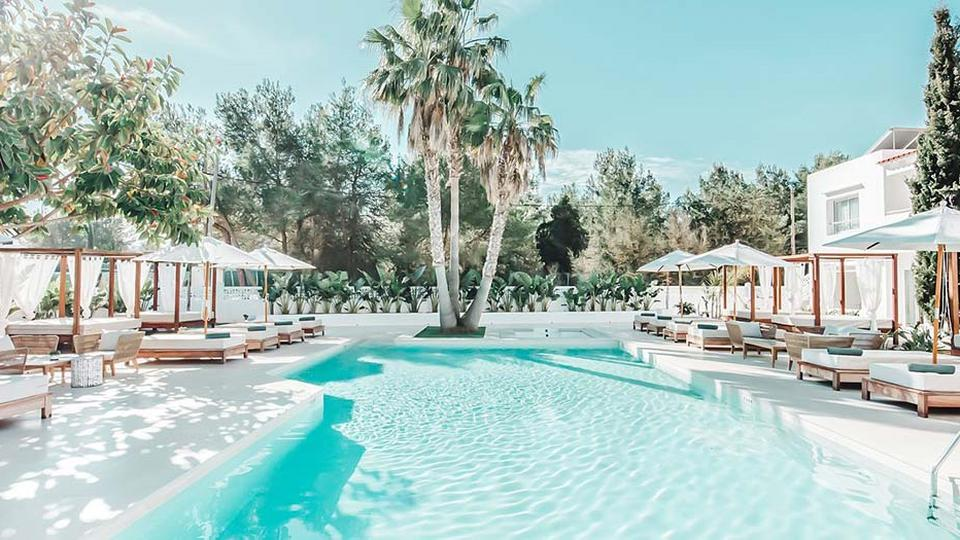 This stylish, seventeen-room boutique hotel is found within Cala de Bou, a short stone's throw away from San Antonio Bay.  A cosy, stylish place to holiday with family, friends or someone special. The spacious suites are decorated in neutral tones with a Mediterranean-inspired look. Each room has all the amenities you would expect, along with a private terrace with views of either the sea or the pool.  Relax on one of the many sun-loungers or Balinese beds, sip cocktails by the pool, and when night falls enjoy a candle-lit dinner with live music.  You also have access to the hotel's private spa, small gym and solarium.  Italian cuisine is offered, and there are wood-fired pizzas.
There are many beaches to explore, the closest being Es Pouet and Pinet, both a ten-minute walk away, and Cala Bassa and Cala Conta fifteen minutes away by car.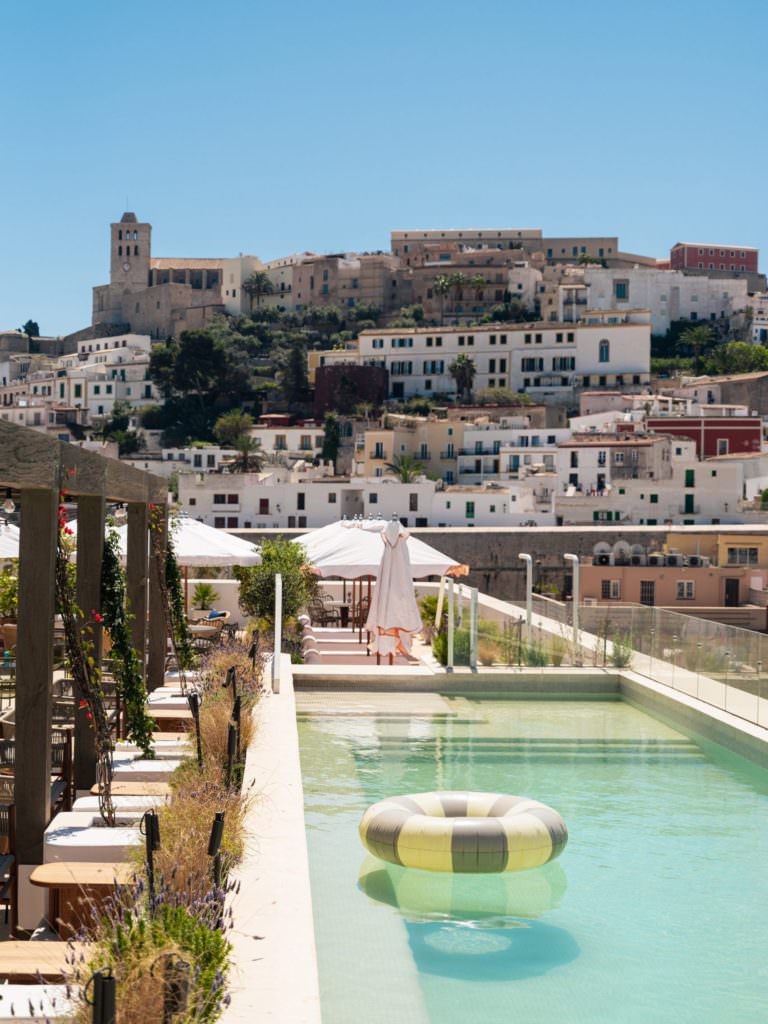 With hotels in London, New York and Miami, the group's first Balearic hotel opened this spring. There are 53 rooms and suites in this slick, white-faced hotel, ranging from neat and smallish to large, plush suites. Mediterranean whites are peppered with the kind of 70's-style patterns and fabrics you would expect from The Standard. There's a rooftop bar and one of the only rooftop pools in Ibiza, with views across the sea.  At street level you will find the restaurant Jara, which during the day is a tranquil haven where you can enjoy cocktails and farm-to-table cuisine, but which, as the sun starts to set, turns into a livelier spot with the buzz of Ibiza Town but without the chaos.
If you're looking for something a little more secluded, Can Sastre, a ten-minute drive from Santa Gertrudis, is a lovely five-bedroom hideaway where you can relax, recharge and connect with nature. The space was bought by a Dutch couple, Bibi and Ray, and renovated in 2018 to create bedrooms that are simple, with whitewashed walls and organic interiors preserving the original Iberian style.  Can Sastre delivers all the comforts and services of a boutique hotel and its extremely friendly owners are on hand to help organise your stay and assist with dinner reservations.
A restful retreat in the Ibizan countryside – the perfect place to switch off and relax.
Situated in the centre of the island, a 20-30-minute cab ride to the nearest attractions and restaurants.  Spend the day lounging around the pool, enjoy tapas for lunch, and watch the sun set over dinner.
Please note the pool is salt water, so may not be to everyone's liking.
Book through Mr & Mrs Smith.
Situated in the south-east of the island, this boutique hotel has unspoilt views of Ibiza

Atzaro, Agroturismo Hotel & Spa
One of the most prestigious rural hotels in Ibiza, on a thirteen-hectare estate on what was originally an orange farm.
I would also recommend staying in one of the many luxurious villas on offer.  There are so many beautiful options, but be aware that you may find it hard to book a villa in high season for less than a week.  If you want to be close to restaurants and beach bars, I suggest staying in Salinas or near Ibiza Town.  If you plan to spend your time in the villa, then stay in the idyllic north of the island.
EATING
A five-minute drive from Ibiza Town at the furthest point of Talamanca Bay is Sa Punta, a beautifully located restaurant with a magnificent setting and amazing views over the Dalt Vila skyline. I highly recommend going in the evening, as this is when it turns truly magical with the most breathtaking sunsets.  Start with cocktails on the roof terrace, then hit the main restaurant for dinner.  Chic wooden decking and stylish décor make this the perfect destination for Mediterranean-inspired cuisine.
Sunday is family day, with entertainers and interactive games for kids.
Possibly the most famous restaurant in Ibiza, located on the beautiful beach of Es Cavallet, a ten-minute drive south of Ibiza Town. The feel is chic and sophisticated with a perfect beach vibe; a wooden terrace and white day-beds facing the sea allow you to relax whilst listening to the resident DJs spinning their tunes.
The wine list is impeccable and has a wide selection of international wines, whilst the juice bar offers freshly squeezed juices and custom-styled cocktails. If you're looking for something romantic, come in the evening, when the place is transformed into candlelit glamour.
In the north of the island, a twenty-minute drive from Ibiza Town, you'll find the amazingly positioned Aiyanna restaurant on the unspoilt sandy shores of Cala Nova bay.  The perfect balance between contemporary and Bohemian, the restaurant has a laidback and chic vibe. Food is a modern take on eastern Mediterranean flavours and many of the ingredients are grown in their own garden. Healthy juices and snacks are served from a silver food truck, so you can take away to the beach, or eat in the lounge area.  All disposable items are made from renewable or recycled materials.
Daily wellness programmes, with yoga sessions overlooking the sea, are also available.
In the north of the island, on the main square of the picturesque village of San Juan, you will find this quaint little café nestled within the walls of a 300-year-old town house. The rear of the café opens onto an idyllic garden, which is the heart and soul of the restaurant. Most of their produce is home grown, so the day's harvest is the inspiration for the menu. Dishes are mainly Mediterranean, with a slight contemporary feel.
The outdoor garden is a little piece of paradise where you can dine alfresco and catch the sun during the day. But it is when the sun goes down that the Giri Café really comes alive, with beautiful lighting creating a welcoming atmosphere.

Here's a list of some other places recommended by friends:
Inland, in the village of San Lorenzo, La Paloma is a family-run cafe with a menu that mixes Mediterranean tastes with Middle-Eastern, Asian and North African ingredients. (see image)
Located on a cliff top, La Torre restaurant is the perfect spot to take in some of the best sunsets in the Mediterranean.
Situated on the east coast of the island, Cala Mastella restaurant, better known as 'El Bigotes', offers some of the best seafood in Ibiza.  Make sure to book ahead as it is extremely popular.
In the heart of Ibiza's Santa Gertrudis, is this spacious garden restaurant.  Its strings of lightbulbs create a magical atmosphere in the evenings.
If it is a view you are after, then this will hit the spot.  Seven Pines is a luxury resort with a variety of restaurants looking out over the Mediterranean Sea.
COFFEE AND BRUNCH
Located in Santa Gertrudis, this beautiful café is a great spot for coffee or brunch.  Its extensive menu includes fresh juices, poke bowls and a wide variety of veggie options.  Don't miss the glass floor inside the restaurant, which is a work of art itself.
Also in Santa Gertrudis, Wild Beets offers an extensive and creative plant-based menu.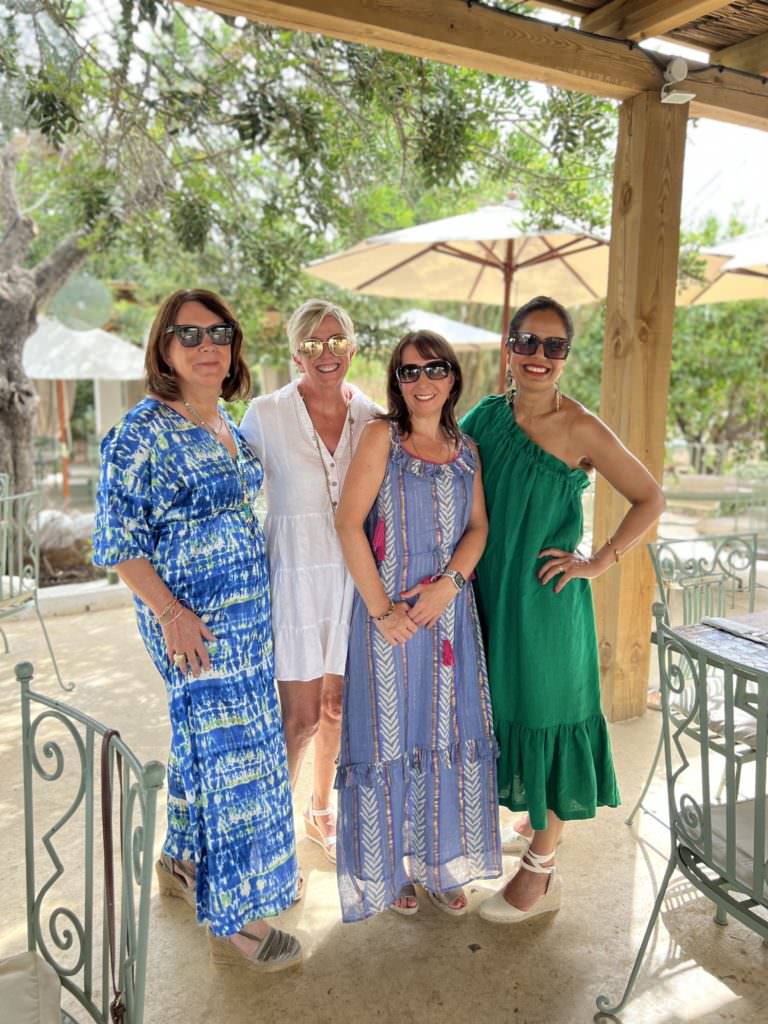 I hope you've found part one of my Ibiza round-up useful. Please feel free to email if you have any questions: anita@feronclarkstyle.com
Part two – shopping in Ibiza – to follow shortly!
Best wishes
Anita xxx
source: all images sourced from Pinterest