Hydra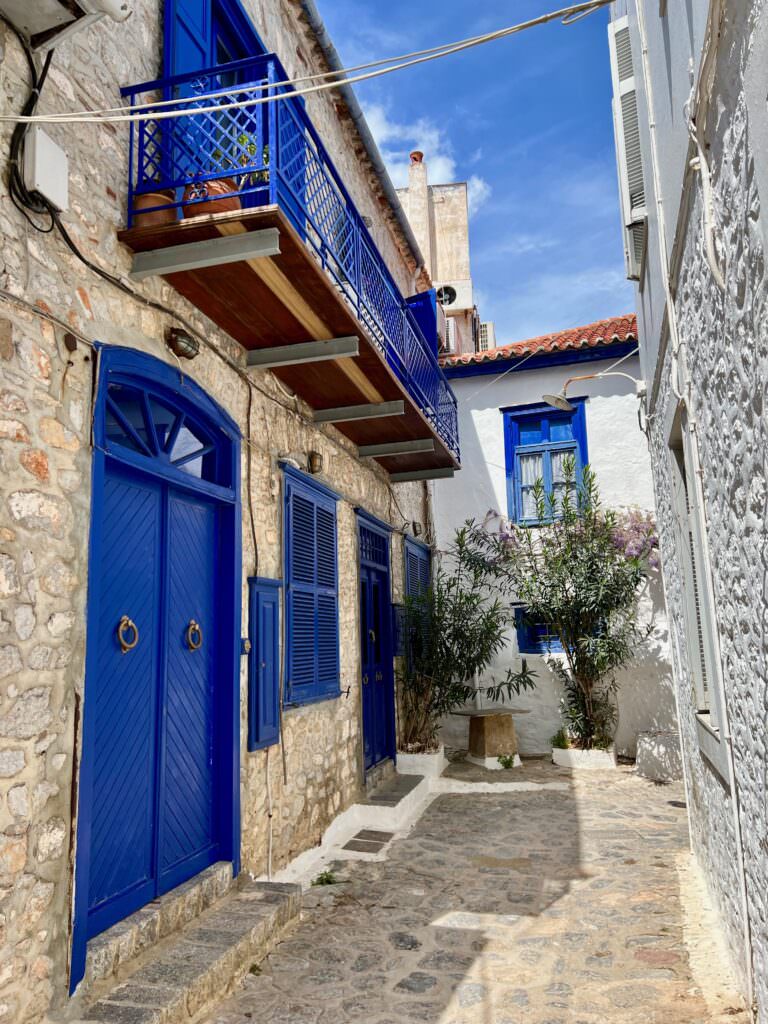 After reading 'A Theatre for Dreamers' by Polly Samson for book club, I knew I had to visit the island of Hydra as the book depicted the island most beautifully. Besides, I love some of Leonard Cohen's songs. The island didn't disappoint, and Hydra has my heart.
The island's population is about 2,500 and is concentrated in a coastline area of 3 km with Hydra Town as its centre. Hydra is an island in the Saronic Gulf. Hydra was coined from the Greek word which means 'water.' It was so named because of the natural springs on the island. Some other historians believed it was the dwelling place of the monster, Hydra.
To get to Hydra, we booked a fast catamaran from the port of Piraeus, and this was the cheapest deal I found through https://www.ferries.gr/e.n/ It was €320 return for four people, and it took 1 hour 45 minutes; the first stop was Poros, where we stopped for about 20 minutes. Accommodation booked through booking.com
It's beautifully clean, and I highly recommend the scenic hiking routes and walking as far up the hills as you can manage. The views are breathtaking, and rare wildflowers are growing everywhere. For this trip, I highly recommend comfortable shoes, trainers or sandals. We loved the quaint little cobbled streets and lovely little houses.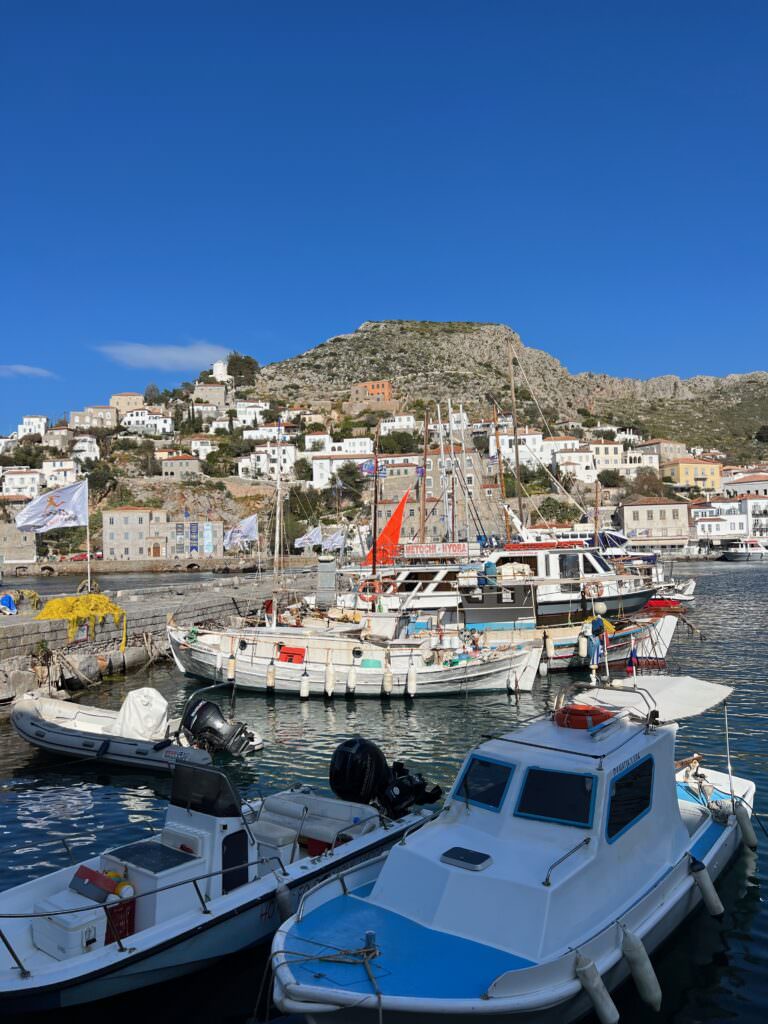 Hydra accommodation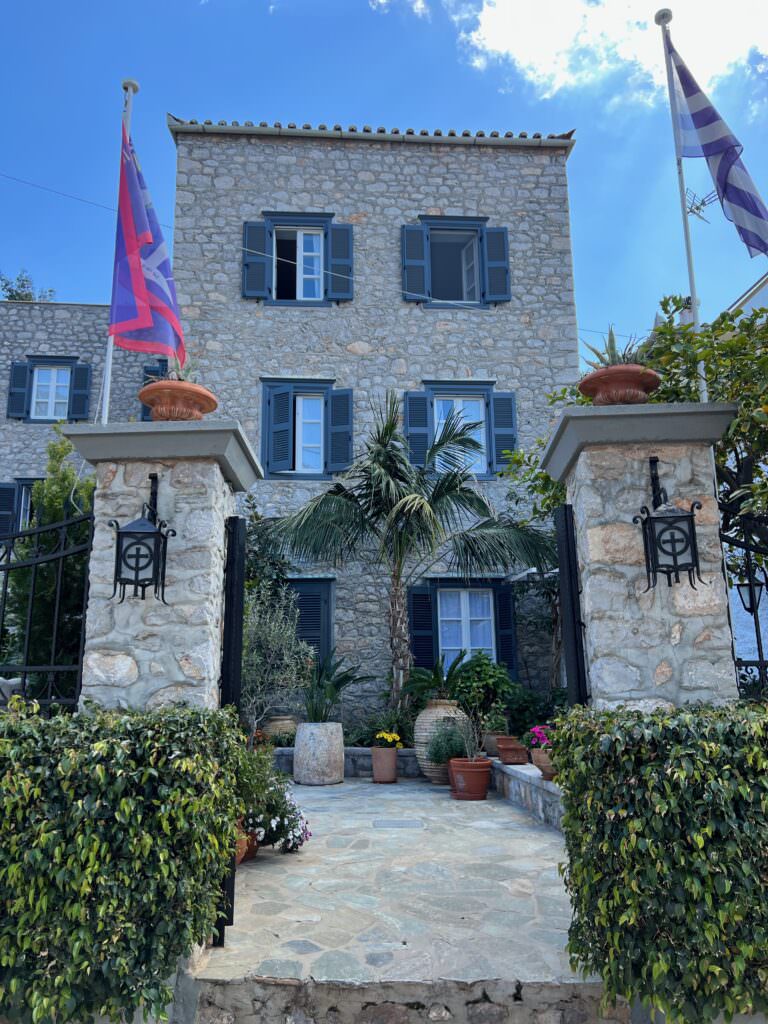 Mistral Hotel is only a five-minute walk from the port, thank goodness, as my suitcase is big enough to stuff a dead body, and I wouldn't inflict its size (and weight) on any poor unsuspecting mule or donkey! The hotel is divine. We had the studio room as we all kipped in together; it was beautiful, with a large terrace and clothesline. The communal areas and breakfast terrace with the pretty geraniums were lovely. The breakfast was generous and delicious. You don't get a choice, and it's a different menu every morning. There are many choices that there is something delicious for everyone's taste. Nicolas at reception was very friendly and helpful, and his restaurant choices were among our favourites. His mum, Jenny, serves breakfast.
One of the island's charms is there are no cars, and the air and light seem so pure; it's magical. The locals are wonderfully friendly, and there are cats everywhere! So if you are a cat lover, you'll love petting them, and they do beg at the table, which might irritate some people.
I booked the hotel through Booking.com
Places to eat
Too numerous to mention! And if you love seafood, this is the perfect place for you.
Our absolute favourite was Tavern Xeri Elia – Douskos; nestled under beautiful wisteria in a shaded courtyard, I highly recommend the seafood risotto.
Four Seasons Hydra served a delicious lunch overlooking our favourite beach on the island. Instagram: @fourseasonshydra
Supper at The Sunset Salt and Senses restaurant served the most spectacular sunset alongside the delicious seafood. It was pricey but a special treat for our last evening in Hydra. Instagram: @sunsethydra
Lunch overlooking the harbour at Piato Restaurant, light, delicious lunch including Greek salad and sardines.
Beaches
There aren't many beaches on the island, and it isn't the place to come if you're looking for long stretches of golden sand, but there are some lovely spots where you can sunbathe or take a dip. The water was cold at 16 degrees, but that didn't stop us! Although the sea is turquoise crystal clear and has beautiful tones of blue, the pebble beaches aren't that special. Kaminia was OK, but avoid Mandraki Bay which currently resembles a building site. Our favourite was the pebble Plaka beach in front of the Four Seasons hotel, about a 45-minute beautiful coastal walk from the centre of Hydra with views of dolphins jumping out of the water. I highly recommend goggles and water shoes to make getting in and out of the water less painful on your feet. We didn't get to Agios Nikolaos and Limnioniza, so I can't comment on these two beaches.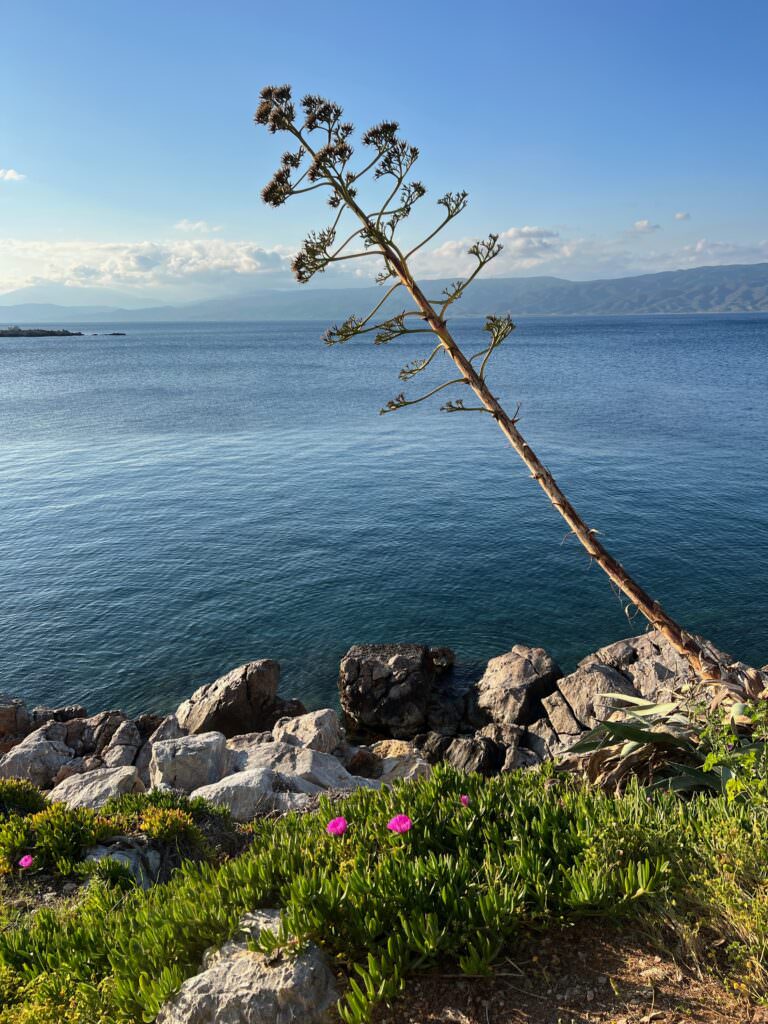 On the way back, we got a water taxi which took 10 minutes and cost €30. We loved seeing the island from this perspective.
Let me know if you found this blog useful, and I hope you love Hydra as much as my family and I did. Finally, none of this holiday was gifted.
Anita xxx