vegetarian frittata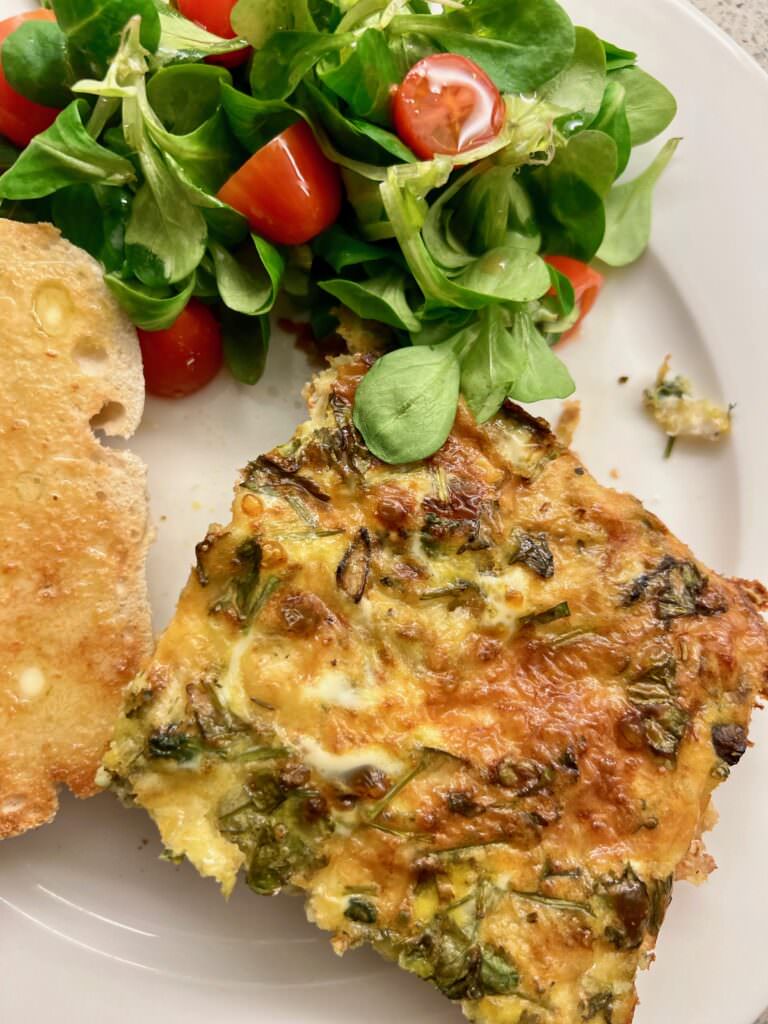 I love this dish; super healthy and delicious as a generous slab the next day as leftover lunch on the go or for supper. You can add any vegetables you've got in the fridge. Previously I've made this with any combo of peas, courgettes, broccoli, spinach and cauliflower etc. I hate wasting food so concoct recipes which use up ingredients I've got knocking around. Watch the video here.
Ingredients: serves six
12 large eggs
Three tablespoons of rapeseed oil, heated in a wok
One tablespoon of rapeseed oil to line the heatproof oven dish, approximate size 20 x 30 cm 
One medium red or white onion, finely chopped 
One medium potato, peeled and chopped into small cubes 
Two fresh green chillies finely chopped (optional)
4 Carrots, peeled and grated
150g finely chopped mushrooms with or without stalks, depending on how old they are!
One finely chopped and washed leek
Two cloves garlic, finely chopped (optional)
A small handful of chopped coriander (optional) 
150g extra mature or vintage cheese (optional)
70ml milk (any & optional)
Seasoning
Method
Pre-heat oven to 180 fan

Heat oil in a heavy-based saucepan or wok and add garlic, onions and potatoes. Cook on medium heat for 5-8 minutes until soft.

Add leeks and grated carrots.

Add mushrooms

Add seasoning, mix thoroughly, and cook on low heat with a lid on for five minutes.

Lightly coat the base of the oven-proof dish  with some rapeseed oil

Spoon the vegetable mixture into the oven-proof dish, and with a fork, make sure you've got an even layer.

Meanwhile, in a mixing bowl, crack 12 eggs, add milk, grated cheese, chopped coriander, and a bit more seasoning. 

Whisk thoroughly

Pour the egg mixture over the vegetables as evenly as possible. 

Use a fork to even out the egg mixture over the vegetables.

Cook in the centre of the oven for between 20 and 30 minutes and check that it is cooked in the middle with a fork, as you don't want the centre to be a soggy mess and brown and crispy on top.

Served with ciabatta, bread, salad, baked beans, chips – anything you fancy
I always make extra to slice up and have for lunch or supper the next day, either cold or warmed through in the microwave. I usually allowed two eggs per person.
Variations: add lardons, sausages, parsley instead of coriander and any vegetables you have knocking around. 
Enjoy, and do let me know how you get on.
Anita xxx